Wolf Pack gets in Hills win column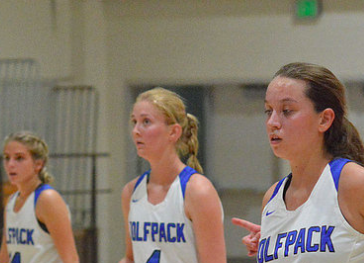 2019 EAST COUNTY PREP GIRLS BASKETBALL
WEST HILLS 37, HELIX 27
EastCountySports.com staff report
SANTEE – Last month, the West Hills High girls basketball team earned a signature win at the SoCal Prep Holiday Classic by upsetting San Dimas in overtime.
On Friday night, the Wolf Pack earned their way into the Grossmont Hills League win column by winning for the second time in their last four games with 37-27 win over Helix.
Junior guard PAIGE EVANS and 12 points and fellow junior guard CAITLYN STAYNER added 10 points for West Hills.
"Our last couple of games we definitely lost confidence in ourselves (in losses to Mount Miguel and El Capitan) but tonight showed us that our hard work in practice does pay off," Stayner said." So if we use this win as momentum and keep working hard then I think we can expect more nights like tonight."
Junior guard HALEY DOUCETTE scored five points in the first quarter for the Wolf Pack, while Stayner had a three-pointer in the first.
Evans had two-three pointers in the second quarter and added another in the third, when the Wolf Pack started to take control of the score.
Finally, ANASTASIA TIMOTHY helped seal the deal with five points in the fourth period.
One the positive for the Highlanders was the scoring balance, as seven Scotties tallied points.
Sophomores Le'Niyah Jones and Selena Soloman both scored six points for Helix, while junior HALEY DICKMANN added four.
Soloman's points came on a pair of first-half three-pointers.
Sophomore DELINA YETABAREK had a trey for the Scots, as well.
Helix has strung together some wins this season despite falling to 0-3 in league. The Highlanders feature a roster full of underclassmen.