Monarchs will play for championship
Updated: February 7, 2019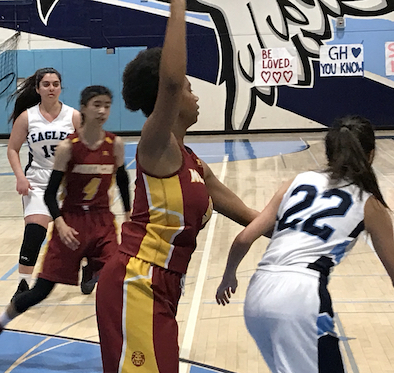 Monte Vista and Granite Hills in action on Tuesday. / photo by Dave Dickens
2019 EAST COUNTY PREP GIRLS BASKETBALL
EastCountySports.com staff report
EL CAJON – The Monte Vista High girls basketball team will play for at least a share of the Grossmont Valley League championship following their 59-14 win over host Granite Hills on Tuesday evening.
The Monarchs will host the Steele Canyon Cougars on Friday after improving to 7-2 with the win over the Eagles.
Monte Vista (14-12) won its sixth-straight contest and will likely ensure a home game in the division IV playoffs with a victory in the season finale.
Monte Vista senior SARA TAHA scored 20 points to lead all scorers.
"In the first half, I challenged my girls to adjust to the refs," Monte Vista head coach SABRINA JIMENEZ said. "I wanted them to play aggressively without fouling so much.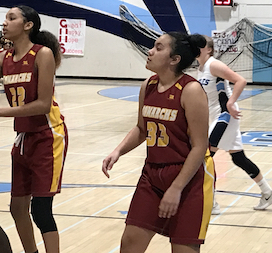 "I respect the girls for playing so hard all the time, but they can put themselves in a bind.
Monte Vista led 34-10 at halftime.
Monte Vista senior TORRI HONORE had 12 points.
Freshman MEADOW DELINO and junior JOURDAN BARBOUR both finished with nine points for the Monarchs.
Monarch ALYSSA MEDRANO added seven points.
"The (team) did much better second half and played smarter basketball, Jimenez said. "Meadow and Sara did a good job working the front end of the defense and made it a lot easier for Alyssa and Torri to read the Granite Hills offense and find the right steals.
JAYLEE and SARAH both had four points for the Eagles.
Monte Vista could win the title outright but Santana would have to lose to these Eagles, providing the Monarchs defeat a Steele Canyon club which is ranked on near-even terms by the power rankings.
Still, Monte Vista will hold the home court advantage.
"Friday they will be challenged to play smart, pressure, and remain in control no matter what type obstacles we face," Jimenez added.
The Cougars are also headed to the postseason in Division III. A victory could secure a first-round home game, but a defeat is sure to send them on the road in the first round.