Patriots ready for Dons after victory
Updated: February 14, 2019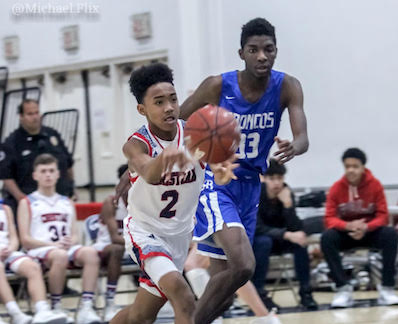 Christian High's MILES WILLIAMS drives up the court on Wednesday. / photo by Mike Rhone
2019 EAST COUNTY PREP BASKETBALL
CHRISTIAN 56, RANCHO BERNARDO 43
EastCountySports.com staff report
EL CAJON – The Christian Patriots got 19 points and 12 rebounds from NAU-bound senior Jackson Larson in a 56-43 win over Rancho Bernardo in the first round of the San Diego CIF Division I playoffs at Ryan Athletic Center on Wednesday evening.
Junior Kobe Sanders added 13 points, eight rebounds and four steals while freshman teammate Vinny Signorelli popped home 12 points to help pace the Patriots of Christian High.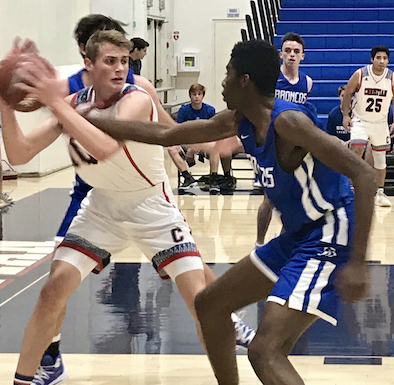 Signorelli hit a buzzer-beating shot from near half-court to end the third quarter. He had three treys on just four attempts on the night.
"It was all about our defense and our offensive execution," Sanders said. "Our momentum started in the third where we had some big plays, but none bigger than Vinny's shot at the buzzer to end the third.
"That momentum carried into the fourth where we capitalized on turnovers and got big stops. We had big plays on the offensive end when Miles (Williams) had back-to-back great passes, one, a major alley-oop to Jackson and the other to me for a three.
"These came off two big-time defensive stops that helped make a momentum push in the fourth. It was a great team win that we can build on in our next game."
RB led by three after one quarter and the game was tied 22-all at halftime.
Larson though continued his work down low, making nine field goals inside.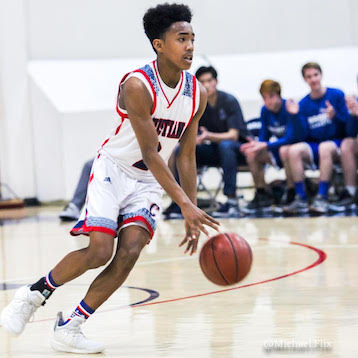 "After Vinnie hit that huge shot, we locked in on defense and started to loosen up and have some fun on the court," Larson said. "That's when we play the best."
The Patriots earned the right to face division top-seed Cathedral Catholic in the quarterfinals on Saturday, which might seem like a daunting task for the No. 8 seed. However, Christian defeated the Dons on Jan. 31 to split the regular season series in the Western League.
"We need to stop their scorers defensively and we need to take advantage of our opportunities on offense," Larson said of the quarterfinal matchup.