Edwards scores 45 in Matadors' D2 win
Updated: February 14, 2019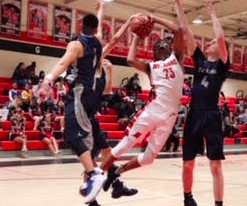 MARQUIS EDWARDS gets a shot up on Wednesday night. / photo by John Duran
2019 EAST COUNTY PREP BOYS BASKETBALL
MOUNT MIGUEL 64, OTAY RANCH 53
By John Duran
EastCountySports.com
SPRING VALLEY – Marquise Edwards began his final postseason run in dominating fashion.
The senior scored 45 points as the Mount Miguel Matadors defeated the Otay Ranch Mustangs 64-53 in the opening round of the Division II CIF playoffs.
The Matadors will travel to Carlsbad to take on the Lancers Saturday night in a rematch of last year's unforgettable triple overtime CIF championship game won by the Matadors.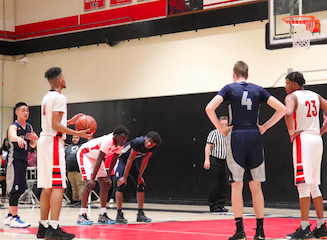 Mount Miguel was unstoppable in the early going. They opened the game on a 17-2 run and looked like they were on their way to a blowout victory at home.
But the Mustangs did not make it easy. Ray King scored 17 points including eight in the fourth to pull Otay Ranch within seven.
But the Matadors, Edwards in particular, were just too much for the Mustangs.
Edwards scored 12 in the fourth, capping off the game with a dunk right before the buzzer.
Looking ahead to Carlsbad, the Matadors will need more than Edwards to step up if they want to advance.
"Just keep playing hard," Edwards said. "We're not going in thinking we're going to just beat them. We know whoever we play we're just looking to go out there and compete and go on to the next round."
Sophomore guard Christopher Jones and junior Lawrence Gray were not happy with their performance, saying they could have played better.
Saturday night will require a team effort.