Dons stop Pats with title-like effort
Updated: February 21, 2019
SIMONE JAMES backs down a Dons opponent on Wednesday. / photo by Ramon Scott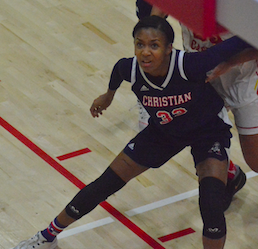 2019 EAST COUNTY PREP GIRLS BASKETBALL
CATHEDRAL CATHOLIC 79, CHRISTIAN 71
EastCountySports.com staff report
SAN DIEGO – The Cathedral Catholic Dons celebrated on the court like champions following their 79-71 San Diego CIF Open Division semifinal win over the visiting Christian High Patriots on Wednesday night.
And why shouldn't they? The Dons had just defeated a tremendously formidable opponent in the Patriots to advance to the elite division championship game.
It was the second win in three meetings for CCHS this season between the Western League co-champions.
The quality of play was as high as you might expect, and the players on both clubs even raised their level of honest competitiveness even higher.
Christian got off to a rip-roaring start behind sophomore KRISTIN WILLIAMS and junior SIMONE JAMES.
Williams had nine points in the opening eight minutes, while James added three field goals, as Christian took a 15-7 lead. However, the Dons led 24-19 after one quarter.
Cathedral Catholic's lineup, however, is tough to stop for any club in the county. The Dons built a 10-point lead, 45-35, by halftime.
The Dons encountered some foul trouble in the third quarter and the Patriots went to work.
Christian High's ALLIE CARREON scored 11 points in the third quarter, then made a three-pointer in the fourth which tied the game at 68-all.
Cathedral's freshman star, Isuneh Brady, returned to the game to score the go-ahead bucket, helping the Dons outscore Christian, 11-3, down the stretch.
Carreon finished with 21 points, while Williams ended with 20 points.
Christian (21-9) will still advance to the Southern California Regionals.
The Dons will meet third-seeded Mission Hills, which defeated No. 2-seeded La Jolla Country Day.
But it would be hard to argue that the county's best two teams were on the floor at Cathedral's gym on Wednesday.