Foothillers step up for captain Sotelo
ANYSSA CHARGUALAF at the line on Wednesday night. / photo by Dave Dickens
2019 EAST COUNTY PREP GIRLS BASKETBALL
SAN DIEGO CIF DIVISION II SEMIFINAL
GROSSMONT 48, EL CAPITAN 45
EastCountySports.com staff report
EL CAJON – The Grossmont Foothillers have faced more than a bit of adversity this season.
But there was little good news to offer when it was realized that the coach GRACE CAMPBELL and the Hillers would be without senior star ATHENA SOTELO for the remainder of the playoffs with a knee injury.
The realization had to heartbreaking for Sotelo, a competitive and heady player that has had a stellar prep career despite missing several stints of seasons due to injuries.
Heading into Wednesday's San Diego CIF Division II semifinal against favored host El Capitan, Grossmont would have to shuffle its lineup once again to find a way back into a section title game.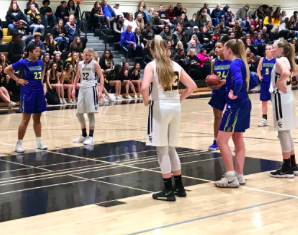 The Vaqueros, which despite two league defeats at the hands of the Foothillers, couldn't take advantage of their home court edge, as Grossmont won this one "for Athena" 48-45 to advance to a section title game for the first time in three years.
The Vaqueros led 21-20 at halftime, but Grossmont assumed the lead in the third quarter, taking a 26-24 lead with 4:48 to go in the period.
Grossmont led 34-31 at the end of three and 36-33 with 6:24 left in the game.
"We knew coming into this game that it would be a close game," Campbell said. "All week we pushed that players needed to step up tonight in order for us to win."
In particular was the work of sophomore guard ANYSSA CHARGUALAF.
Already playing her best ball of the season late in the year, Campbell labeled her the team's "'X' Factor."
Chargualaf scored 14 of her 21 points in the second half in a career-best performance.
"El cap didn't have an answer for her," Campbell said. "Unfortunately, we shot poorly from the free throw line. If we would've capitalized on the free throws in the first half, it would've been less stressful down the stretch."
Sotelo is particularly clutch in protecting leads, where she is often one-step ahead of her opponent.
"We did it for Athena," Campbell said. "We played hard for her. We know how much she wanted to play and how hard she has worked this entire year. We made it a priority to go extra hard for her."
Grossmont junior SARAH HENRY scored 12 points for Grossmont.
"It was tough starting off slow knowing we really had to step it up," Henry said. "By the end of the game, it felt great. Everyone did their job and we understood, this is all for Athena. She deserves this win.
"Also, the baseball team and the crowd played a huge role in supporting us, which felt great."
El Capitan's crowd helped them to a great start, leading 18-13 after the first quarter behind a balanced scoring attack, led by five points from junior JORDAN GRANDY.
Sophomore MACKENZIE CURTIS led El Capitan with 16 points, including 12 in the second half.
Although the Vaqueros had consistent balance, no other player scored in double figures against the Hiller defense.
"With Athena's injury everyone counted us out tonight," Campbell said. "Grossmont girls basketball is always looked at as mediocre but we have proven for the past four years that we are a good program and our players are coached well."
The Foothillers will meet surprise finalist Carlsbad, which stunned top-seeded El Camino, 77-60.
Grossmont and Carlsbad met in a fall-league tournament game in October, with the Lancers taking the preseason tourney championship game in double overtime.