Knights perfect late, spot Madison title
Updated: February 22, 2019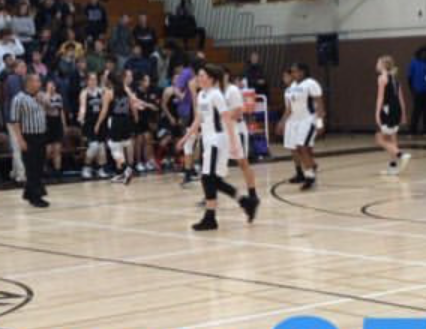 2019 EAST COUNTY PREP GIRLS BASKETBALL
SAN DIEGO CIF DIVISION IV CHAMPIONSHIP
MADISON 47, FOOTHILLS CHRISTIAN 45
EastCountySports.com staff report
SAN DIEGO – The Foothills Christian Knights played near-perfect basketball in the fourth quarter of Thursday evening's San Diego CIF Division IV championship game against the Madison Warhawks.
Unfortunately, the Knights couldn't overcome a 13-point second half deficit and ended up just a rim-bounce short of a possible section title.
Junior ELLIE TURK, bottled up most of the night by Warhawks, had her buzzer-beater attempt bounce high off the back rim and off to the side in a 47-45 loss to the top-seeded team at Serra High.
The play of Foothills freshman NATALY BRAVO was ovation-worthy. She was the Knights' top scorer of the evening with 18 points, helping FCHS to an early 8-4 lead, finishing with nine points in the first quarter.
"We did a great job tonight," Bravo said. "I'm so proud of my team but we know that Madison is a great high school basketball team. It was a hard game but just one team can win and tonight Madison did a good job.
"We had a great season. I'm pretty sure that we are a better team than we were at the beginning of the season."
Sophomore ARANTXA FONSECA also made several key baskets in the fourth quarter as the Knights earned every break they got in the waning two minutes, forcing the Warhawks into critical mistakes. She finished with 12 points
Turk found some rhythm in the fourth and ended up taking a last-ditch shot from near the top of the arc as time expired. The hurl bounded off the back rim and to the side, giving Madison the title.
Turk finished with 10 points, all in the second half.
Appropriately, Foothills Christian head coach JOEY TURK pumped his fist and enthusiastically applauded his team in a certain frustrated satisfaction that his squad did everything near-to-the-letter in the late-game execution.
"I wish I could share the depth of the relationships and growth that our girls had, especially off the court," Joey Turk said. "So disappointing to lose a game like that but I will look at this season as a total joy and success. Definitely heartbreaking (final game) though."
Sophomore guard IMANI MOORE scored 10 points in the first half for the Warhawks and surely was the game's MVP.
Foothills Christian sophomore CHRISTIE SARKIS landed a three-pointer in the third ending a Knights' scoring drought.