MEN: Mesa slams slumping City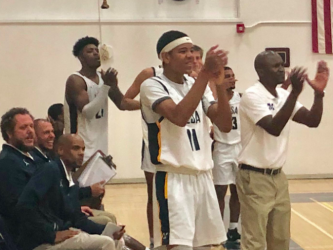 Mesa celebrates on Wednesday.
2019 COMMUNITY COLLEGE MEN'S BASKETBALL
East County Sports staff report
KEARNY MESA (2-21-2019) – How the mighty have fallen.

Two seasons ago, San Diego City College were CCCAA state men's basketball champions. In 2018-19, the Knights not only lost the South Division title in the Pacific Coast Athletic Conference, they suffered a major letdown leading to an embarrassing loss.

For the first time since 2012-13, City fell to crosstown rival San Diego Mesa College – and it wasn't close. The Olympians ran wild in an 81-53 conquest, snapping an 11-game conference losing streak to their Highway 163 counterparts.

Mesa might claim "what embarrassment?" With the victory, the Olympians gained a share of second place in the division with the Knights with one ballgame remaining. Meanwhile, Southwestern already clinched the title, moving to 9-0 after defeating Grossmont,

Mesa's Aren Thomas registered 14 of his game-best 20 points in the first half when the Olympians burst to a 42-28 advantage.  The defense also held City to 32.4 percent shooting (11-for-34) to build a double-digit cushion, which kept expanding in the second half.

In addition, Cameron Hill added 18 points for Mesa (10-16 overall, 6-3 PCAC), while Adrian Lee posted a double-double with 12 points, plus 17 rebounds to equal a season high.

For SDCC (15-12, 6-3 PCAC), only two players scored in double figures — Joseph Riley (16 points) and Nashom Carter (13).

The last Mesa win over City came on a historic night in PCAC history.
On Wed., Jan. 23, 2013, when Mesa scored a 73-69 triumph over SDCC, Palomar blitzed Miramar by a 95-49 count for the largest victory margin in the series, while Cuyamaca registered its lone PCAC win of the season by shocking Imperial Valley.
Southwestern 103, Grossmont 78: On Championship Night in Chula Vista, moments after the Jaguars women captured their first PCAC crown in more than 20- years, the men moved to with one game of a perfect PCAC slate after downing the visiting Griffins.

For the Jags (23-4 overall, 9-0 PCAC), Marc Combs was the leader among six scores in double figits with 22 points. Four of the others — Jordan Cooke (16 points), Nathaniel Pearson (15), Tyler Simmons (14) and Marq Stephens (11) — came off the bench to rank among the leaders.

Grossmont (5-22, 2-7 PCAC) saw Jamal Johnson hit 7-of-9 shots from off the bench to register a team-high 19 points. Josh Burton added 15 points, while Lamon Hudson and Marc Cabrera each had 13.

Imperial Valley 76, Cuyamaca 54: At Imperial, the host Arabs clinched fourth place after stopping the Coyotes. No game report was filed by either school to the CCCAA state website.