Henry, Steele, Grossmont, Valhalla win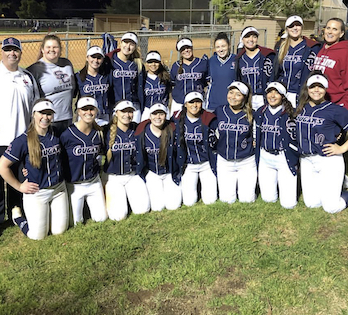 2019 EAST COUNTY PREP SOFTBALL
East County Sports staff report
ESCONDIDO (3-5-2019) – The last time Patrick Henry High met powerful Eastlake on the softball diamond, Titans pitcher Alexis Otero fired a 1-hit shutout at the Cougars in a  Cougar Classic pool play contest.
Otero later led Eastlake to a silver medal at the CIF San Diego Section championships, earning an NCAA Division I scholarship toQuinnipiac University.

On Monday (Mar. 4), with Eastlake again ranked the No. 2 ballclub in the section, Patrick Henry gained a measure of revenge.

Junior first baseman Hailey "H" Jenks jolted an early 3-run homer in her first at-bat of the season, as the Patriots erased Eastlake, 4-3, at Kit Carson Park. Jenks parked the ball to center field for a quick 3-0 cushion.

The rally started when Olivia Gigante reached base on a misplayed ball in the outfield, then Lauren Nett singled to left to set the stage for Jenks. Gigante, the winning pitcher in relief, would later drive in a run for the game-winning margin.

An inning later in the 2nd, the Patriots pushed the advantage to 4-0.
Laila Spracklen accepted a lead walk, then Kaiah Altmeyer singled. Both runners advanced into scoring position before Spracklen came home on Gigante's sacrifice fly.

The Titans came back when Sharlize Palacios hit a lead homer in the 4th, then Bella Brock hit a 2-run shot, but got no closer as Gigante retired the final six batters in a contest called after five frames due to the tournament time limit.

For Patrick Henry, Jenks pitched the first three innings, allowing just one hit, striking out a pair of Titans

In addition, Altmeyer batted 3-for-3 on the day. Savannah Sutton also doubled for Patrick Henry (1-0).

Among the Grossmont Conference schools participating on the opening day of the CogarClassic, most lit the scoreboard with big offensive displays.
No. 9 STEELE CANYON 7, UNIVERSITY CITY 1:  Audrey Bagge belted a pair of home runs and knocked in four tuns, powering the Cougars past the Centurions in the first pool-play contest for both sides.

Bagge hit her initial clout to venter in the 3rd inning following the first of two triple by Jessica "J.J." Venzor for a 2-0 lead.
Both are senior co-captains for the Cougars. Venzor's ball went out to right field.
That was all Steele Canyon pitcher Grace Richter would need in her 6-inning complete game. He allowed six hits, striking out a pair of Centurions.
Venzor's second triple came in the 5th, scoring sophomore Tayler Thomas, who lined a one-out single up the middle. Bagge followed again with her second 3-run bomb for a 5-0 lead.
The final Cougars runs came in the 6th.
Marley Rimoldi and Mariah Mata accepted consecutive lead walks. Rinoldi would steal third base, then score on a wild pitch.
Mata went to third, then she scored on a sacrifice fly by Thomas.
Richter came within one out of a shutout, but University City recorded a solo homer to get on the scoreboard.

GROSSMONT 11, MISSION VISTA 1: The Samaria Roope struck out 8 batters while the Foothillers pounded out 11 hits for their 11 runs in a one-sided whipping of the NICKNAME. Roope also roped an RBI double in the Cougar Classic pool-play opener.
After Mission Vista scored in the 1st, Roope rebounded to throw 5 1/3 innings of no-hit ball in the 6-inning (time limit) contest, allowing just one other baserunner the rest of the way.
The deficit didn't last long after Katalina Contreras belted a 2-run homer in the 2nd, also scoring Kimmy Bond. Both players batted 2-for-2.

The rally continued when Jordan Brown, who went 3-for-3, doubled. She scored on consecutive base hits by Jessica Medlin and Roope (RBI), then Issy Cervantes singled home Medlin in for a 4-1 cushion.
The Hillers added four more markers in the 3rd.  Aly Allman came home on a wild pitch, Medlin followed with a 2-run single to score Brown and Roope, then Medlin came home in a Brianne Blue base hit for an 8-1 margin.
VALHALLA 12, CHAPARRAL (Temecula) 10:  After the Pumas tallied seven times in the 2nd to unlock a 2-2 tie, the Norsemen answered with six markers in the home-half of the inning, then four more runs in the 3rd to eventually outlast the visitors from SW Riverside County in a 4-inning duel (time limit) at the Cougar Classic.
A series of three consecutive bases-loaded walks to Delaney Stettler, Samantha Green and Kelly Olson started the comeback. Aubrey Baker would score to make it 9-6, then Baily Munch posted a 2-run single to make it a 1-run ballgame.
An inning later, the Norsemen took their first lead, pushing the margin to 12-9.
Andrea Garcia scored on yet another bases-loaded walk to tie it, Baker put Valhalla ahead by coming home from third on a ground ball to the right side.
anely Gonzalez would add a sacrifice fly, then Olson came in on a wild pitch.
MAR VISTA 21, CHRISTIAN 2 – The Patriots got two hits from Kate Manes and Mallory Steele.
Elsewhere, Madison defeated Liberty Charter, 18-8.