ROUNDUP: Gaylord's hit, Brouards' pitches win it for Wolf Pack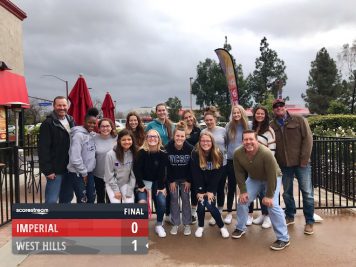 2019 EAST COUNTY PREP SOFTBALL
East County Sports staff report
ESCONDIDO (4-9-3029) – West Hills High senior first baseman Star Gaylord broke a scoreless pitchers' duel with a walk-off base hit, and pitcher Kimie Brouard fired a 1-hit shutout, propelling the Wolf Pack past Imperial, 1-0, at Kit Carson Park. The 's final pool-play contest Cougar Classic ended after five innings via the tournament time limit.

Brouard carried a no-hitter into the 5th inning, getting tagged for the Tigers' lone hit with two outs. The senior struck out four Imperial batters, yet seemed destine for a no-decision in a tie, but the offense took advantage of a break in order to beat the clock.
In the 5th, Brouard and Shannon Kim started the rally with consecutive singles, then Callia Rooks bunted to sacrifice both runners, but also reached when the third baseman committed an error.

One out later, Gaylord collected her game-winning hit over the head of the second baseman against a drawn-in infield. Gaylord (2-for-3) was the lone player with more than one hit.

Dakotta Mershon stole a base for Santana. Brouard also started a double play in the 2md, firing the ball to second baseman Lily Youngdale, who made the pivot and for the ball to Gaylord at first base in time.
For Imperial (2-3), first baseman Julyannah Ramirez registers the lone hit for the Tigers. The head coach of the Tigers is former Helix standout Andrea Horton, who is in her 11th campaign.
PATRICK HENRY 6, VALHALLA 4: The Patriots, coming off their first losing season in a decade, have so far proved to be more than viable to again contend for a CIF championship.

At Kit Carson Park, Patrick Henry remained unbeaten after breaking a 4-4 tie to vanquish Valhalla in a Cougar Classic pool play ballgame Friday (Mar. 8) at Kit Carson Park.
The victory lifts the Patriots (3-0) into the Platinum Division (championship) quarterfinals of San Diego County's premiere season-opening event.

But they needed to brush off the pesky Norsemen, which rallied from a huge deficit to tie after scoring four times in the 4th inning, only to watch Patrick Henry bonce back with single runs in the 4th and 5th to maintain the school's winning streak.

In the 4th, Valhalla gifted the Pats with an unearned run. After two were out, an error, a single, then another error allowed Kaiah Altmeyer to score the go-ahead run.

An inning later, freshman Chloe Wilson registered the insurance run with a deep, RBI double to center field, scoring Hailey "H" Jenks, who reached with a line single to leadoff.

For Patrick Henry, Lauren Nett has a pair of doubled to head a 10-hit attack. Olivia Gigante also recorded a two-base hit. In addition, Jenks posted 9 strikeouts.

The comeback by Valhalla (1-3) was fueled by a 2-run double by freshman Maryn Jordan, who then scored when junior second baseman Yanely Gonzalez followed with a base hit.
LA COSTA CANYON 7, STEELE CANYON 6: At Kit Carson Park, the Cougats trailed 7-1 before soaring with five runs in the 6th inning. However, the tournament time limit forced the game to prematurely end, allowing the Mavericks to escape with a pool-play win at the Cougar Classic.

All five runs in the 5th were unearned, as La Costa Canyon committed three errors sandwiched around a trio of walks, the last going to Cougars slugger Aubrey Bagge with the bases loaded to force in a run. However, the Mavs escaped on a fly ball to right field.

Bagge, who homered three times in her first two ballgames this season, was walked three times, as Rachel Wright, the head coach of the Mavs, did some of her own undercover surveillance work.

For LCC (1-1), winning pitcher Angelina Russo only allowed three hits and one earned run. She struck out five Cougars but walked seven. At the plate, Russo and Kaitlyn Farley each collected three hits. Both are sophomores.
Along with Bagge, Steele Canyon (1-2) received RBI without a hit by Maggie Carpenter and late-inning substitute Danielle Directo. The lone RBI on a hit came off the bat of Marley Rimoldi.
RAMONA 5, GROSSMONT 1: At Kit Carson Park, Bulldogs senior shortstop Seneca Curo belted a key 2-run double and scored twice, sending Ramona past the Foothillers in a Cougar Classic pool play contest.

Curo delivered her big blow in the 3rd, as Ramona registered three straight hits, as Avery Campa and Missy Miller singled in front Curo's shot over the center field to score both to cyclone the Dawgs (2-1) to a 5-0 cushion.
Grossmont (1-1), which posted 83 wins over tie four previous season, gained its lone run in the 3rd.

Junior first baseman Katilina Contreras, from the clean-up slot, scored the run. Following her sharp, one-out single to center, senior third baseman Aly Allmann followed with an RBI double to right.

Interestingly, when the ballclubs met last season, Grossmont won an identical 5-1 score.
MISSION BAY 7, SANTANA 3: Frankly, there's never been a reason for Santana, a traditional power in softball, to play Mission Bay, which has done nothing in the sport since the early 1980s (except for one CIF championship in Division III in 1998).

However, since Vincent Ichihara took over the Buccaneers for the 2016 season, they posted a pair of 19-win campaigns, finishing as the CIF runner-up in their division in 2018.
Perhaps the Sultans should re-think about playing Mission Bay again.

In Pacific Beach, the first meeting between the schools this century, the Bucs (4-1) parlayed six hits into six runs in the 3rd inning to snap a 1-1 deadlock, racing to Gold & Silver Tournament triumph.

It was the first tournament loss for Santana (2-1), all-but-mathematically eliminating the Sultans from championship consideration.
Everything seems business as usual for Santana after needing just two batters to get on the scoreboard, Ashley Madrigal opened with a deep triple to right field, coming home when the ensuing batter, Madison Mendez, intentionally grounded the ball to the right side.

The Bucs answered by first converting a double play to end the inning, then quickly scoring to tie it.
An inning later, Santana third baseman Lakaila Aquiningoc-David also started a double play by catching a bunt, then firing the ball to first base.
However, the Sultans' defense couldn't do anything in the pivotal 3rd.

Santana posted 8 hits, including a pair each by second baseman Isabella Cyman and center fielder Gilliane Johnston.
For Mission Bay, Paige Pallamary knocked in two runs.