ROUNDUP: Lancers give Eagles dose in Classic showdown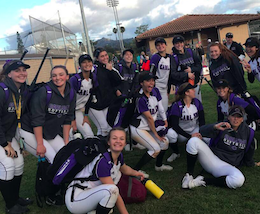 Carlsbad following its win over Granite Hills on Saturday.
2019 EAST COUNTY PREP SOFTBALL
East County Sports staff report
ESCONDIDO (3-10-2019) – Through three Cougar Classic tournament contests, the pitching staff for Granite Hills High fired a pair of no-hitters, yielding just one basehit.
On Saturday (Mar. 9), another unbeaten ballclub in Carlsbad turned that statistic around – sort of.

The Lancers (4-0-1) doubled the Eagles' composite season total with two base hits, but four Granite Hills errors led to a bevy of unearned runs in a 6-1 decision in the Platinum Division (championship) quarterfinals of the Cougar Classic, held at Kit Carson Park.

Carlsbad (4-0-1), unranked entering the week, is now bidding for the No. 1 spot in the CIF San Diego Section rankings.
The Lancers advance to Monday's semifinals against either Del Norte or Bonita Vista; both are undefeated.
The Eagles (3-1) were eliminated following their first setback.

The Lancers struck quickly when their first two batters reached base on a single and a walk, followed by a one-out walk to load the bases. But with two out, the first defensive mistake by Granite Hills brought home a pair of runs.

That was all Carlsbad pitcher Alanna Nelson-Thiede would need. She struck out six without a walk, scattering six hits.

Granite Hills' lone marker came in the 5th after the Lancers scored four times (three unearned) in the top half of the frame.

Bailey Wallace stroked a lead single to left, moving to third base when both Rylee Omahen and Morgan Kelly intentionally grounded the ball behind her to the right side of the infield.

With two outs, cleanup hitter Staci Chambers delivered yet again. Upon re-entering the contest, the senior drilled a sharp, ground single to right field for the RBI, ending Nelson-Thiede's shutout bid.

Wallace (2-for-3), the Eagles center fielder, was the lone player from either side with multiple hits. Wallace and teammate Morgan Kelly are each batting .636 (7-for-11) through the first week of the season.

Silver Division

STEELE CANYON 4, CATHEDRAL CATHOLIC 2: Cougars first baseman Maggie Carpenter proved to be a master craftsman with a softball bat. The senior blasted a tie-breaking, 3-run homer in the 5th inning Saturday (Mar. 9), propelling Steele Canyon to the Silver Division semifinals by downing the Dons.

Carpenter's line-drive blast to center field capped a 3-for-3 batting performance, featuring three RBI and a pair of runs scored. She also doubled to finish with 7 total bases.

The ballclubs, both traditional powers, each limped in with 1-2 records entering the contest, hoping to salvage whatever they could in the season-opening tournament. And the clubs proved to be even through four innings, tied at 1-all before Carpenter went deep to cap a two-out rally.

After Cathedral Catholic scored in the 1st, Carpenter opened the 2nd with a double to left. She stole third base, then scored on a clutch, two-out single by D.J. Dumeng.

The home run was set up when Audrey Bagge lined a two-out single, then Amanda Whipple whipped a base hit to center. Carpenter followed by taking an 0-1 pitch deep.

Cougars winning pitcher Grace Richter allowed just six hits and one earned run.
Bronze Division

GROSSMONT 8, TORREY PINES 4: Could this be a replay of the 1961 Major League Baseball season, when members of the New York Yankees' "Murderers Row" – Roger Maris, Mickey Mantle, Yogi Berra and Bill Skowron – all challenged for the single-season home run record set by Babe Ruth?
Maris ultimately outlasted Mantle, achieving the feat by blasting 61 homers, one better than Ruth's mark from 1927.

On Saturday (Mar. 9), Foothillers senior Samaria Roope is on pace to re-write the East County (and perhaps CIF San Diego Section) record book. She blasted an early grand slam, to topple the Falcons in the Bronze Division quarterfinals of the Cougar Classic.

Roope, along with top challenger Aubrey Bagge, seeks to dethrone former Valhalla standout, who hit 13 homers in her abbreviated 2014 season. Wallace was a transfer from Francis Parker (after playing her first two varsity campaigns at Foothill Christian), thus needed to sit-out a month per CIF rules at the time.

Roope and the Hillers didn't waste any time, needing just five batters to get on the scoreboard.

Kimmy Bond opened the ballgame with a bunt single. An out later, Katilina Contreras and Aly Allmann walked to load the bases. Roope then pulled an 0-1 pitch deep to left field for a 4-0 lead.

An inning later, after Torrey Pines issued three straight walks, Roope came to bat again with an opportunity to make history. However, Falcons head coach Jon Moore (and assistant coach Julie Neubauer, who coached Steele Canyon to several CIF titles) made the "professional" move — they hit Roope with a pitch.

No wonder Moore and Neubauer (neé Bohe) are both former CIF coach of the year award recipients. The RBI gave Roope five for the contest, setting a career high. She was also the winning pitcher, striking out four Falcons.
After the plunking, the strategy back-fired when Jordan Brown followed by lacing a 2-run single to make it 8-2.

Bond, the Hillers second baseman, reached base on all four of her trips to the plate. She batted 2-for-2 with a walk and was also hit by a pitch, scoring two times.

For Torrey Pines (3-2), freshman Kyra Chan and sophomore Kaili Aqui, the top two hitters on Moore's batting card, both went 2-for-2 and scored twice to account for all of the Falcons' runs.
Pool Play
There were several pool-play make-up games held prior to the start of the knockout phase to the Cougar Classic, held at Kit Carson Park:
CARLSBAD 4, GROSSMONT 1: The Foothillers were sent to the Bronze Division pool after falling to the unbeaten Lancers (3-0-1). on Saturday (Mar. 9).

The Lancers scored three times in the 1st inning to put this game to bed early after their initial three batters – Zoe Nolte (double), Julia Bender (walk), and Maele Hensch (RBI single) – all reached base and scored. Carlsbad advanced to the Platinum Division (championship) semifinals.
Grossmont (1-2) scored its lone run in the 2nd thanks to the bottom half of the batting order.
With one out, Samaria Roope reached on an error, then Issy Cervantes singled to right field. Roope was out at third base on a fielder's choice, but Jamie Medlin delivered with a sharp ground up the middle to bring home Cervantes to move to within 3-1.

Medlin, the left fielder, finished with two f the Hillers' seven hits off Carlsbad winning pitcher Maele Hensch. Medlin also stole a base.
PATRICK HENRY 5, DEL NORTE 2 – Patrick Henry High moved to within two victories of becoming the top-ranked softball club in the CIF San Diego Section after stopping Del Norte, 5-2, in Saturday's (Mar. 9) Platinum (championship) Division of the Cougar Classic.

The area's top early-season tournament now in its third decade is hosted by Escondido High and held at Kit Carson Park.

The unbeaten Patriots (4-0) overcame an early deficit by tallying five unanswered runs, as Olivia Gigante gained the pitching win after spinning a 1-hitter at the Nighthawks. "O.G." did not earn a pizza, yet struck out six batters, with the run unearned due to an error.

After Del Norte No. 9 hitter Maya Bailey accepted a leadoff walk, she was replaced on a fielder's choice by Valeria Pero. Alex Garza then hit a ball to the outfield which was booted, as Pero circled the diamond to open the scoring.

Pero also opened the ballgame with a lead single – the Nighthawks lone hit all contest.

The Patriots immediately bounced back with two runs in the 3rd, then three more in the 4th.

Just like the Hawks, the No. 9 hitter started the rally when Maya Dickerson stroked a lead single to left field, the first of three straight base hits, as Kaiah Altmeyer and Jessica DeWitt also singled (one runner was caught stealing in the mix).

With two runners on, Giganti and Lauren Nett extended the streak to five straight hits, both delivering RBI singled to left for a 2-1 lead.
An inning later, the bottom third of the Pats batting order again set the table.

Sydney Newton and Dezianna Patmon registered consecutive, one-out singles, a ground ball to the right side by pinch hitter  Laila Spracklen allowed a run to score.

Altmeyer walked, then a hard grounder by DeWitt was booted for another run.

DeWitt and Nett finished with two hits each among nine by the Patriots.
Gold Division

GRANITE HILLS 1, WEST HILLS 0: Both schools were disappointed to fall just short of reaching the Platinum (championship) Division of the Cougar Classic, but then to have East County rivals meet in an elimination game in the Gold Division would truly hurt the loser.

In a classic pitchers' duel, Eagles senior pitcher Staci Chambers fired her second consecutive 1-hit shutout, then Granite Hills scored a walk-off winner in the 6th inning (tournament time limit) to nip the Wolf Pack.

Chambers registered 9 strikeouts to run her record to 3-0 — all shutouts with just a composite two hits allowed. She was also poised with a bat to drive in the winning run, but the teammate in front of her, Haley Johnson, delivered with the bat

McKenzie Boehm opened the frame with a bunt, but when the throw to first base sailed down the right-field line, Boehm reached third base.  With both the Wolf Pack infield and outfield pulled in, Johnson smacked a deep fly ball to center.

The West Hills defense simply walked off the field as Boehm didn't even need to tag up; Johnson was (correctly) credited with a sacrifice fly based on defensive indifference (not a double).

The unearned run ruined a pitching gem by West Hills' Kimie Brouard, who allowed just three hits over 5-plus innings.

The lone Wolf Pack hit saw cleanup hitter Star Gaylord leadoff the 2nd with a single. She stole two bases to reach third base, then Lily Youngdale walked and stole second base. However, the Pack failed to score when Chambers enticed two tappers back to the circle, then a grounder to first base to strand both runners.

VALHALLA 12, OUR LADY OF PEACE 1: It's usually the job of the leadoff batter to reach base, then allow the power hitters to drive them in. Not on Saturday (Mar. 9) in a Cougar Classic elimination contest.

Norsemen leadoff batter Jade Hill, a senior, recorded four RBI to race past the Pilots. Included with a 2-run triple and a 2-run double, as the bottom four players in the Valhalla lineup collected six runs scored.

A 2nd-inning rally good for 12 runs spelled doom for OLP.

Devyn Ruffer started the outburst with a 2-run double. A few batters later, Hill added a 2-run triple. Hill came home on a Delaney Stettler double.
The explosion of offense included 10 hits, capped by Hill's 2-run double, giving her four RBI in the frame.

Meanwhile, three pitchers combined to toss a 2-hitter for Valhalla (2-3). Jordan and Yanely Gonzalez also added a pair of RBI each.