O'Sullivan, Valhalla earn back respect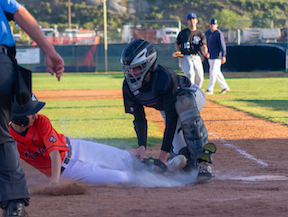 Valhalla's Trey Henige is tagged by catcher Andrew Ritayik. / photo by Melissa Honick
2019 EAST COUNTY PREP BASEBALL
VALHALLA 7, WEST HILLS 3
East County Sports staff report
RANCHO SAN DIEGO (3-28-2019) – After Valhalla High slugger Riley O'Sullivan sent a game-tying, 2-run homer off the football bleachers in deep left field, West Hills coach Mickey Deutschman made a vow.

"If Riley beats us with his arm, so be it," said Deutschman. "But after he hit that bomb, I wasn't going to let him beat us with his bat."

Afterward, O'Sullivan was intentionally walked three straight times. But the Norsemen bats behind the senior came through.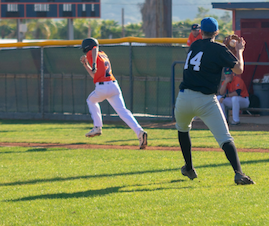 Trey Henige and Luke Clark each collected RBI hits in the 5th and 6th innings, giving Valhalla a 7-3 triumph over the first-place Wolf Pack in Wednesday's (Mar. 27) Grossmont Valley League contest.

Both sides are now 2-1 in GVL play, a half-game behind the new front-runner, Steele Canyon.

A key decision based on hustle went sideways for West Hills, allowing Valhalla to slip ahead in the 5th.

After Ethan Dunnam accepted a one-out walk, O'Sullivan received his second free pass. Henige followed with the first of his two run-scoring base hits in the late innings. But this one barely fell in front of the centerfielder.

"You love the hustle, but there are two situations when you really want to play the ball on a hop," said Deutschman. "That was one of them, but when you're going all out to make the catch, you hope he gets there."

Charging hard toward the infield, Wolf Pack center fielder Kole Klingerman flew forward, but just missed making a highlight catch. But because the ball bounced just a few feet away, Dunnam was able to take the extra base and register the go-ahead run.

"Trey has been coming through for us like that all season," O'Sullivan noted. "We already know teams will walk me at times, so the people behind me have to come through."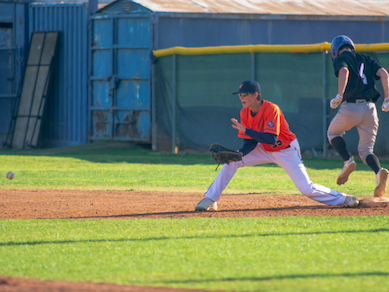 O'Sullivan took care of the rest to finish with a complete-game 5-hitter. He blanked the Pack on just two hits over the final 6.1 innings after West Hills jumped to a quick 3-run lead.

However, O'Sullivan would "earn" a third free pass in the 6th.

"The first walk I expected, but the second one kind of surprised me," he noted. "But three times? That's a first for me."

This time, both Henige and Clark delivered, each singling up the middle. Henige's liner with the bases loaded knocked in two runs, then Clark's hit brought O'Sullivan home.

Clark later attempted a delay steal in order to entice a throw so Henige could score from third base. Clark slowed as he approached second base, then withdrew back towards first.

However, Wolf Pack second baseman Joe Thrailkill wasn't fooled, nearly catching Henige back-tracking to third base. The ball went to third baseman Devil Bevilacqua, Henige was now obligated to head home, but Bevilacqua fired a strike to catcher Andrew Ritayik for an easy, inning-ending out at the plate.

Meanwhile, Valhalla's defense made an early mistake that cost O'Sullivan an unearned run.

Thrailkill opened the contest with a bunt, reaching on an error. Two pitches later, West Hills right fielder Cody Pedrero drilled an RBI triple to center field. He would also score when starting catcher Kai Dennis grounded an RBI single up the middle for a 2-0 lead after three batters.

A pair of ground outs advanced Dennis to third base, then with two outs, Kyle Dobyns registered a scratch, infield single to mount a 3-0 lead.

Valhalla immediately answered with one run on an error, then O'Sullivan bleacher-banger.

For the Norsemen (10-4 overall), Dunnam batted 2-for-2 with a walk, scoring three times, while Henige, a sophomore outfielder, went 2-for-3 with4 RBI.

West Hills (3-10) saw Thrailkill, the leadoff hitter, bat 2-for-4, with a run and a stolen base,