Elliott honors McGhen with performance
Senior Trevor Elliott delivers to El Cajon Valley on Tuesday.
2019 EAST COUNTY PREP BASEBALL
MOUNTAIN EMPIRE 14, EL CAJON VALLEY 0
EastCountySports.com staff report
EL CAJON – No matter how far his impressive pitching talent takes him, Trevor Elliott will always have longtime Mountain Empire coach Bob McGhen's teachings, especially when he pulls the string on his curveball.
McGhen, the former RedHawks' head coach and pitching coach who has mentored Elliott and many young ballplayers throughout the years, passed away last week.
At El Cajon Valley High on Tuesday, Elliott came within one batter of a complete-game shutout, as the visitors from San Diego's backcountry took a 14-0 non-league victory from the Braves.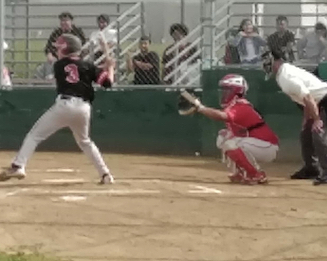 Elliott, a senior right-hander, struck out 17 batters but was forced from the ballgame due to a CIF mandated pitch count.
However, the bullpen committed a balk and a pair of wild pitches to allow El Cajon Valley to score. The very next pitch was the ballclub's 18th strikeout to complete the 2-hit win.
"This game was dedicated to my former pitching coach Bob McGhen," Elliott said. "He was a good influence on our team and also taught me how to throw one of my best pitches, the curveball.
"He will always be in my heart as well as my team's."
Elliott has now posted 52 strikeouts over a mere 21.2 innings this season with an ERA under one. Over his four starts, Elliott has reached double-figures in Ks each time.
"I had my fastball moving very good along with my curveball which allowed me to get the 17 Ks I needed," Elliott said. "Unfortunately, I ran out of pitches in the 7th inning, restraining me from breaking the record, but I expect to beat it this year."
Elliott, a senior, also did some damage with the bat. Batting leadoff, he went 2-for-4 with a double, good for three runs scored and a pair of RBI.
"Today's game went good for the whole team," Elloitt said. "We started to get our offense going early on in the game and didn't look back."
Included was getting hit by a pitch to start the contest, then later smacking his double in the very same inning, when the RedHawks scored eight times in the first innng.

Meanwhile, No. 2 hitter Jacobe Noland went 4-for-5 with two runs and a pair of RBI.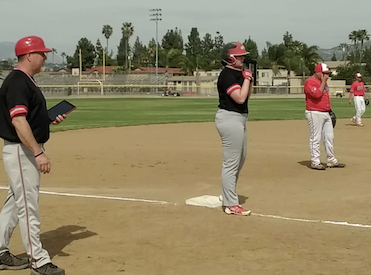 "My teammate, Michael Thing, got one of his best hits in today's game," Elliott said. "Jacob Noland had three doubles and also Mackenzie Noland stepped up and played third base for us."

Most of the damage was incurred by the top half of the Mountain Empire batting card.
No. 3 hitter Sam Jones went 2-for-6 with two RBI, while cleanup hitter Ian Estrada demonstrated quality at-bats with three RBI despite not registering a hit in six plate appearances, utilizing a bases-loaded walk and ground balls up the middle to bring home runners from third base.

In all, Mountain Empire's top four hitters batted a composite 8-for-20 (8-for-14 sans Estrada), with 9 RBI and 7 runs scored.

The RedHawks (6-3) now own a 4-game winning streak.

Recording base hits for El Cajon Valley (1-5-1) were Greg Sanchez (lead single, 5th inning) and cleanup hitter Samuel Barraza (single, 6TH).