Norsemen aren't cursed by Petco visit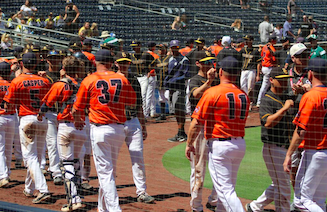 Valhalla and El Capitan sportsmanship line following the game at Petco Park on Friday.
2019 EAST COUNTY PREP BASEBALL
VALHALLA 9, EL CAPITAN 2

East County Sports staff report
GASLAMP QUARTER (4-14-2019) – The appearance wasn't exactly the one Morganna, the Kissing Bandit, gave to Pete Rose in 1969. All the young lady wanted was the baseball from Valhalla High pitcher Riley O'Sullivan prior to the start of the second inning on Saturday (Spr. 13) at Petco Park.
"Our third baseman, Mario (Johnson) said she was mumbling things when she went to the mound," said JoJo Ingrassia, who registered the go-ahead hit with a 2-run triple. "She talked to Riley and said she loved him, then she asked for the ball."
O'Sullivan instead headed toward Ingrassia, the first baseman.
"The home-plate umpire told him to back away and be careful," Ingrassia added. "Riley was quite wary. He handled it well."
Many assumed the girl was a Valhalla student, but…"
"We're still trying to figure that out," he added. "We've never seen her before!"
Instead, all O'Sullivan did was pivot away and walk towards first base, while the trespasser was escorted off the diamond. There was no cursing (like Rose), no kiss (as accepted by dozen of MLB players over the years), just a return to the mound to continue his dominating performance.
There were no lingering after-effects of the distraction. O'Sullivan simply went back to work, eventually striking out six over five innings, leading the Norsemen to a 9-2 decision over the Vaqueros.
"Riley definitely pitched well enough to give up no runs," said Ingrassia, who came on to deliver two no-hit innings of relief, striking out five. "But we couldn't help him enough on defense, then El Cap did get some nice hits."
The contest was part of the San Diego Padres high school showcase series. It was the first Petco win for Orange Nation.
The triumph also placed the Norsemen into undisputed possession of first place in the Grossmont Valley League at 5-1.
However, it may only be temporary, as second-place Steele Canyon (4-1 GVL) still has to make-up a ballgame with El Cajon Valley.
Ingrassia's triple started a 6-run rally in the 5th inning to snap a 2-2 deadlock. The junior almost stretched it into an inside-the-park home run but put the brakes on after reaching third.
No. 9 hitter Ryan Perot started the outburst with a one-out line single to center, Kyle Casper walked, then Ingrassia sent a line to right-center field which rolled and rolled to easily clear the bases.
"After the walk, it looked like the pitcher was losing control," recalled Ingrassia, who then came home on a wild pitch. "So I stepped up with two on looking for a fastball. It really broke the game open, then we continued to score."
Aaron Lopez later added a run-scoring single to cap the inning, giving the second baseman two RBI for his second multiple-RBI outing in two weeks. Earlier, he knocked in four against West Hills.
O'Sullivan yielded just five hits to raise his record to 2-1. However, two of the hits came to start the ballgame.
El Capitan catcher Jake Bergherm and left fielder Austin Barker stroked consecutive leadoff singles to center field. Bergherm eventually scored from third base on a double-steal.
Valhalla answered in home-half on an RBI single by Ethan Dunnam, then a single by Luke Clark sent Dunnam to third, then home on an error in the outfield.
However, the Vaqueros tied the contest when Barker singled with two outs, advancing to second on an error, then home with the game-tying run on another error in the 3rd.
For Valhalla (13-4 overall, 5-1 GVL), Casper batted 1-for-2, but walked twice, recording two runs and a pair of stolen bases.
El Capitan (6-12, 3-3 GVL) received hits from Bergherm and Barker. The only other hit was a  single by Dom Baker, a mid-game substitute second baseman, in the 5th.
East County High School Baseball
At Petco Park

(Series started in 2008)
Year

 Date

Result

2008 

Granite Hills 4, Grossmont 2    

2009

none

2010

Sat., May 8

El Capitan 7, Santana 3

2011

Fri., Apr. 29

Helix 1, Steele Canyon 0

2012

Fri., Apr. 27

Mount Miguel 3, Monte Vista 2

2013

Thurs., Apr. 18 
Fri., Apr. 19
Monte Vista 5, Santana 0
West Hills 8, Valhalla 1

2014

none

2015

Fri., Apr. 17

Grossmont 7, Steele Canyon 2

2016

Mon., Apr. 25
Mon., Apr. 25
Lincoln 6, ECVHS 5 (ECV wins by forfeit)
West Hills 2, Monte Vista 0 (11) 

2017

Wed., Apr. 26

Helix 4, Santana 0

2018

Thurs., Aor. 19

Monte Vista 11, ECVHS 2

2019

Sat., Apr. 13

Valhalla 9, El Capitan 2