Lions: Pack, Cougars, Norse, Monarchs, Knights win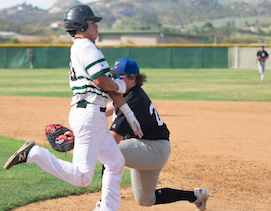 A Mission Vista runner hustles to first as West Hills' Devin Bevilacqua awaits the throw. / photo by Melissa Honick
2019 EAST COUNTY PREP BASEBALL
69TH LIONS TOURNAMENT

East County Sports staff report
SAN DIEGO (4-16-2019) – The Lions Tournament, the largest and longest-running high school baseball tournament west of the Mississippi River, commenced its 69th edition Monday (Apr. 15) with the first of three pool-play contests.
Here's a look at how East County schools did:
WEST HILLS 5, MISSION VISTA 4:  At northeastern Oceanside, left fielder Josh Gaylord singled home right fielder Kyle Dobyns with the game-tying run with two outs in the 7th inning, then second baseman Peyton Honick scored on a balk, as the Wolf Pack tallied four times in their final trip to the plate to shock the host Timberwolves to open Lions Tournament Division 4A play.
The victory by West Hills (7-12) was the school's fourth straight, matching the longest winning streak under the tenure of manager Mickey Deutschman.
"We just have a high mentality that we're winners," said Honick. "We go to practice with that belief, then bring it to the game and complete what we do in practice."
Mission Vista mounted a 4-0 before the Pack avoided the shutout bid in the 6th inning on an RBI double by Honick (2-for-3 with a walk, 3 RBI). But when the senior came to bat the 7th, the ballgame turned completely around.
"We showed that our team could put together some hits and put together a few runs," Honick added. "Everyone came through and did their jobs."
Kole Klingerman opened with a lead single, then the T-Wolves registered a pair of shallow fly outs, moving to within one out of a 4-1 triumph.
However, Andrew Ritayik and Dobyns both walked to load the bases. Honick lined a base hit to center to trim the deficit to 4-3.
"Before I went to bat, (assistant coach Jeremiah) Wylie pulled me to the side and told me to get into the pitcher's head," Honick added, "I did that getting the hit. And coming off my injury, it was a release to get my hitting underway."
Gaylord followed with his single to tie it before Honick came home on the balk.
"Josh was at first and did a delayed steal, so everyone yelled at the pitcher to stop.  He turned but stumbled trying to stop and fell the other way."
Wolf Pack relief pitcher Christian Schmid, who was hastily called in the 4th and allowed a quick run, on a sacrifice fly, then got into the groove by closing the ballgame with 3,1 innings of shutout ball to garner the triumph.
"Christian and the defense did it to close it out."
Honick plans to attend the fire-fighting academy at Miramar College in the fall, yet place baseball for one of its sister schools, either Mesa or Grossmont.
For West Hills, Gaylord, Dobyns and Klingerman all posted two hits, while Ritayik chipped in with a double.
Mission Vista (4-13-1) sophomore right fielder Julian Quezada belted a 2-run triple to open the scoring in the 3rd.
STEELE CANYON 5, SANTA FE CHRISTIAN 3: At Rancho San Diego, Cougars first baseman "Wild" Billy Tellous went wild at the plate once again, posting his first multi-home run outing of the season to send Steele Canyon past the visiting Eagles in the Premier Division win.
Tellous now has seven home runs on the season, tying Thomas Saggese of Carlsbad for the CIF San Diego Section lead.
"I'm definitely excited for the Lions playing a lot better teams," Tellous said. "I guess they didn't have the best scouting report because I hit two."
The homers lifted the Cougars to a 4-1 advantage through four innings, then pitchers Jonathan Kenney and Richard Pedrin overcame three errors worth a pair of unearned runs in the fifth to hand on.
"I'm always ready and eager to take the ball from coach when my name is called," Kenney said. "Today my team had an outstanding game against a great opponent. It's always great to have a power hitter like Billy that the team can always count on to start up our offense."
Kenney opened with 5.1 innings, yielding just one earned run, then Pedrin tossed 1.1 frames of 1-hit ball to garner the save.
"I love coming in with the game on the line and with runners on base," Pedrin said. "I see myself as the closer.I want to be the guy my team can count on to save the day. I strive to be a complete player who can hit, field and pitch."
Steele Canyon (11-6) had nine players collect hits, including doubles by Cade Stein and Sebastian Granados in winning for the 8th time in nine starts.
Santa Fe Christian (14-5) received two hits from leadoff batter Cole Roberts.
VALHALLA 10, KNIGHT (Palmdale) 6: At Rancho San Diego, the Hawks of Knight — the Knight Hawks — tallied six times in the 4th, but the Norsemen countered with seven runs in the 5th to send the visitors back to their Star Frontiers universe in Palmdale with a Premier Division win.
A dozen Valhalla hits including thereby Aaron Lopez, while Kyle Casper batted 2-for-4 with two RBI.
Down 6-1, the Norsemen immediately got one back, then went crazy in the 5th by sending 12 batters to the plate. The first three batters walked, then the next three batters — Aaron Lane, Aaron Lopez and Weston Clark — all singled to tie the ballgame at 6-all.
The game-winning RBI then went to No. 9 batter Ryan Perot on a bases-loaded walk, followed by run-scoring singles by Casper and pinch-hitter Luke Clark, then an RBI double by Ethan Dunnam.
Valhalla (14-4) saw Dunnam go perfect at the plate, batting 2-for-2 with two walks and scoring a pair of runs, as the Norsemen has now won six straight. The Norsemen were the highest-ranked East County team in the latest media poll, rising to No. 7.
Norsemen winning pitcher Anthony Young captured his third straight start,running his season record to a perfect 4-0.
Knight (11-8) leadoff batter Cody Turner went 2-for-4 with a double and three RBI.
MONTE VISTA 3, L.A.-ROOSEVELT 2:  At Spring Valley, the host Monarchs posted an early 3-0 cushion, then needed to hold on for dear life to win after the Rough Riders answered with runs in the 6th and 7th in the 5A Division game.
Following a double and a single to place Riders runners on the corners, Monte Vista closer Jacob Savoy came in, enticing a double play grounder which allowed a run to score, then a game-ending strikeout to register his first varsity save.
David Vega got the win, going 5 2/3 innings, allowing one earned run.
"I just felt comfortable up on the mound," Vega said. "Bubba (Christopher Leask) doing great behind the plate with blocking, and my defense doing great behind me. I was just feeling my pitches especially my off speed. All around, a great team win."
At the plate, Savoy and Andy Canedo each had two hits for Monte Vista (12-9), while Savoy and Ramon Varela each had an RBI, as the Monarchs won for 4th in five outings. won four of its last five.
(Vega) is a young player and he is doing great on the mound," Canedo said. "I see a great future for him as one of our starting pitchers.
We hadn't seen this team before but that doesn't matter to us we always have the same approach as a team. We came out with a victory and a good start to our tournament."
The Monarchs played error-free ball.
"Vega pitched a great ballgame," Monte Vista head coach Craig Neu said. "He was tremendous.
"We played really good defense today. Tough to beat us when we play that side of the ball so flawlessly."
Roosevelt (11-12) saw No., 8 batter Moises Nolasco go 2-for-3 with a run scored.
FOOTHILLS CHRISTIAN 9, RIDGEVIEW (Bakersfield) 5:  At Mira Mesa High, the Wolf Pack of Bakersfield (not Santee) are one of the state's top small-school programs… until the Knights battered them 10 hits, leading to six earned runs and a 6-2 lead through three frames en route to the 5A Division victory.
Knights third baseman Corbin Harris drilled a go-ahead, 2-run double as he finished with four RBI. He also contributed with a ground ball out to the right side to allow a runner to score from third base, then added a late sacrifice fly for an insurance run.
"Today was a great team effort," Harris said. "We pitched in on this win. Our infield was solid today. We had great at-bats today too, nothing was wasted. I was feeling great today, ready for some baseball. New day, new game."
Foothills Christian (9-2) received two hits each from Jalani Brown, Kip Famolaro and Jack Wurts.
Perhaps, most satisfying was Famolaro's complete-game pitching effort.
"Kip did a miraculous job on the mound and keeping runners on base," Harris said.
Famolaro scattered 10 hits.
"I went into the game feeling fresh," Famalaro said. "I wanted to give my guys a chance against a good team. The defense was outstanding behind me, they got me out of some tough situations. And, as always, our bats were on fire. Saying it was a great team win is kinda cliche but it truly was, I'm proud of everyone and I am excited to play tomorrow."
Ridgeview (17-4) third baseman Sean Moran batted 3-for-3 plus a walk, scoring three of the Pack's five runs.
The Knights face Pleasant Grove at Granite Hills High on Tuesday at 3:30 weather permitting.
CORONADO (Nev.) 12, EL CAPITAN 2: At Lakeside, the Vaqueros didn't fall to the local Coronado Islanders, which is a very strong ballclub, they fell to the Coronado Cougars (14-9) of Henderson, the 17th-ranked ballclub in Nevada.
The Vaqs stayed close at 3-2, then the Cougars posted four runs in the 4th to pull away for good, as winning pitcher Nolan Patterson fired a complete-game 5-hitter. The junior struck out five.
El Capitan (6-13) received RBI from Austin Bell and Charles Rodriguez.
SPORTS LEADERSHIP AND MANAGEMENT (Nev.) 5, MOUNT MIGUEL 1: At Spring Valley, the Bulls did the ole' over the Matadors in a first-round Division 3 Lions fight.
Down 3-0, Mount Miguel gained its run on a two-out single by Cameron Beauzec, scoring JoJo Castillo in the 5th.
For the Matadors (5-13), Thomas Ringer registered a pair of base hits.
"Every time I was up at bat I was looking to help my team out and get on base especially in a low'scoring game 'til late," Ringer said. "(The SLAM pitcher) was not throwing very hard, maybe low mid-70s. His approach was away. He had an alright curveball but I had enough discipline to lay off.
"Although, every pitch I got that was down the middle or inside, I put an alright swing on them. I think we just need to understand what we did today accept it for what it was and make adjustments moving forward in the tournament."
For SLAM (13-4), a second-year program, sophomore Daemein Hargrove hit a 2-run homer in the 5th.
CV-HIGH TECH 14, EL CAJON VALLEY 4, At ECVHS, The Braves, which traditionally do well in Lions competition, equaled its fourth-highest offensive output of the season. However, the Bruins tallied seven times in the 2nd inning to overcome a 1-0 deficit to claim Monday's (Apr. 15) win in a Lions 2A Division game.
Bruins junior shortstop Kai Saterstrom provided a pair of home runs, good for 6 RBI in a 3-for-4 effort. Included was a 3-run shot to cap the 2nd, then a 2-run shot to invoke the run rule in the 5th for High Tech (8-3).
For El Cajon Valley (2-14-1), Aaron Rodriguez finished with three RBI. "A-Rod" opened the scoring with an RBI single in the first, then clouted a 2-run homer in the third. Scoring both times was Greg Sanchez, as both seniors collected two hits to lead an 8-hit assault.
Meanwhile, the Braves' Robert Verdugo belted a triple.
CV-CALVARY CHRISTIAN 13, LIBERTY CHARTER 2, At Lemon Grove, Liberty Charter fell to 10-7 by losing to the No. 2 team in the San Diego CIF Division V power rankings in a 1A Division contest.