Eagles edge Westview; RedHawks score 31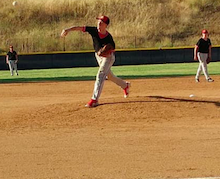 Mountain Empire's Nick Rose on the mound on Thursday.
2019 EAST COUNTY PREP BASEBALL
East County Sports staff report
EL CAJON (4-26-2019) – Granite Hills High first baseman Grant Mac Arthur collected three RBI, including a go-ahead sacrifice fly in the bottom of the 6th inning, as the Eagles avoided a possible playoff relegation by nipping Westview, 7-6, in Thursday's (Apr. 25) non-league ballgame.
With the triumph, Granite Hills clings to the No. 4 seed for the CIF Division I playoffs after edging a Wolverines ballclub that rated next-to-last in the division.
The top eight teams advance to the Open Division, which currently includes Helix at No. 5. Meanwhile, the remainder head to the D-1 playoff, of which the Eagles were fourth coming into the week.
Another story in this one was the return of Granite Hills senior star Sean McGrew back to the lineup from injury.
McGrew doubled, walked and was hit by a pitch, accounting for a pair of runs scored.
Following Mac Arthur's fly ball to bring home pinch-runner Art Lopez, pitcher Austin Smith completed three innings of relief, surviving a two-out walk with a game-ending strikeout.
After allowing two runs to tie the contest in the 5th, Smith finished with 2.1 shutout innings to gain the win.
"Heck of a team win, everyone contributed," Austin Smith said. "Having Sean's bat back  in the lineup helps us a lot."
Early on, Mac Arthur was a center of attention.
With Westview leading 2-1, the freshman hit a bases-loaded ground ball which, tying the game with his first RBI. He later scored the go-ahead run on a Clay Fordham base hit when the Eagles scored four times in their 3rd.
"The hitting is just the constant work from the cages to practice to games," Fordham said. "We do our best to take our best swings from BP into the games and just find a way to hit the ball hard and make things happen.
"Our pitchers did well today, too. They kept us in the game the whole time and gave us a chance to win and that's all you ever ask for with your guys on the mound. It was a great win today to get us rolling right back into league."
Westview finally got even in the 5th on a 2-run single by Darren Cho before Mac Arthur's game-winner.  Earlier, brother Ryan Cho slugged a home run and a double.
Granite Hills (11-11 overall) received two hits each from Fordham and Smith among the team's nine hits.
"Having Sean back in the lineup is huge I can't say enough about it," Fordham said. "Whether he goes 0-for today or turned in four hits, his presence means something in our lineup and we couldn't have got him back at a better time."
Senior Brian Smith doubled, scored a run and had an RBI for the Eagles.
"It was great for our team to swing the bat like we know how to," Brian Smith said. "It is big for us to have another strong bat back into our lineup and I know he is going to help us."
Westview (8-16) has lost three straight and 5-of-6.
MOUNTAIN EMPIRE 31, VICTORY CHRISTIAN 1: At Chula Vista, the RedHawks scored 9, 11, 6 and 5 runs before the end this Citrus League ballgame.
Trevor Elliott pitched a pair of no-hit innings before getting lifted, yet still gets the victory by rule. He also batted six times, going 4-for-4 with two walks, collecting seven RBI, four coming on a grand slam to cap the scoring in the 1st.
Among the 31 runs by the RedHawks (11-5  overall, 4-1 league), all but one were earned.
At least Victory Christian (1-9, 0-5 league) scored, ending a streak of 98+ runs allowed by scoring in the 4th inning to counter a 26-0 deficit. Entering the game, the Knights suffered three consecutive shutout losses by a composite 69-0 count, last scoring in a 25-1 loss to The Rock on Apr. 11.