ROUNDUP: Norsemen uncanny in extras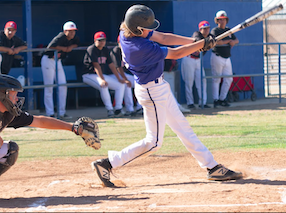 West Hills at the plate against Mount Miguel on Friday. / MelissaHonickPhotography.com
2019 EAST COUNTY PREP BASEBALL
East County Sports staff report
RANCHO SAN DIEGO (4-26-2019) – An updated memo has already been sent to the Stockton offices of CalHiSports, which already agreed to a new listing in the state record book for most consecutive extra-inning victories.
On Friday (Apr. 25), Valhalla High extended its remarkable streak for winning in "overtime" to 10 games after scoring in the bottom of 8th inning to nudge past Monte Vista, 7-6, in a key Grossmont Valley League matchup.
After Monte Vista staved elimination with a force out at the plate on a fielder's choice, Norsemen senor catcher Ethan Dunnam collected his second RBI single of the contest, bringing home Ryan Perot with the game-winning run.
Valhalla, the No. 3-rated club in Division III in the San Diego CIF power rankings, just ahead of fellow Grossmont Valley League rival Steele Canyon, has now captured 10 straight extra-inning contests. The streak includes six this season after taking all four in 2018.
Until further research can be conducted, CalHiSports will list Valhalla as the "leader" in the category rather than claiming the streak to be a state record.
Dunnam also knocked in the game's opening run, but the Monarchs — looking nothing like the club which got pasted 14-1 by Valhalla on Wednesday — twice fought back to take the lead, finally scoring twice in the fifth to get even for a third time. Aaron Zuniga registered an RBI single, then he scored the tying run when Valhalla just missed trying to turn a double play.
However, the Norsemen defense did turn a twin-killing to end the 8th. First baseman JoJo Ingrassia snared a line drive, firing to shortstop Ryan Perot to double-off a baserunner. The turn of momentum led to the game-winning run.
Luke Clark grounded a hard single to left field, moving to second base on a sacrifice bunt from Mario Johnson, who batted 2-for-3 with the RBI and scored twice.
Perot singled to left, so Monte Vista walked Kyle Casper to load the bases.
The strategy worked for the moment when Ingrassia's grounder saw the ball go home for the second out. However, Dunnam was able to single on a 2-2 pitch.
Dunnam, Ingrassia, and Johnson all finished with two RBI, making a winner of relief pitcher Andy Boyd, who pitched the final 4.1 innings.
Valhalla (17-5 overall, 7-1 GVL), which also received two hits from Trey Henige, leads Steele Canyon by a half-game.
The Cougars make-up game with El Cajon Valley is scheduled for Saturday at 10:30 a.m.
One of the comebacks by Monte Vista (14-12, 3-5 GVL) was fueled by Andy Canedo (3-for-5, 2 RBI), who belted a leadoff homer to tie the game at 3-all in the 3rd.
"It was a 1-1 count and he threw me a fastball high and in and I put a good swing on it and it helped my team tie the game 3-3, said Canedo. "We just needed something in play to score more runs and the pitchers threw me off-speed and a fastball and I just got the job done for my team."
Canedo started and went four innings.
"I had a rough day not fooling too many guys," said the sophomore right-hander. "We still competed against them, never giving up. We just fell short in the 8th inning."
Abraham Sanchez, a senior, spun 3.2 innings of relief for Monte Vista, allowing one run and striking out five.
"Abraham Sanchez pitcher really well in relief," Monte Vista head coach Craig Neu said. "Our kids played their hearts out. They deserved a better fate. It is part of the growing process.  You have to get your heart broken before you can be a champion."
Mesa College-bound senior Derrick Wiley went 2-for-3 with a walk for the Monarchs.
STEELE CANYON 7, EL CAPITAN 2: At Lakeside, the visiting Cougars are now 11-1 in their last dozen games against CIF-SDS opponents after sweeping a home-and-home series from the Vaqueros, including Friday's (Apr. 25) decision at Hostetler Field.
Following a rough first inning, Cougars pitcher Brad Barkley closed by tossing 6.2 innings of shutout ball, allowing just one additional hit in his complete-game 3-hitter.
"My cutter/slider was definitely my go-to pitch," Barkley said. "My offense was awesome today. We know that it's going to come out to our last two games with Valhalla and we're ready. But we're not worrying about Valhalla. Those games will come we just have to take it game by game."
His ballclub's bats also responded, closing with seven unanswered runs, featuring home runs by Jonathan Ramirez and Billy Tellous.
For Tellous, it was his ninth home run of the season, which now leads the section by two.
Still, Tellous doesn't seem to be getting the attention from professional and college scouts that might be fitting the county's leading slugger.
"I think that people for my whole high school career have doubted us but as long as we keep winning, I think we'll be fine," Tellous said.
Ramirez reached on an error in the 2nd, as two runs scored to tie the contest.
An inning later, Tellous went to right field with a two-out, solo homer to take the lead. Tellous also smacked a double in a 2-for-4 outing, matching the numbers of teammate Jake Entrekin.
In the 6th, Ramirez broke open a 4-2 ballgame, capping the scoring with a 3-run homer to left, his third consecutive game with a home run.
"John is hitting the long ball again with Brad having a great outing I think we're clicking," Tellous said.
The blast followed consecutive singles, including one by Carlos Camacho.
"I was struggling at the start of the season just with everything," Ramirez said. "I wasn't hitting the ball like I am now or anything. Spending more time in the cages working on things definitely helped for sure, working on what I needed to work on and just being relaxed at the plate and not trying to go yard all the time and being patient."
For Steele Canyon (15-7 overall, 6-1 GVL), Barkley finished with 11 strikeouts.
"Brad brings energy to the field and we all follow," Ramirez said. "He's a great teammate and love when he pitches 100 percent on every pitch.
"Everyone is overlooking us and we love it. I think everyone is definitely sleeping on us and we can't wait to just show them what we are capable of."
El Capitan (6-17, 3-5 GVL) opened the game with consecutive singles by Jake Bergherm and Larry Snow. A run scored when Jake Pfitzner reached on an error, then Brandon Williams lifted a sacrifice fly to right field for a quick 2-0 advantage.
WEST HILLS 5, MOUNT MIGUEL 0: At western Santee, Peyton Honick and Kyle Dobyns combined on a 4-hit shutout, leading the Wolf Pack to an eighth triumph in their last nine starts, clinching no worse than a third-place finish in the Grossmont Valley League.
Honick was locked in a pitchers' duel with the Matadors' Thomas Ringer for four innings, then Dobyns took over, gaining the victory when West Hills ended the string of zeros in the 5th inning.
With runners on the corners, Andrew Ritayik took off for second base, but only going at 80 percent to entice the throw, so he made a U-turn and intentionally getting caught in a rundown. Four throws later, Ritayik was finally tagged out, but not before Kai Dennis had easily scored.
"I talked to Frank (Coit, the Mount Miguel coach) after the game and he said they worked on that very play yesterday at practice," said Wolf Pack manager Mickey Deutschman. "He wasn't very happy.
"It was the type of play which we couldn't execute at the beginning of the season when we started 1-9 and lost something like six 1-run games. Now, we're making those little plays that make big differences."
A pair of small mistakes by the Matadors opened the doors to a 4-run rally by West Hills to put the ballgame away in the sixth. An error and a dropped third strike (wild pitch) placed two runners on base.
Tommy McCormick followed with a run-scoring single to right field, then Kole Klingerman smacked a 2-run double to left field, pushing the lead to 4-0. Klingerman later scored from third base on a wild pitch.
"We have so many pitchers that need work right now," added Deutschman. "Peyton wanted to know why he came out and I told him we need everyone to get work so we can be prepared if we make the playoffs."
For West Hills (10-13 overall, 7-3 GVL), Ritayik collected two of the team's seven hits.
Mount Miguel (7-16, 3-7 GVL) received doubles from Cameron Beauzec and Austin Ortiz.
"We have run into a late-season lull," Mount Miguel head coach Frank Coit said. "Our energy level has been down significantly since the Lions Tournament.
"Our offense has been almost non-existent. Our pitching is still doing well and keeping us in games, but without any run support, it is very difficult for pitchers to hold the opponents at bay for an entire game.
"Hopefully with only one game next week (versus Division 2 club Chula Vista), we can revitalize ourselves and regroup for the last three games the following weeks all versus D5 teams."
FOOTHILLS CHRISTIAN 12, ESCONDIDO CHARTER 4: At Stars Field at Barona, the Knights were riding with a comfortable 5-0, but when the White Tigers responded with three runs in the 6th inning, Foothills Christian answered back with six additional runs to claim Friday's (Apr. 25) Pacific League game to gain a split of the teams' home-and-home series.
Junior center fielder Max Merlan paced Foothills Christian with two hits with a triple and an RBI, as seven members of the Knights drove in a run.
"Just seeing the ball well as of late," Merlan said of his recent hot hitting. "Staying patient and understanding how pitchers are attacking me."
Sophomore catcher Kip Famolaro also had two hits among the team's 11, meaning seven other players registered one it — talk about a balanced attack.
"We just need to play these last games one at a time," Famolaro said. "The way Brendan dominated on the mound today was incredible. He's great at keeping teams off balance."
"If we play each game as intensely as we have been, winning the league isn't a doubt in my mind."
Winning pitcher Brendan Campbell tossed a complete-game for the victory, the first East County hurler this season to do so without recording a strikeout.
For Foothills Christian (8-17 overall, 2-3 league), Merlan and Famolaro both scored three times.
Escondido Charter (12-10-2, 2-3 league) saw Sean Burcin and Maxwell Kirton both garner two hits, accounting for half of the White Tigers' eight hits.
HELIX 4, CORONADO 3: The fifth-ranked Helix Highlanders edged 19th-ranked Coronado as Carlos Oquita remained hot at the plate with another home run and two runs batted in.
Oquita opened the scoring with a solo home run in the second inning.
"I think the success comes from the confidence I have in myself," said Oquita, who moved into a tie for second in the county with seven round-trippers this season. "My teammates are a big reason I'm able to have confidence in myself. They are always picking me up."
After the Islanders grabbed a 3-1 lead in the top of the third, reliever Thomas Caneday came in and pitched 2.2 innings score scoreless relief.
Helix answered the tie the game in the last of the third on an RBI single by Oquita, scoring Jordan Thompson (single).
"We have a great line up so I feel no pressure during my AB's as I know the guy before me or after me can get the job done as well," Oquita said. "Our pitching was great today, they were able to hold the runs down just enough to win the game and that's what it's all about, getting wins."
Caneday was followed by Alonzo Richardson and Thompson, who both pitched a scoreless inning.
Richardson took one for the team in the last of the fourth but ended up with the game-winning RBI when he was hit by a pitch with the bases loaded.
"It was another close game and Coronado played well, said Helix senior Eric Smelko. "Thomas Caneday came in relief in a tough position and he got us out of it. Carlos Oquita had two hits that got our offense going. Jordan came into pitch in the 7th and shut them down.
"We recently have been playing a lot of close games and those games will help us when we play against Grossmont next week.
Helix appears to be in control of a possible berth in the Open Division playoffs with a sure near top-five position in the power rankings, however, the current section formula, which has the Highlanders far below the Open Division bubble, may not yet account for the massive adjustment for many teams that played out-of-section teams in the Lions Tournament. Any correction remains to be seen.
"It is getting closer to the playoffs but we still have four important games until then," Smelko said. "For the last four league games, we have to take it one pitch, one out, and one inning at a time."