Wolf Pack, Matadors, RedHawks advance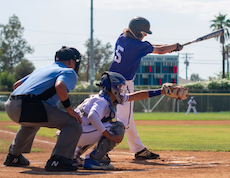 West Hills' Andrew Ritayik at the plate on Tuesday against Central High. / Melissa Honick Photography
2019 EAST COUNTY PREP BASEBALL
East County Sports staff report

EL CENTRO  (5-15-2019) – West Hills
High allowed a late 3-0 lead to
disappear, yet bounced back with five
runs in the 8th inning to stun host El
Centro-Central, 8-5, in Tuesday's (May
14) play-in game to the CIF-San Diego
Section Division IV baseball
championship.

The playoff victory was the first for
the Wolf Pack since 2014, when they
also scored a road triumph at San
Ysidro.

West Hills forced a major defensive
mistake to break the tie in the 8th.

Following one-out singles by Kole
Klingerman  and Josh Gaylord, the
Central catcher made a grab on a foul
pop for the second out.
With the defender sprawled on the
ground, Klingerman tagged-up and headed
for third base, but a wild throw gave
the Wolf Pack junior free passage home
and a 4-3 lead.

Then the Central defense went
completely into tilt mood.

The ensuing ground ball was booted,
followed by an RBI single by the
seldom-used Jacob Villanueva — his
first varsity hit in 10 official at-bats —
to allow Gaylord to score.

An RBI single by Kai Dennis made it 6-
3, then the Spartans' third error of
the inning allowed two more baserunners
to scamper home. All five runs were
unearned.

"Kole recognized he had a shot at
taking third and made an aggressive yet
smart play," said West Hills manager
Mickey Deutschman. "Once he forced that
error, everything snow-balled on them.
We kept hitting and Central kept making
errors."

"However, tomorrow (Wednesday) will be
much tougher," as the Wolf Pack again
hit the road to meet top-seeded Tri-
City Christian at MiraCosta College in
the first ballgame in the main draw.

The opening runs came in the third on
an RBI single by Andrew Ritayik and a
sacrifice fly from Parker Craft.

In the sixth, Klingerman belted a lead
triple, but didn't score until Joe
Thrailkill  delivered a clutch, two-out
single.

Central would tie the game in the
home-half of the frame before the Wolf
Pack (12-14) gladly accepted their gift
runs in extra innings.

For the Pack, Dennis and Thrailkill
both batted 2-for-4 and scoring twice.

For Central (12-14-1), it was the
school's first playoff meeting with a
Grossmont Conference ballclub since
2002, when Santana topped the Spartans,
5-4.

The heart of the Central batting order
did most of the damage,as No. 3 hitter
Deniro Osuna went 3-for-4, then cleanup
hitter Brian Martin was 2-for-4 with
two RBI and a pair of runs scored.

DIVISION V

MOUNT MIGUEL 5, LINCOLN 0: At western
Spring Valley, Matadors pitcher Nico
Camacho registered a season-high 10
strikeouts in firing a 3-hit shutout at the
visiting Hornets in Tuesday's (May 14)
CIF Division V play-in contest.

Camacho needed to be sharp, especially
early, until Mount Miguel broke through
for four runs in the 5th inning.

An error broke the scoreless duel, then
Cameron Beauzec blasted a 3-run homer
to send the Matadors into the main draw
of the postseason tournament.

Camacho was tiring in the seventh,
allowing a leadoff double to the
Hornets' Paul Stefano. He was bunted to
third base, but Camacho completed his
shutout with a strikeout and a ground
out to third baseman Erik Kelly.

Just like West Hills, it was the
Matadors' first CIF triumph since 2014.
In addition, it was also the school's
second CIF shutout win since at least
the mid-1970s (immediately available
records date back to 1975); the most
recent was a 2-0 verdict over Escondido
Charter in 2013.

At the beginning of the big inning,
JoJo Castillo reached on a leadoff
error, followed by a single by J.D.
Laverdiere, then No.9 batter Carlos
Sanchez also reached on an infielder's
bobble to score a run.

An out later, when Mount Miguel turned
over its lineup card, homers  turned
out the lights with his line drive over
the center-field fence.

Castillo added an RBI grounder in the
sixth to score Camacho (single) with an
insurance run.

For 6th-seeded Mount Miguel (11-17),
Camacho batted 2-for-2 with a double
and walk, while Laverdiere also added
two hits among six for the Matadors.
They advance to meet No. 3 CV-High Tech
on Wednesday.
"Nico pitched his heart out," Mount Miguel
head coach Frank Coit said. "We made a
couple of errors early behind him, but he
wouldn't give an inch, he pitched around those
errors and battled on every pitch. He gave us a
real bulldog effort. We needed it because
Lincoln came to play. They gave us all we
could handle.
"Proud of our kids, they played today with playoff
intensity, every pitch, it was a great atmosphere.
"Big crowd, good baseball by both teams.
It was a really good high school baseball game,
no matter what division."
"Cameron's home run was the game changer.
Huge for him, and the team as it was only 1-0 at the time.
"Our pitching down the stretch has been great.
One run allowed over 4 games and a no-hitter, can
hardly ask for more than that from your staff.
Thomas Ringer will get the start for the Matadors against
the Bruins.
"I have no doubt he will give us a similar effort as
Nico today, he, too, is a real Bulldog."
Ringer, a sophomore, is one of the brightest young stars
in the Grossmont Conference.
"This win was the best win for our program
so far," Ringer said. "This had a glimpse of
the energy that we had when we beat GVL champs Valhalla.
This is a great start to our CIF run."
Lincoln (12-13-1) pitcher Daniel
Escalon tossed four shutout innings
until getting tagged for four unearned
runs in the fifth

MOUNTAIN EMPIRE 10, CHULA VISTA
LEARNING 3: At Campo, RedHawks
strikeout artist Trevor Elliott was
lifted after two innings when it was
apparent the Cobras were well over-
matched in Tuesday's (May 14) CIF
Division V play-in game. Elliott struck
out four, yet was lifted with a 7-0
lead and will be saved for more
important work later in the week.

However, Elliott's bat remained in the
contest, belting a triple and a
double.

The pitching victory went to reliever
Ian Estrada, who allowed just one hit
over the final 3.1 innings. The
lightly-utilized senior previously
hurled just four frames all season, yet
garnered his first varsity triumph of
the year.
RedHawks catcher Jacobe Noland, third
baseman Sam Jones and second baseman
Michael Thing each collected a pair of
RBI.

Mountain Empire (14-9), the fifth seed,
heads to 4th-seeded Morse on Wednesday
in the main draw of the tournament.

CVLCC (7-9), the 12th seed, received
its lone hits from a pair of juniors,
Adrian Vallejo and Aleck Langarica.
PACIFIC RIDGE 3, LIBERTY CHARTER 1: At
Alga Norte Park in Carlsbad, the host
Firebirds eliminated the Lions of Lemon
Grove in a CIF Division V play-in
contest on Tuesday (May 14).

Pacific Ridge (14-6), the 7th seed,
advances to meet second-seeded Orange
Glen. Liberty Charter (13-13-1) ends
its season with a .500 record.