Sultans, Eagles impress; Cougars caught looking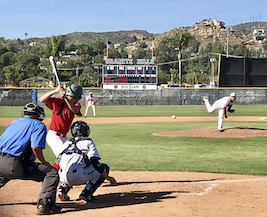 Granite Hills delivers to Vista on Tuesday in the San Diego CIF Division I playoffs. / photo by Dave Dickens
2019 EAST COUNTY PREP BASEBALL
East County Sports staff report

RAMONA (5-15-2019) – Beauty remains
in the eye of the beholder. And for the
Santana Sultans, old-school baseball is
just fine when you come out on top.
On Tuesday (May 14), the Sultans
tallied twice in the top of the 7th
inning, then Ben Hart capped off a
complete-game, 4-hitter to stun host
Ramona, 4-3, in the CIF Division II
playoffs play-in game.
"I'm really proud of our guys and how
we competed today," Hart said. "Lots of
teams will fold after giving up three in the
first inning but we showed some resiliency
today and battled back. Nobody on our team
looked panicked, and it showed in the 7th.
"Great team win, now we got a tough team
in Santa Fe Christian tomorrow but we'll be ready.

Cole Contreras, who had batted 0-for-3
with a pair of strikeouts, right now
loves being called ugly. He worked a walk with
the bases loaded to force home the
game-tying run.

Moments later, Sean Iverson lifted a
fly ball to left field just deep enough
to score Hart on a sacrifice fly to
give Santana its first lead since the
first inning.

Hart, just steps away from the pitch
limit, did have East County saves
leader Riley Hamilton ready in the
bullpen. However, Hart ran his record
to 6-5 by retiring the Bulldogs in order
to advance his ballclub to the next
round.
"Our schedule was really tough this year
playing mostly D1 teams that really helped
us prepare for playoffs," Hart said. "We knew
heading into the game that we're facing a top
guy in the county but it's wasn't anything we
hadn't seen before with the competition
we have in our league."

Santana (13-14 overall) travels to
Solana Beach and play Santa Fe
Christian on its all-weather field on
Wednesday.

Ramona (16-12-1), champions of North
County's Valley League, had won 15 of
its last 18 contests. However, the Dawgs
are eliminated after finishing third in
D-2 the past two seasons. However, the
school is just 3-11 in postseason games against Grossmont
Conference schools since 1998.

Santana got on the scoreboard quickly
in the first when Tyler Glowacki slammed
a two-out, solo home run to left field
after fouling off the two previous
pitches.
The Bulldogs answered with three tuns
in the home-half of the frame.

Derek Diamond tied the game with an RBI
double to left to score E.J. Edelman.
Both are seniors. Then a Sultans error
plated a pair of unearned runs.

Santana's comeback started in the
fifith when Ramona issued a pair of
walks and hit a batter to load the
bases with no one out. However, the
Sultans could only manage one run on a
Hart single, as the Dawgs escaped with
on a double play and a strikeout.
Hart and Iverson each finished with two
of Santana's six hits.
GRANITE HILLS 5, VISTA 3: At Granite
Hills, Eagles pitcher Noa Ponciano
recovered from a slow start to fire 5.1
innings of shutout ball, as Granite
Hills scored all of its runs in the 2nd
inning to plank the Panthers in a
play-in game in CIF Division I playoff
action Tuesday (May 14).

Nearing his pitch limit, Ponciano (5-5)
saw Eric Hogan register the final three
outs for his first save of the season.
"Today was mostly a fastball pitching
game during the seventh inning," Hogan
said. "Having the closing role on the team
comes with a lot of pressure but once you
overcome the pressure, it becomes
like a normal game of baseball."
Ponciano allowed two quick singles, but
a double play grounder almost got him
out of the inning. However, Vista
cleanup hitter Nate Daniels belted an
RBI double for a 1-0 lead.

Afterward, it was all Ponciano and the
Eagles, featuring several key hits in
the big rally in the second.
"I think Hogan being a closer will be a great
part of our pitching staff," Ponciano said.
"He is a great part in our rotation and I
would love it if he keeps doing what he is doing."
Setting the table with one-out hits
by Clay Fordham (single) and Max
Bodtke (double). Then the runs poured
in as Granite Hills posted seven consecutive base hits.
"It was a good overall game, very solid for us,"
Fordham said. "We showed our bats are alive
and well but we'd definitely like to put up more
hits and runs as the game progresses so we don't
have any scary situations later on in the game.
"We never really had the concern of the game
even though it appeared so in the last inning.
"We love Hogan coming into the game shutting it
down for us. He's just really good at doing his job.
He just had to come in and help Ponce he threw
one heck of a game to get us through this must win.
"Overall there's not much more to be satisfied with
than what we showed in our first playoff game today.
Austin Smith singled in a pair for a 2-1 lead, then Alex Gibaud and Ryan Fenn singled to load the bases.

T.K. Parker lined a double to left to
push the margin to 4-1, followed by an
RBI single from Sean McGrew.

Fenn, the leadoff batter, went 3-for-4,
while seven other Eagles had hits as
part of a 10-hit attack.

Granite Hills (14-13) advances to the
main draw, traveling to meet 4th-seed
St. Augustine at Hickman Field in
Kearny Mesa.

Vista (11-18-1) saw  Daniel Ramirez
bat 2-for-3, while Daniels and Drake
Buffington adding doubles.
OLYMPIAN 10, STEELE CANYON 5: At Rancho San Diego, the Cougars' hopes to gain a decisive third ballgame with Grossmont Valley League rival Valhalla became completely unraveled after the visiting Eagles ended their season in Tuesday's (May 24) CIF Division II play-in contest.

Moments after Steele Canyon tied the game at 3-all, Olympian registered six runs in the 3rd inning to cement the triumph. The Eagles collected 15 hits, including a game-tying, leadoff home run by left fielder Ryan Rodrin in the 2nd inning.

Instead of setting the table, Eagles leadoff batter Hector Acosta drove in three runs, while No. 2 hitter Victor Zazueta had a pair of RBI.

In addition, Cody Roberto and Nevin Baclig knocked in a pair of runs in the 15-hit attack.

Steele Canyon saw center fielder Richard Pedrin bat 2-for-3 including a double to close the season on a 6-game hitting streak (8-for-21),

Eli Page and Jonathan Ramirez also doubled, but six total Cougars hits were far from enough against Eagles pitcher Bradley Mookini, who struck out six in his complete-game effort.

Steele Canyon (18-10) has won just a single CIF game since 2014. Senior first baseman Bill Tellous finishes the campaign with 10 home runs, the most by a member of the Cougars since Mark Bellatti hit 12 in 2008.
Olympian (17-10) continues its march through the East County with a meeting with another Grossmont Valley league opponent in Valhalla on Wednesday.
"Just a tough one to swallow,"
Steele Canyon senior starting pitcher Brad Barkley said. "Wish things could have went our way but a great season. We couldn't seem to get in a groove and their hits went where our guys weren't."