Krug's arrival has Patriots in top class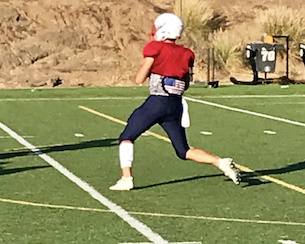 Christian High junior Gabe Krug drops back during a preseason workout.
2019 EAST COUNTY PREP FOOTBALL
CHRISTIAN PATRIOTS PREVIEW
HEAD COACH: MATT OLIVER (20th season, 168-66)
Last Season: 10-2 (lost to Morse in San Diego CIF Division III semifinals) / (4-0 Eastern, 1st)
2018: The Patriots returned to the top of the league standings in the Eastern League after seeing their circuit championship streak end in 2017. Christian's only regular-season loss came in a rain-shortened game at Cathedral Catholic. The Pats won several thrilling games, including a one-point playoff win over University City after beating them on the road a week earlier to secure the league banner outright. A double-overtime win over fellow unbeaten Monte Vista in Week 3 was maybe the East County's Game of the Year. The Morse Tigers stunned Christian High in a section semifinal game at El Cajon Valley High.
OUTLOOK: One of the biggest storylines during the preseason in the East County in the addition of transfer quarterback GABE KRUG from St. Augustine via Westview. The junior played in just three varsity games for Saints last season but his career trajectory along with his elite-level camp and film work has already earned him scholarship offers from Arizona State and William & Mary. The Patriots have experienced players stepping in for graduating stars from '18. Senior two-way lineman ISAIAH OWENS is a likely All-CIF candidate at guard. Seniors CARSON STROMAN, TODD BEEZER, CHRISTIAN SALACUP and NATE STINE are also two-way leaders. Juniors linemen ANDREW YOUNG and ERIC MARKOWITZ lead the underclassmen.
SCHEDULE: In addition to rematches with the Monarchs and long-time rival Santa Fe Christian, the Patriots will host the perennial No. 2 team from Alaska, Soldotna High. Also included is two other out-of-section opponents. The league schedule features crucial Eastern League home games against Morse and University City with the Mira Mesa matchup on the road. The slight schedule downgrade coincides with Christian's promotion to Division II this season but an early preseason county coaches canvass had the Pats as a likely section title contender and the third-best team in the East County.