Monarchs still have keys to title success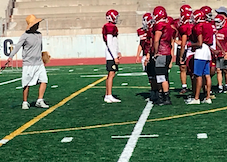 COACH HAMAMOTO INSTRUCTS THE MONARCHS DURING A PRESEASON WORKOUT
2019 EAST COUNTY PREP FOOTBALL
MONTE VISTA MONARCHS PREVIEW
Last season: 9-2 / 4-0 Grossmont Valley League (1st)
Head coach: RON HAMAMOTO (8th year at Monte Vista and 33rd overall, 45-38 / 227-149 all-time record, fifth-most wins in section history.)
2018: Monte Vista opened with three-straight wins before losing a double-overtime thriller against the Christian Patriots on the road. Another six-game winning streak culminated in the Monarchs first league title in 14 years when they defeated West Hills, 35-0, on the final night of the regular season. Santa Fe Christian came to Spring Valley and stunned the Monarchs, 27-17, in the CIF Division III quarterfinals. Monte Vista graduated two stars who have moved on to Division I programs in JAHMON MCCLENDON (UCLA) and BLAKE SCHMIDT (Montana State).
OUTLOOK: Despite losing several key members to graduation from a team that won league and section titles over the last two seasons, Monte Vista's program under Hamamoto just puts the pieces in place and then the veteran mentor and his coaching staff set the machine in motion. Senior defensive end SEBASTIAN VALDEZ will also head to Montana State following the school year, while senior linebacker LOGAN SCHMIDT could likely follow his brother's path to play at a four-year school. Senior running back ISIAH GARDNER is a three-year varsity member set to be the feature back. The Monarchs feature a veteran line led by seniors JARED REINHOLDT, MANNY LEVI, BRANDON NARVAEZ, ANGEL VILLANUEVA and RON BARRY, who missed most of last season with a serious knee injury. Senior RUBEN SILVA has the job as the starting signal-caller.
SCHEDULE: Monte Vista's toughest game of the season in the opening game against the Lincoln Hornets, who were tabbed seventh in a preseason county coaches' poll. In addition to three other non-league games on the road, the Monarchs will host a rematch with Christian. The league schedule has pass-happy foes Mount Miguel and Santana coming to Spring Valley, while the championship may once again be decided on the final night of the regular season against the Wolf Pack in Santee. The Monarchs are moving up to Division II which is a formidable test this season despite the team's recent successes.