Big turnaround expected for Matadors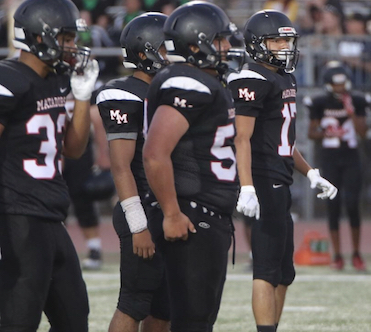 2019 EAST COUNTY PREP FOOTBALL
MOUNT MIGUEL MATADORS PREVIEW
Last year: 3-7
Head coach: TROY STARR (2nd year)
2018: The Matadors may have finished on the shorter side of the ledger but few teams in the county were as exciting on offense. Once J.D. LAVERDIERE and his targets hit their stride, the quarterback threw just less than a field-length away from 3,000 yards, completing 27 passes for touchdowns. Senior returnee JAHIEM ALLEN-POMPEY caught seven of those scores out of his 37 receptions, good for over 700 receiving yards. The Matadors beat the three teams they were expected to beat last season but didn't pull off any upsets, which kept them out of the postseason.
OUTLOOK: The Matadors can claim contention in the Grossmont Valley thanks to this prolific passing attack. Laverdiere has more targets in JOJO CASTILLO and KOJO MILLER. There is also experience with senior LB/OL ULICES MONJE. Junior ELIAS DOERING and senior CHRISTIAN BERNAL help pace the offensive line, while senior QUINCY SNIPES leads the defensive front. ANTHONY MITCHELL, a junior RB/SS is also going to contribute on both sides. Mount Miguel is expected to completely turn its fortunes around from a year ago.
SCHEDULE: The Matadors will play a more manageable schedule this season which puts them in playoff contention in Division IV. Games against Patrick Henry, Chula Vista, Sweetwater, and the season finale at home against Del Norte all will have an impact in Mount Miguel's eventual playoff standing. The contest against rival Monte Vista is on the road, but a home matchup with Santana could tilt the scoreboard.