Braves earn first victory in two years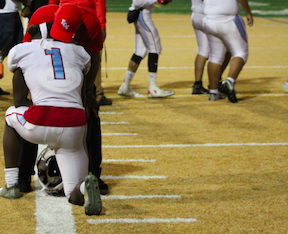 Clarence Johnson reacts following the Braves' win on Friday. / photo by Ryan Trammell - ECVBRaves.com
2019 EAST COUNTY PREP FOOTBALL
EL CAJON VALLEY 13, FRANCIS PARKER 7
By Jim Lindgren
Special to EastCountySports.com
LA JOLLA – Emotions raged. Tears were shed. Hugs were all abound.
But this was not a typical scene following a typical El Cajon Valley football game in recent years.
This was pure and utter absolute, unadulterated joy.
The Braves win! The Braves win! After a final, intensive defensive stop in the final minute, the Braves win!
On a cool Friday night at Francis Parker, El Cajon Valley edged the Lancers, 13-7, to claim their first on-field win in nearly two years.
"It's a really good feeling," Braves coach Nick Osborn said. "Lots and lots and lots of emotions with this one. Not just overcoming a losing streak, but getting a win we fought so hard for. These kids have gone through a lot, not just on the field but in their lives. This was special."
El Cajon Valley was 0-10 last year and outscored 476-67. The Braves' last win on the field was a 32-21 win over Clairemont on Sept. 8, 2017. Two weeks later, ECV lost to Sweetwater but later picked up a forfeit win as the Red Devils had used an ineligible player.
On Friday against Francis Parker, junior Clarence Johnson raced 70 yards for a 7-0 lead in the second quarter.
Early in the second half, the Lancers tied the game 7-7 with a TD run.
Late in the third quarter, junior Damarius Hyde broke free for a 60-yard touchdown run and a 13-7 lead that held up thanks to a stingy Braves defense led by senior captain Mario Jacobs, who had 13 tackles, including 11 solos.
Hyde finished with 130 yards on 17 carries. Johnson carried only 5 times but gained 115 yards and was named offensive player of the game.
"He played with so much heart," Osborn said of Johnson. "He's been through so much and overcome so much, the guys really rallied around him."
Despite the many losses and lopsided scores the past few years, Osborn is one of the most optimistic, positive and encouraging coaches around. He was an All-Mountain West Conference defensive end with San Diego State from 2003-07, and last year was his first assignment as a head varsity coach.
"Definitely a lot of emotions (after Friday's win)," Osborn said. "There were some tears shed because it's been awhile.
"But more so because these boys deserved it. They really worked hard and put in the time and effort in the offseason.
"They played with a lot of heart and it showed. They played a lot more physical. They know the game better, and they take it seriously now."
The Braves tallied 285 rushing yards behind an offensive line that was a disaster last year but now has emerged as a strength with Wendall Walcott, Ke'von White, Salvador Morales, Israel Torres and Isaac Ochoa.
"We met with the kids (Saturday morning), and the nice thing was, they weren't satisfied," Osborn said. "They recognize they need to get better and keep working hard to improve."