Five TDs, 11 plays plenty for Sultans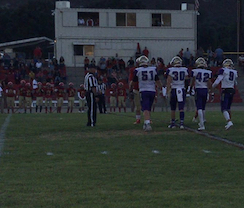 Santana and Mountain Empire meet on Friday night.
2019 EAST COUNTY PREP FOOTBALL
SANTANA 48, MTN. EMPIRE 12
By Jim Lindgren 
Special to EastCountySports
CAMPO – Coming off a semifinal loss to eventual state champion San Diego in last year's CIF Division IV playoffs, Santana has high hopes of finally capturing its first sSan Diego Sction title in 2019.
Okay, the section finals are three months away, but 11 plays into their season the Sultans displayed why they have such lofty aspirations.
After play No. 11 on Friday night, Santana had five touchdowns en route to a 48-12 rout of Mtn. Empire in both team's season opener.
"It was definitely a great start," Santana coach Tim Estes said. "Obviously the first game is important. It helps set the tone for the season. Helps get the guys in the right mode."
Senior quarterback Nathan Temple rushed 29 yards on the first play. Senior tailback Brooks Moutaw took the next play 26 yards for a touchdown.
After a 3-and-out defensive stand, Santana scored three plays later on a 5-yard pass from Temple to Randy Smith.
After another defensive stop, Jared Forster scored on a 5-yard run.
A bit later, Forster hauled in a 24-yard TD pass from Temple.
On the 11th play, Dawud Sadler raced 58 yards for the fifth TD and a 34-0 lead that would swell to 48-0 by halftime.
A running clock was utilized for the entire second half, and the Redhawks scored twice against the Sultans second- and third-string defenders.
"The best part of the game was every kid got to play," Estes said. "And we came away with no injuries."
Temple completed 6-of-7 passes for 80 yards and three touchdowns without an interception.
Smith caught three balls for 39 yards and two TDs. Dean Landers added two receptions for 17 yards.
Moutaw only carried three times but gained 46 yards. Sadler had two attempts for 78 yards, while Nick Brase rushed five times for 28 yards as the Sultans tallied 216 rushing yards on only 14 attempts.
"The kids played hard," Estes said. "It was the first game of the season, and there are things we need to work out. Little things that we need to take care of. But getting that first win is the big thing."
The Sultans beat Mtn. Empire 42-7 in last year's opener.
Santana will try to keep its current momentum in next week's game at Serra. The Sultans edged the Conquistadors 24-22 in Week 2 last year.
---
NOTES
The Santana freshmen defeated the Mountain Empire novice team on Thursday, 23-0.