Eagles don't allow Westview to pass
Updated: September 15, 2019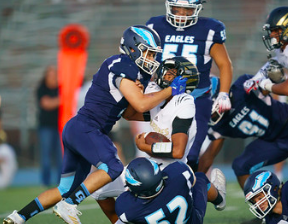 Granite Hills stuffs Westview on Friday night. / photo by Scott Barnhill - CSPROPHOTO
2019 EAST COUNTY PREP FOOTBALL
GRANITE HILLS 20, WESTVIEW 0
EastCountySports.com staff report
EL CAJON  – The Granite Hills Eagles didn't allow a single passing yard on Friday night, shutting out the Westview Wolverines, 20-0, in a non-league game at Valley Stadium.
Matt Millum led the defense with two sacks and quarterback Justus McComb rushed for a pair of scores as the Eagles improved to 3-1.
Also reaching the end zone was senior Keyvon Martin, who returned to the lineup and scored on a 10-yard run.
But the story in this one was the defense, especially the pass rush.
"Defense played really well," Granite Hills head coach Kellan Cobbs said. "Westview did a good job of playing keep away and we were only able to force one turnover but I don't think they had a single passing yard tonight."
Westview gained its yards on the ground and although the Wolverines ran the ball decently, they had little time when dropping back to throw.
"I'm glad we didn't give up any passing yards," Millum said. "Not letting them score once just shows how strong this defense is with the pass rush up front. The scheme that we have is insane we can run multiple fronts and it is almost impossible for other teams to prepare for us.
"It does get a little hectic at times but the coaches do a great job of repetition in practice and when you get in a game, it's second nature."
On the other side of the ball, the Eagles controlled things with a strong ground game. Granite also executed well on fourth down attempts.
McComb scrambled for a 17-yard run out of danger and through traffic on a keeper, as the Eagles led just 7-0 at halftime.
Later, "QB1" added a 3-yard run for a two-score lead.
I think the running game really opened up our game today," McComb said. "We had a couple of people that were out and had some people step up this week. We were just able to pound the ball against them so I give my line credit for that."
McComb took off running successfully several times of the night. He also passed for completions to senior wide receiver James Johnson.
Later, in the second half, Keyvon Martin, playing in his first game of the season, rushed for a 10-yard score.
Meanwhile, Westview was having no success in reaching the end zone, thanks to safety Ethen Bishop, who was filling holes and making tackles. Bishop had nine stops in the game.
"It was mainly playing physical and sticking to our assignments," said senior Jacob Hennessey, who recorded three tackles for loss.=
Westview had an interception in the first quarter.
Next week, Granite Hills travels to El Centro to meet the Southwest Eagles. Granite won last year's meeting with a shutout in El Cajon.