Pack plan perfect against Spartans
Updated: September 15, 2019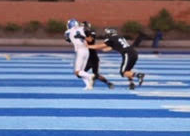 West Hills and Chula Vista in action on Friday night.
2019 EAST COUNTY PREP FOOTBALL
WEST HILLS 34, CHULA VISTA 14
EastCountySports.com staff report
SANTEE – The West Hills Wolf Pack had an opponent that fit their needs on Friday night and they saw fit to not waste the opportunity.
The struggling Chula Vista Spartans would've needed an extraordinary effort to beat the concerned Pack. West Hills is in need of victories and quick if they are to make postseason plans.
After the convincing 34-14 win over the visitors, the team may have turned its fortunes – or at least its confidence – around. This Wolf Pack team resembled the highly-successful unit of the last few years.
Kole Klingerman caught two touchdown passes from a pair of quarterbacks and twin brother, Kip, hauled in another as the Wolf Pack led throughout.
In the second quarter, quarterback Brenden Oberg hit Kip Klingerman for a 17-yard score to make it 14-0, which was the score at halftime.
In the third quarter, Gerardo Hernandez found a wide-open Kole Klingerman for an 8-yard touchdown pass to make it 21-0.
Oberg had another touchdown pass to Kole Klingerman, who again appeared uncovered, for a 20-yard score. Kole finished with five receptions for 61 yards.
West Hills senior running back Jake Maheu had 77 yards on 15 carries, including a touchdown.
Hernandez rushed four times for 56 yards, while Oberg had 56 yards rushing on 10 sorties. The quarterbacks were efficient once again, combining to go 9-of-12.
Junior slot Brendan Green had 57 yards of total offense.
West Hills senior Steve Cristini had an interception in the second quarter.
The Wolf Pack also had a sack.
West Hills will travel to face El Capitan in the second Tony Burner Trophy game in two weeks.