Griffins fall into hole against Canyons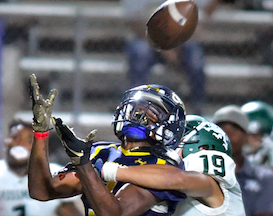 Grossmont's ROBERT WHITEHEAD defends against Canyons on Saturday night. / SCVPRESS
2019 COMMUNITY COLLEGE FOOTBALL
COLLEGE OF THE CANYONS 41, GROSSMONT 13
EastCountySports.com staff report
SANTA CLARITA – The Grossmont College Griffins trailed 17-0 after one quarter and 15th-ranked College of the Canyons defeated the visitors, 41-13, here at Cougar Stadium Saturday night.
Grossmont sophomore JARIUS BURNETTE had 112 yards of total offense, including a 63-yard touchdown on a pass reception from quarterback SHARIF HARRIS-LEGREE with 12:11 remaining in the second quarter as the Griffins pulled to within 17-7.
Canyons extended the lead to 27-7 after three quarters when Grossmont mounted a mild threat with back-t0-back field goals by West Hills High product Jack Browning in the fourth quarter to pull the Griffs to within two touchdowns.
Browning booted kicks of 38 and 23 yards in the fourth quarter, although Canyons scored the final two touchdowns.
Harris-Legree passed for 153 yards on 11-of-19 aerials, while LUKE ARTHUR passed for 64 yards.
MYLIK STEEN had another solid outing with six receptions for 22 yards for Grossmont.
The Griffs' PERRY STEELE had four receptions, while teammate AMARI COLBERT had three receptions.
Freshman JAYDEN TAUANUU had an interception and 34-yard return for Grossmont (0-2).
CORY BIBE had a sack for Grossmont.
Armani Edden passed for 271 passing yards and two touchdowns for College of the Canyons.