Jaguars repeat victory over Comets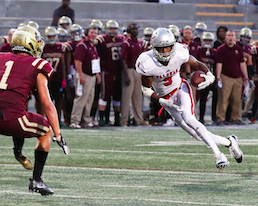 Palomar gains yardage against Southwestern on Saturday night. / photo by Hugh Cox
2019 COMMUNITY COLLEGE FOOTBALL
SOUTHWESTERN 28, PALOMAR 24
EastCountySports.com staff report
CHULA VISTA – In a rematch of last November's Beach Bowl here, Southwestern College was just a notch better than visiting Palomar, 28-24, on Saturday. The score was the exact same result as when the two teams met in the final game last season.
The teams matched touchdowns in the opening quarter and both teams scored a pair of touchdowns in the second quarter.
A scoreless fourth quarter also reflected the closeness of the matchup. The second quarter proved decisive, as Southwestern outscored Palomar, 7-3.
Palomar drove 83 yards for a touchdown on the opening series, which culminated in a 5-yard pass from quarterback Rodney Thompson to Kyran Griffin.
Southwestern came back on their second drive to even the score on a 53-yard run by Joshua Owen.
In the second quarter, Palomar settled for a field goal by Mark Meader after going 64 yards in 14 plays to make the score 10-7 with 2:35 left in the half.
Southwestern answered with a 21-yard touchdown pass from Owen to Tyler Saikhon to take the lead with a little over a minute to go in the first half.
In the third quarter, Southwestern had another touchdown run, this time from Keylan Chapman from 42 yards out which gave the Jags a 21-10 lead.
Southwestern also had a blocked punt return of 23 yards for a touchdown by Atoatasi Fox making it 28-10 with 6:48 left in the quarter.
On the next play, quarterback Shea Morales found Johnny Armentrout for a 72-yard touchdown pass to counter for the Comets with 6:27 to go in the third.
Palomar defensive back Jay Craft had an interception and ran it back for a 78-yard touchdown for the final margin.
Owen had 206 yards of total offense for the Southwestern (1-1).
Saikhon finished with six receptions for 72 yards.
Palomar had 391 total yards, as Morales was 15-of-35 for 188 yards and one touchdown.
Meanwhile, Thompson was 7-of-16 for 81 yards.
For Palomar, Armentrout had four receptions for 89 yards, Jeremiah Ruger had 47 receiving yards on three receptions, Griffin had 45 yards on six receptions, while Isaiah Batton had two receptions for 44 yards.
Running back Tywayne Reed Jr. had 53 rushing yards on nine carries. Morales had 39 rushing yards on six carries and Thompson had 32 rushing yards on 3 carries. Running back Damon Wigand had six carries for 22 yards for the Comets.
Southwestern's Brian Williams had three tackles for loss and forced a fumble, while teammate Larry Matkins had a sack and also forced a fumble. Ubaldo Torres and Anthony Quinney had the fumble recoveries the fumble for the Jags.
Southwestern's Jadarius Horton had five tackles to lead the team and also had two pass breakups. Alex Te'o also had a sack for the Jaguars.
The Comets' Kameron Camp led the team in tackles with 10 total and had one tackle for loss. Tommy Woo had one tackle for a loss of three yards and five total tackles. Tyrus Hodgins also had a tackle for loss resulting in an eight-yard loss. Collectively, the team had 47 tackles and six tackles for loss resulting in a loss of 17 yards.
The Jaguars will next face Victor Valley on the road next week.
Palomar falls to 1-1 and will be on the road again to face Citrus College next Saturday at 1 p.m.