Olympians go to 3-0; Comets fall at Owls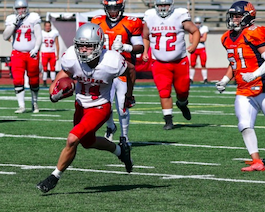 Johnny Armentrout runs with the ball on Saturday. / photo by Hugh Cox
2019 COMMUNITY COLLEGE FOOTBALL
SAN DIEGO MESA 49, L.A. PIERCE 6
EastCountySports.com staff report
SAN DIEGO – The San Diego Mesa Olympians routed visiting L.A. Pierce, 49-6, on Homecoming at Douglas Stadium on Saturday night.
Mesa, which improved to 3-0, led 42-6 at halftime.
Isaiah Tate scored a pair of touchdowns and the Olympians outgained Pierce, 433-170.
Tate's scored two of Mesa's first three touchdowns, leading his team to a 23-0 lead after 18 minutes of play.. The Olympians also scored a safety in the first quarter.
Former Grossmont High running back Shevell Sterling scored the only touchdown in the second half, a 6-yard score midway through the third quarter.
Isaiah Mitchell led the Olympian defense with nine total tackles.
---
2019 COMMUNITY COLLEGE FOOTBALL
CITRUS 33, PALOMAR 24
EastCountySports.com staff report
GLENDORA – Citrus improved to 3-0 by defeating visiting Palomar on Saturday.
Palomar fell to 1-2, including 0-2 on the road.
The Comets scored in just two plays going 62 yards in 36 seconds when Logan Gamble got a touchdown on a 45-yard reception from Rodney Thompson.
However, by the first minute of the second quarter, Citrus had opened up a 19-7 lead.
Palomar kicked a field goal after the Owls scored two touchdowns to make the score 19-10 in Citrus' favor.
The Comets' Johnny Armentrout caught a 5-yard touchdown pass from Thompson with 40 seconds left before halftime to get Palomar back int he game and close the deficit to 19-17.
Palomar added a fourth-quarter touchdown on a 21-yard run by Damon Wigand.
Thompson had 302 yards through the air, while Gamble finished with six receptions for 98 yards.
The Comets had three fumbles, including one on the Citrus 1-yard line.
Kobe Dominguez led Palomar with 11 tackles on the day, while teammate Yusuf Leigh had eight tackles, including a sack. Giovanni Herrera had seven tackles while Jay Craft and Kameron Camp both had five tackles for Palomar.
Palomar will face No. 11 Ventura next on Saturday at 6.