Cougars make quick work of Marauders
Updated: September 28, 2019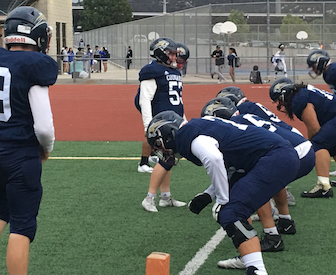 Steele Canyon warms up prior to the game on Friday night.
2019 EAST COUNTY PREP FOOTBALL
STEELE CANYON 45, MIRA MESA 0
By Ramon Scott
EastCountySports.com
SPRING VALLEY – The fourth-ranked Steele Canyon Cougars rah-rah'd in the morning and then clocked the visiting Mira Mesa Marauders, 45-0, in a non-league game here on Friday night.
The Cougars had a long day, starting off with an early-morning made-for-TV pep rally, but then took care of business early.
Steele Canyon, which was second in the San Diego Section's initial in-season release prep football power ratings, led 24-0 at halftime and put a running clock on the Marauders to start the fourth quarter.
The Cougar defense, which could be the county's top outfit, allowed just 48 yards in the first half, including minus-1 yard passing.
Senior starting quarterback Jeremy Mendez-Gal rushed for a 3-yard touchdown on the game's first series, then passed for a 15-yard touchdown to senior Chance Johnson on the Cougs' first series of the third quarter, which increased the lead to 31-0.
Junior quarterback Elia Kirismasi rushed for a 3-yard score on the first play of the fourth quarter, then on the next series, completed three consecutive passes covering 70 yards total, throwing a 20-yard touchdown pass to junior Angel Almazan to cap a quick drive.
Mira Mesa was dealt a tough blow early when starting senior quarterback Elijah Thomas was knocked from the game following a hit by T-Max Nyumah, who jarred the ball loose and also recovered the fumble in stride for a zero-yard return that covered about 30 yards in the wrong direction.
Mendez-Gal completed a 50-yard bomb to senior Antoine Walker on the second play of the game.
Cougar sophomore kicker David Martinez added a 28-yard field goal in the first quarter to make it 10-0. He was perfect on six point-after tries.
Steele Canyon junior Wesley Neely III had an 8-yard touchdown run on the first play of the second quarter for a 17-0 advantage. Neely had 65 yards rushing in the first half.
With seven minutes to play before halftime, senior linebacker Cam Ewert was the recipient of an errant pass, which he easily returned 15 yards for a touchdown.
Senior Chris Carter had a 51-yard run in the second quarter for the Cougars.
Junior Colton Guerrero had a sack in the first half for Steele, while senior teammate Luis Alvarado had a pass deflection for Steele Canyon.