Sultans finally slice up Matadors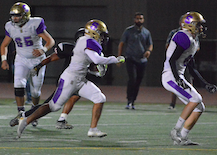 Santana's Nathan Hughes on a 67-yard touchdown reception on Friday. / photo by Ramon Scott
2019 EAST COUNTY PREP FOOTBALL
SANTANA 56, MOUNT MIGUEL 14
By Jim Lindgren
Special to EastCountySports.com
SPRING VALLEY – Santana had sliced through its six nonleague opponents like a Cutco serrated knife taking on a warm butter stick. Mount Miguel figured to be a tougher cut in the Grossmont Valley League opener on Friday night at home.
But once again, Nathan Temple proved to be the sharpest blade in the kitchen.
The Temple of Doom accounted for seven touchdowns – four rushing and three passing – and threw for 310 yards as Santana slashed the Matadors, 56-21, to improve to 7-0.
"It feels amazing," the senior quarterback said. "That was awesome. It was a total team effort.
"The line was incredible. I can't do a thing without them, and they were awesome. The receivers were great too. We have so many weapons, and we're using them all."
Temple completed 14-of-22 passes for 310 yards and tossed touchdown passes to Nathan Hughes (67 yards), Randy Smith (25 yards) and Jared Forster (22 yards). Temple also rushed 10 times for 55 yards, including scores of 6, 17, 7 and 1 yards.
"That's how he plays every week," Santana coach Tim Estes said. "He may not have the stats that some other guys get, but that's because he's only played two or three quarters every week.
"He's a great quarterback. He runs our offense so well and spreads the ball around to so many guys. Plus, he runs really well. We couldn't ask for a better guy at that position."
Despite missing seven games last year with a broken collarbone, Temple threw for 1,319 yards and 13 TDs in leading the Sultans to the Division IV semifinals, losing to eventual champion San Diego. In the first round, he threw for a school-record 532 yards and seven TDs in a 76-55 win over La Jolla Country Day.
This year, he now has 1,480 yards and 24 TDs with only two interceptions.
Santana hasn't won a league championship since 1999 – in the old Grossmont North League – and has lost both times it played in San Diego Section title games (2016 and 2011). Will this be the breakthrough year?
"We have the team," Temple answered. "We have the talent. We have great chemistry. It's a family. We're really tight. There's not one guy we lock onto. We use everyone. We use all our weapons, and they all do a great job."
They certainly did against Mount Miguel (3-3, 0-1). Brooks Moutaw rushed 13 times for 100 yards, including a 6-yard TD. He also caught four passes for 86 yards.
Forster notched four receptions for 82 yards and a TD, plus he intercepted a pass on defense. Smith, who came in with 25 catches for 468 yards and 13 TDs, nabbed four balls for 47 yards, including his 14th score.
Hughes had only one catch, but it was a huge 67-yard TD that gave Santana a 21-7 lead early in the second quarter. Hughes also was 8-for-8 on PAT kicks.
Late in the game, Dean Landers hauled in a 28-yard catch but was stopped at the 2-yard line.
Santana finished with 502 total yards, and the offensive line of Luke Simanek, Jayce Lynch, Andrew "Gumby" Golembiewski, Adrian King and Jordan Ortiz had a lot to do with that.
"This feels good," Santana coach Tim Estes said. "I'm really happy with everything – offense, defense, special teams. All the kids stepped up and played great."
Santana had outscored its first six foes, 245-32, but was facing the ultra-dangerous tandem of Mount Miguel's J.D. Laverdiere and Jahiem Allen-Pompey.
Laverdiere came in averaging 312 passing yards a game, and Allen-Pompey was among the national leaders with 41 receptions for 989 yards and 12 touchdowns in five games.
Laverdiere, a junior who hadn't played quarterback until tossing for nearly 3,000 yards last year, completed 18-of-35 attempts for 228 yards, but he was intercepted four times.
Allen-Pompey finished with 11 receptions for 112 yards but did not score for the first time this season. Santana's secondary of Forster, Hughes, Nick Valentine and Donnie Kelly did a nice job of containing the Matadors' star receiver.
"They did their research on me," Allen-Pompey said. "They're a very well-coached team, and they did a great job of stuffing us when they needed it. They're a very good team, but that's not our last time seeing them."
Alas, Santana (7-0) is rated No. 1 in Division IV, but the Matadors could very well play them again in the playoffs.
Santana outscored the Matadors 14-7 in each of the first three quarters and then pulled away with a 14-0 fourth frame.
Temple capped an opening 9-play, 71-yard drive with a 6-yard TD run to make it 7-0. After a three-and-out and punt, the Sultans went 56 yards in four plays with Moutaw scoring on a 6-yard run for a 14-0 lead.
Mount Miguel bounced back with a 14-play, 58-yard drive that ended with a 15-yard touchdown pass from Laverdiere to Kojo Miller, who finished with three catches for 61 yards.
A minute later, Hughes took a short slant pass from Temple, turned upfield and raced 67 yards for a score.
Dawud Saddler intercepted a pass on Mount Miguel's next series and returned it 32 yards. But three plays later, Temple was hit and fumbled, and the Matadors' Ruben Hernandez recovered it.
That led to a 9-play, 65-yard drive and Mount Miguel closed to 21-14 on a 1-yard dive by Laverdiere.
EAST COUNTY PREP FOOTBALL: Mount Miguel junior quarterback J.D. Laverdiere rushes for a touchdown with 3:45 left in the first half, as Santana leads the Matadors, 21-14. pic.twitter.com/9ZVdKPj0Jc

— Ramon Scott (@RamonScottPoker) October 5, 2019
Santana answered with a 7-play, 66-yard scoring drive with Temple firing a perfect strike to Smith on a 25-yard post pattern to make it 28-14 at halftime.
Santana's first four possessions of the second half resulted in Temple 17 TD run, Temple 7 TD run, Temple 1 TD run and Temple 22 TD pass to Forster.
Mount Miguel's only score of the half came on a Pat Chima 8-yard run as the Sultans thwarted three drives with interceptions.
Cameron La Riccia had two picks, Saddler and Forster posted the other two. La Riccia also had the hit of the game, knocking Allen-Pomprey a full three yards backward. To his credit, the 5-foot-7, 129-pound receiver simply did a backward somersault and bounced to his feet.
Michael Richter recorded three sacks in the first half. Saddler and Landers combined on a sack in the second half.
"They were the superior team," Mount Miguel coach Troy Starr said. "They're well-coached. They have smart football players, and they execute offensively and defensively.
"They're very deep with talent all over the field. We just couldn't keep up with that."
The last time Santana beat Mount Miguel was in 2002, and the Matadors had won the past seven meetings. Mount Miguel owns the overall advantage at 27-15-1.
Santana plays host to Mast Boulevard rival West Hills (4-2, 1-0) next week, while Mount Miguel travels to play rival Monte Vista (2-4, 0-0).
SANTANA 56, MOUNT MIGUEL 21
Santana     14 14 14 14 – 56

Mount Miguel 7  7  7  0 – 21
S –Nathan Temple 6 run (Nathan Hughes kick)
S – Brooks Moutaw 6 run (Nathan Hughes kick)
MM – Kojo Miller 15 pass from J.D. Laverdiere (Axel Aguilar kick)
S – Nathan Hughes 67 pass from Nathan Temple (Nathan Hughes kick)
MM – J.D. Laverdiere 1 run (Axel Aguilar kick)
S – Randy Smith 25 pass from Nathan Temple (Nathan Hughes kick)
S – Nathan Temple 17 run (Nathan Hughes kick)
S – Nathan Temple 7 run (Nathan Hughes kick)
MM – Pat Chima 8 run (Axel Aguilar kick)
S – Nathan Temple 1 run (Nathan Hughes kick)
S – Jared Forster 22 pass from Nathan Temple (Nathan Hughes kick)
435 total views, 2 views today