County teams swept on Saturday
Updated: October 21, 2019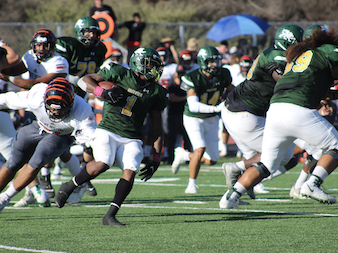 Grossmont running back Jarius Burnette looks for running room on Saturday. / photo by Dave Dickens
2019 COMMUNITY COLLEGE FOOTBALL
EastCountySports.com staff report
EL CAJON – The Riverside City College Tigers pulled away from the Grossmont Griffins for 55-12 win at newly-renovated Grossmont College on Saturday afternoon.
Grossmont trailed the No. 2-ranked team in the state, 20-6, at halftime.
The Griffins trailed 20-0 when Dominick Hudson caught at 22-yard touchdown pass from quarterback Lukas Arthur with 2:24 to go before halftime.
Grossmont's second touchdown came with 4:37 left in the third quarter when Myles Sadler recovered a fumble in the end zone, making the score 34-12.
Griffin junior Mylik Steen caught four passes for 60 yards to lead the team in both categories.
Former Poway High running back Jared Adelman had a 39-yard run for Grossmont (0-6).
Grossmont's quarterbacks – Joaquin Quintana-McKinney and Arthur – combined to go 19-for-33 passing for 164 yards.
Former Steele Canyon Cougar Robert Whitehead led Grossmont in tackles with 12 tackles, including one for loss. He also had a pass breakup.
Grossmont College's Jayden Tauanuu, out of Helix, had three pass breakups.
Griffin Dayne Fehoko forced a fumble, while teammate Fenuki Kauvaka had a sack.
Riverside (6-0) had 691 yards of total offense, including 537 passing.
Grossmont punter Jack Browning had seven punts against the Tigers for a 45.3-yard average.
Grossmont will play on Saturday, Oct. 26 at Southwestern at 6.
SADDLEBACK 45, SOUTHWESTERN 7 – Southwestern trailed just 8-7 after Tyler Saikhon's 36-yard touchdown reception from Joshua Owen just 1:21 into the second quarter of the National Division Southern League opener but Saddleback improved to 6-0 with a win on its Homecoming night at Mission Viejo High School.
The Gauchos scored 24 points in the final 21 minutes of the first half to take a 24-7 lead into the locker room.
Owen passed for 159 yards, while Saikhon finished with three receptions and 73 yards receiving.
Tysheid Dixon had three catches for 44 yards for the Jaguars.
Saddleback limited the Jags to just 71 yards on the ground.
"The ball bounced their way several times," Southwestern head coach Ed Carberry said. "They are a great football team. They have a lot of speed and good size."
Atoa Fox and Jalen Portis both had a team-high seven tackles for Southwestern.
Emeka Anyanwu had three pass breakups for the Jaguars, while teammate Tyquan Coleman added an interception.
Saddleback's Abrae Booker-Currin stepped in front of a Brad Jeremiah pass and returned it 40 yards for the final score of the night.
Saddleback celebrated the 50th anniversary of its 1969 team that went to the small school state championship game. Nine players from the team showed up for the game and were honored at halftime
Gaucho quarterback Chance Nolan finished 15-of-26 for 201 yards passing with four touchdowns while leading the team with 88 yards on 15 carries with another score. Isaiah Garcia-Castaneda had six receptions for 126 yards and two scores for Saddleback.
"Their defense was bigger and faster than they looked on the video," Carberry said. "They made the critical plays and we did not. We've played really well of late upfront but we just didn't have that same tempo."
Southwestern is now 4-2 overall and hosts Grossmont on Saturday at 6 at DeVore Stadium.
"We expect Grossmont to do everything in its power to win," Carberry said. "It is a very small edge for winning and losing in these games. Often, it is the winning team that makes one mistake less than the losing team."
EL CAMINO 45, SAN DIEGO MESA 27 – Former West Hills High star Taj Broomfield scored a pair of touchdowns in the second quarter for San Diego Mesa as El Camino led just 14-13 in its victory over San Diego Mesa in the National Division Central League opener at Murdock Stadium before pulling away on Saturday.
Ninth-ranked El Camino (5-1, 1-0) scored the next 24 points to take command over 13th-ranked San Diego Mesa (4-2, 0-1).
Jerman Gotoy went 12-for-19 for 261 yards and three touchdowns for ECC.
The Warriors had four sacks and 13 quarterback hurries.
Mesa quarterback Asante Hartzog passed for four touchdowns and was 25-of-47 for 287 yards.
Broomfield added a third touchdown reception in the fourth quarter, hauling in a 28-yard pass from Hartzog.
Hartzog also threw an 11-yard touchdown pass to Antwoine Ware with 1:52 left in th third which drew Mesa to withing 38-20.
Mesa hosts Cerritos on Saturday at 6.
MT. SAN ANTONIO 31, PALOMAR 7 – Mt. SAC built a 24-0 halftime lead and won the National Conference Central Division victory opener over Palomar at Covina District Field on Saturday night.
Mt. SAC (4-2) had a 98-yard punt return in the first quarter.
Palomar scored in the third quarter when quarterback Rodney Thompson passed to Kyran Griffin for a 7-yard touchdown with 10 minutes left in the period.
Palomar (2-4) travels to play Fullerton on Saturday at 1.