RedHawks abandon flight for victory
Updated: October 11, 2019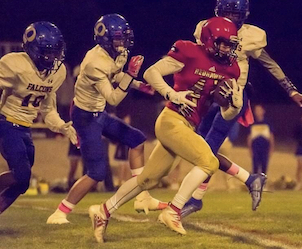 Mountain Empire junior Aiden Hamada rushes past O'Farrell on Friday night.
2019 EAST COUNTY PREP FOOTBALL
MOUNTAIN EMPIRE 41, O'FARRELL 0
EastCountySports.com staff report
PINE VALLEY – The Mountain Empire RedHawks rushed for nearly 300 yards in a 41-0 romp over winless visitor O'Farrell Charter on Friday night.
Behind the plays of juniors Khaliel Whitehead and Aiden Hamada, the RedHawks won the nonleague contest to pick up their second win of the season.
Now, here comes rivalry week for the RedHawks, where Mountain Empire will travel to face Holtville (6-1).
Hamada had eight carries for 92 yards and two touchdowns, while Whitehead added 153 yards of total offense, rushing for 81 yards two scores.
The RedHawks deployed their ground game instead of taking to the air against O'Farrell.
A 43-yard touchdown run in the first quarter by Whitehead on a sweep to the outside and down the left sideline made the score 7-0.
Mountain Empire scored on a 15-yard run in the third quarter to make the score 26-0.
Junior Marcus Smith had a touchdown reception for MEHS. He also had an interception and 28-yard return into O'Farrell territory, which led to the final touchdown drive of the night.
The RedHawks' Jericho Brennan, a senior, has 149 yards of total offense, including just seven carries for 117 yards rushing.
Defensively, sophomore Larry Clark had 12 tackles, including two sacks, to lead the RedHawks.
"Larry Clark had his step-out game," Mountain Empire assistant coach Ricky Prince said.