Trojans deny Braves' late comeback try
Updated: October 11, 2019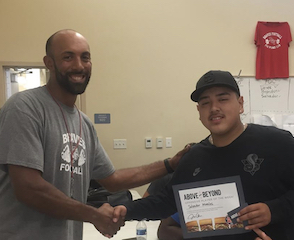 Salvatore Morales was one of the Braves' players of the game last Friday.
2019 EAST COUNTY PREP FOOTBALL
CASTLE PARK 26, EL CAJON VALLEY 19
EastCountySports.com staff report
CHULA VISTA – The El Cajon Valley Braves came within a minute-and-a-half away from defeating undefeated Castle Park on the road last Friday.
The Braves would rally from a 19-6 deficit to tie the game in the fourth quarter when El Cajon Valley junior Clarence Johnson tied the game with a 25-yard run with under five minutes to play to tie the game at 19-all, however, the Trojans scored the decisive touchdown with 1:36 left in a 26-19 final.
Braves junior quarterback Joe Malone passed for 213 yards and two touchdowns, including a 21-yarder to Johnson for the first score of the game in the opening quarter.
Junior Damarius Hyde caught a 6-yard touchdown pass from Malone in the fourth quarter.
"We were one dimensional in the last two games that we lost," El Cajon Valley head coach Nick Osborn said. "They were just stacking the box with eight so we had to change it up. (Malone) was picking apart the defense making great reads throwing to six different wide receivers."
Despite the loss, El Cajon Valley is still is good position to qualify for the postseason.
"We keep referring to the energy bus,"  "We have been focusing on how we can create momentum change. We have also been working on words of affirmation, so I am proud of these kids."