EAST COUNTY FEARLESS FORECASTER – Week Nine
Updated: October 18, 2019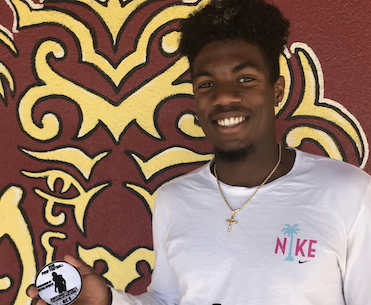 Monte Vista senior ISAIAH GARDNER / photo by Dave Dickens
2019 EAST COUNTY PREP FOOTBALL
EAST COUNTY FEARLESS FORECASTER
By Ramon Scott
EastCountySports.com
EL CAJON – The first football game between Helix and Grossmont in 1951 was also the very first time the teams played for the Campbell Musket, an old Civil War-era weapon donated by the family of Highlander starting halfback and senior class president, Jack Campbell.
Virgil Bell, Grossmont High's football captain that year, was handed "Old Betsy" at a post-game dance attended by students of both schools on Nov. 2 of that year.
Just a couple of hours earlier at Aztec Bowl, the Foothillers won the first game against the Highlanders, 13-6, as Grossmont halfback Ken Brown rushed for a 2-yard score following a blocked punt late in the third quarter.
Nearly 70 years later, "The Musket" has basically been nailed to a wall in the Helix High library for the last 22 years.
The schools will meet for the 64th time on Friday night at Jack Mashin Stadium with stakes nearly as high as they've ever been between the two teams, but for many fans outside of the Grossmont campus, the expectation remains the same.
Grossmont and Helix practically split the next 40 meetings after that first matchup. The Foothillers last won the trophy in 1991, led by quarterback Tom Karlo, the current GHS head coach.
This year's Grossmont unit, ranked seventh in this week's official San Diego CIF power ratings, would be nearly as good as any previous Hiller club possibly in school history with the team coming into the contest with a 6-1 record, identical to the Scotties.
However, the 2019 version of the Highlanders is currently ranked first in the section by the local media and 10th in the state by the computer power rankings.
Grossmont quarterback Jaime Odom turned in one of the most memorable plays in school history last Friday night at Granite Hills with a 46-yard scramble on a fourth-and-2 with a minute-and-a-half remaining, lifting the Foothillers to 2-0 in the Grossmont Hills League with a 33-32 victory, after trailing by 11 with eight minutes left.
Meanwhile, Hiller Robert Tucker has been the East County's second-best running back this season but the senior could be the best on the field tonight if Helix's senior star, Elelyon Noa, is forced to miss this game with a left foot injury suffered in a win over El Capitan two weeks ago.
The Highlanders managed just fine without Noa last week behind sophomore back Christian Washington, who rushed for 101 yards and two touchdowns in a 49-2 win over Valhalla.
Senior quarterback Kamryn Brown passed for a pair of touchdowns, while his junior brother, Jaiden, returned an interception 77 yards for a touchdown.
Freshman Puka Noa, the younger brother of Elelyon and former Helix star Zeke Noa, had his first career interception.
Grossmont has been given modest consideration in previous renewals over the last two decades but the result has remained the same, including a 68-7 playoff drubbing last year.
While the Scotties are still the obvious favorite once again, one thing is for certain for perennially upset-mined Grossmont. The Foothillers are due… HELIX, 42-21.
No. 14 SANTANA (8-0, 2-0 GVL) at MONTE VISTA (3-4, 1-0 GVL) – The defending Grossmont Valley League champion Monarchs will defend their title against the 14th-ranked Sultans during Homecoming on Sweetwater Springs Boulevard Friday night.
The Monarchs are back in the Valley's championship-deciding game next week after defeating visiting Mount Miguel Matadors to keep community bragging rights after a 55-34 win on Friday night.
The game was played with heavy hearts following the death of construction worker Jose Navarro, of Bakersfield, who fell from a 30-foot platform on the school's development site earlier in the week. The student body will wear Navarro's favorite color, green, at the school next Tuesday.
Monte Vista senior running back Isiah Gardner rushed 29 times for 173 yards and two touchdowns in the victory.
Monarch senior quarterback Ruben Silva rushed for two touchdowns, while senior teammate Jovani Olivas returned a kickoff 77 yards for a touchdown.
The Monarchs offensive line – led by juniors Aaron Bustos and Jesse Schroeder, and seniors Angel Villanueva, Brandon Narvaez and Jared Reinholdt. Senior Emanuel Zamudio and junior Victor Meza – helped open the running lanes.
The win gave head coach Ron Hamamoto his 230th career win, passing Morse High legend John Shacklett for fourth place in section history.
Now the Monarchs could claim another league title for the master, who has a long-standing reputation of getting the most out of his charges.
For Hamamoto and his Monarchs, it seems like win No. 230 was taking a while to achieve but now Monte Vista has earned its way into the "next" biggest game of the Grossmont Valley League season when it hosts the undefeated Sultans.
Monte Vista owned Santana last season in a 35-0 win in Santee when the teams played just one half after a lightning storm ended the game at halftime.
That game was dominated by Monarch running back Jahmon McClendon, who had five touchdowns and 329 yards in just two quarters.
The Sultans, meanwhile, ripped the Honorable Jack Dale Mayor's Cup from West Hills' seven-year grasp with a 27-13 win at Community Stadium last Friday.
Brooks Moutaw returned the opening kickoff 97 yards for a touchdown and rushed for a touchdown in the fourth quarter to give the Sultans a 21-6 lead with nine minutes to play.
For comparison, the Monarchs beat the Matadors by 19 on Friday night, while Santana defeated Mount Miguel on the road, 56-14, a week ago.
Santana can clinch a share of its first league championship in 20 years with a win… SANTANA, 35-27.
VALHALLA (3-4, 0-2 GHL) at No. 5 STEELE CANYON (7-0, 2-0 GHL) – The Cougars, who defeated El Capitan, 35-13, last Friday on Homecoming, were the No. 1 team in the section power ratings last week.
Despite the victory, SC tumbled all the way to No. 4 in the section's official ratings, which determine playoff seeding and which teams qualify for the four-team Open Division championship playoff.
It is likely that the Cougs fell because of their strength of schedule rating after facing the winless Vaqueros, who currently reside in the section's Division III.
Valhalla is a higher-rated team in the division than El Cap but with fifth-rated Carlsbad facing a fellow Division I team in El Camino this week, it's possible that Steele Canyon could fall out of the top four, for now.
With the Cougars facing key league battles against Grossmont and Helix over the final two weeks, the Cougars will gain S.O.S. points to improve their chances. However, will it be enough should SC not sweep those Grossmont Hills League foes?
The Grossmont Conference took steps this week to possibly avoid this statistical shortcoming by electing to divide the two leagues into a four-team Grossmont Hills League and a seven-team Grossmont Valley League starting next season.
Steele would continue in the GHL with Helix, Grossmont and Granite Hills. Monte Vista was originally scheduled to move to the Hills League next season with Valhalla and El Capitan joining the Valley circuit.
The move also could alleviate of few of the blowouts between unevenly-matched conference teams.
Steele Canyon head coach Scott Longerbone, who also is the team's special teams coach, almost went broke last season promising his unit a trip to a nearby Chinese buffet restaurant on Saturday for every week the team returned a kick or punt for a touchdown in the previous night's game.
This season, though, despite all the return speed on the team, the coach hadn't had to dip into his pockets to treat his guys.
However, senior Chance Johnson brought back a pair of punts 51 and 57 yards against the Vaqueros in the first half to put the establishment on alert. He also had an interception.
The Cougar defense also scored on a pick-six, which as tipped by El Capitan receiver into Cougar corner Antoine Walker's hands, where he took a circuitous route on the way to an 11-yard score.
Sophomore David Martinez went 5-for-5 on his point-after tries.
Cougar T-Max Nyumah was named Homecoming King, while Braelyn Willis was named Homecoming Queen.
Valhalla senior running back Kaleti Lindsay had 54 yards on 10 carries, while junior receiver Josh Meredith had three receptions for 66 yards for the Norsemen, against Helix last Friday.
Steele Canyon won last year's renewal of the battle for the Jamacha Helmet, 21-0, in a game shortened by the halftime lightning storms that ended nearly every game early on that peculiar Friday night.
Steele Canyon senior Chris Carter had a 55-yard touchdown in last year's matchup. The Cougars have held the trophy for the last two years. The series is tied, 8-8-1… STEELE CANYON, 35-14.
GRANITE HILLS (4-3, 0-2 GHL) at EL CAPITAN (0-7, 0-2 GHL) – El Capitan High School will celebrate its 60th year during Homecoming on Friday night.
Could the anniversary festivities provide any extra motivation to a Vaquero team in need of a victory in 2019?
Last week, Granite Hills Homecoming King Jeremiah Satberry had a 62-yard interception return last Friday, as the Eagles led the thrilling game late before relinquishing control to Grossmont in the fourth quarter.
Granite Hills junior quarterback Justus McComb was 24-of-38 passing for 267 yards, including three touchdowns – two of them to senior Juni Harris.
El Capitan outscored the Cougars on Friday, 13-0, in the second half, as Vaquero senior quarterback Wick Hauser completed touchdown passes to sophomore Antwone Yokley and junior Kalen Lavallais.
The Vaqueros will likely need to win two of their last three games to have a chance for a postseason berth… GRANITE HILLS, 35-22.
MOUNT MIGUEL (3-4, 0-2 GVL) at EL CAJON VALLEY (3-4, 0-1 GVL) – Mount Miguel senior wide receiver Jahiem Allen-Pompey reportedly leads the nation in receiving yards with 1,292 and is on pace to beat the section record of 1,742 yards.
Allen-Pompey had seven receptions for 188 yards and two touchdowns last week against the Monarchs. He has 60 receptions on the year and 14 touchdowns.
Junior quarterback J.D. Laverdiere rushed for three touchdowns in addition to his connections with Allen-Pompey. Laverdiere has rushed for 13 touchdowns this season.
The Braves were a minute-and-a-half away from defeating undefeated Castle Park on the road last Friday.
El Cajon Valley junior Clarence Johnson tied the game with a 25-yard run with under five minutes to play to tie the game at 19-all.
Braves junior quarterback Joe Malone passed for 213 yards and two touchdowns, including a 21-yarder to Johnson for the first score of the game in the opening quarter.
The Braves would rally from a 19-6 deficit to tie the game, as junior Damarius Hyde caught a 6-yard touchdown pass from Malone in the fourth quarter.
The Matadors have defeated the Braves in eight straight games with the last El Cajon Valley win coming in 2001, 14-13… MOUNT MIGUEL, 41-26.
MORSE (4-3, 0-1 Eastern) at CHRISTIAN (5-2, 2-0 Eastern) – The Patriots dominated their Eastern League game with Mira Mesa on Friday night, bringing home a 28-10 win to improve to 2-0.
Patriot senior Nate Stine rushed for 95 yards and three touchdowns, while junior lineman Alonzo Glenn had three sacks.
Alex Markowicz, Van Nevling, and Elio Myers, each had one sack apiece for CHS, while cornerback Carson Opper had a pair of interceptions for the Pats.
The Patriots and Tigers split a pair of games last season with Christian winning on the road 14-8 during the regular season only to drop a second-round game to the Tigers, 34-6, at Valley Stadium.
Morse rushed for over 375 yards in the playoff matchup last year and recorded four sacks.
The Patriots are ahead of the Tigers in the CIF Division II power ratings, moving up to No. 2 this week, just behind powerful Bishops. Morse is currently sixth in Division II… CHRISTIAN, 27-21.
WEST HILLS (4-3) at ESCONDIDO (5-2) – Wolf Pack senior Kole Klingerman had two receiving touchdowns, including a one-handed catch on the second touchdown with five minutes to play that cut Santana's lead to 27-13.
Klingerman hauled in a 41-yarder early in the game, as West Hills trailed just 7-6 early. Both receptions were from sophomore quarterback Braden Oberg.
West Hills defeated the Cougars last season, 24-7, in Santee, as then-junior Jake Maheu rushed six times for 63 yards and a touchdown. He also had one of seven Pack sacks.
Escondido has a nice balance with junior quarterback Robert Ramos, who has over 1,100 yards passing and 11 touchdowns, while the Cougs have rushed for more than 1,500 yards, averaging nine yards-per-clip.
West Hills won 24-7 last year… ESCONDIDO, 21-20.
MOUNTAIN EMPIRE (2-5, 0-0 Manzanita) at HOLTVILLE (6-1, 0-0 Manzanita) – The RedHawks will travel to Holtville to face the rival H-word.
The Vikings are having a great season and figure to battle Vincent Memorial for the Manzanita title.
But first, they will have to dismiss Mountain Empire, which defeated Holtville, 20-14, in a regular-season meeting in Pine Valley last year.
However, the Vikes came back to defeated the RedHawks, 34-6, in a Division V quarterfinal game… HOLTVILLE, 35-21.
FOOTHILLS CHRISTIAN (7-0, 4-0 Ocean) at SAN PASQUAL ACADEMY (6-0, 4-0 Ocean) – The top two teams in the section 8-man power ratings meet in Escondido in a game that should decide the Ocean League championship.
The Knights haven't played since Sept. 20 – a 60-8 win at Borrego Springs – after receiving a pair of forfeit victories, while the Dragons won at Borrego last week, 74-29.