Jaguars show potential to Griffs
Updated: October 27, 2019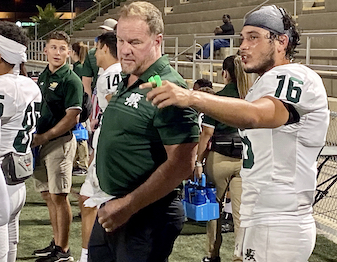 Grossmont College head coach Mike Jordan with Griffin QB Joaquin Quintana-McKinney. / photo by Dave Dickens
2019 COMMUNITY COLLEGE FOOTBALL 
SOUTHWESTERN 42, GROSSMONT 3
EastCountySports.com staff report
CHULA VISTA – The Southwestern College Jaguars put a good product on the field Saturday night in presenting the program to prospective recruits on the team's recruitment night at Devore Stadium.
The Jags had three interception returns for touchdowns in the fourth quarter in dominating visiting Grossmont College, 42-3, to earn their first conference win of the season.
Deandre Daniels had his best game of the season, rushing for 132 yards on 13 carries for Southwestern.
The Jaguars' Keylan Chapman rushed for 80 yards and two touchdowns, both coming in the first half.
Southwestern quarterback Brad Jeremiah passed for 129 yards and rushed for a touchdown in the second quarter, as the Jags led 21-3 at halftime.
In the fourth quarter, Devin Brown had a 20-yard pick-six, Jadarius Horton had a 62-yard interception return for a score, and Shawn Browder brought the third pick return in with a 24-yarder.
Jaguar Anthony Quinney had an interception and subsequent 83-yard return in the game, although that long run didn't result in a score.
Lorenzo Perry had an interception, as well, for Southwestern. Brian Willimas recovered a fumble for the Jags.
Andrew Schasa had two of Southwestern's six sacks on the evening.
Southwestern receiver Terry Wright led all ball catchers with five receptions for 80 yards.
Grossmont's Jack Browning kicked a 30-yard field goal in the first quarter as the Griffins trailed just 7-3 with just over three minutes to play in the opening period.
The Griffins got interceptions from Derek Southerland and Joel Mewis. Teammate Tibou Bangoura recovered a fumble.
Southwestern is 5-2 overall and 1-1 in the National Division Southern League.
Grossmont fell to 0-7 overall (0-2 NDSL).
SAN DIEGO MESA 23, CERRITOS 22 – Former West Hills star Taj Broomfield caught a 17-yard touchdown pass with 54 seconds remaining to tie the game, as the host Olympians defeated the Falcons for the first time in the last ten tries.
Both teams are 1-1 in the National Division Central League.
San Diego Mesa quarterback Asante Hartzog went 4-for-4 on the final drive.
Sammy Muniz scored on a 5-yard touchdown run for a 7-0 lead in the first quarter for Mesa.
Cerritos, however, took a 13-7 lead near the midway point of the second quarter.
Mesa's Ranse Garner had a 63-yard touchdown run with 1:04 later as the Olympians led 14-13 at halftime.
Cerritos regained the lead, then both teams added field goals, including a 37-yarder by Mesa's Raul Reyes, which made it 19-17.
Cerritos tried a 36-yard field goal attempt with under two minutes left in the game, but the kick was blocked, with the Olympians recovering the ball at taking over possession at their own 13-yard line.
The Olympians hadn't defeated the Falcons since 1989.
Cerritos (4-3, 1-1 NDCL) had a 62-yard field goal attempt fall short at the final siren.
Hartzog passed for 176 yards for San Diego Mesa (5-2, 1-1 NDCL). Garner finished with 97 yards.
Broomfield had four catches for 45 yards, while Antwoine Ware had three receptions for 55 yards and Andrew Winner had three receptions for 41 yards for the Olympians.
Julian Sanderlin led Mesa with 11 tackles, including a sack, while teammate Isaiah Mitchell had 10 tackles, with a sack.
FULLERTON 55, PALOMAR 42 – Palomar quarterback Rodney Thompson passed for four touchdowns and ran for another but the Comets fell at Fullerton.
Comet Johnny Armentrout caught 11 passed for 183 yards and two touchdowns, while teammate Kyran Griffin caught seven passes for 63 yards as Thompson had 344 yards through the air.
Logan Gamble, Lamar Raboteau and Dennis Garrison also had touchdown receptions for Palomar.
Shea Morales came in to throw the final touchdown pass for the Comets.