Eagle seniors win final home game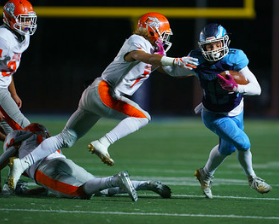 Granite Hills senior James Johnson runs with the ball against Valhalla on Friday night. / CSPROPHOTO
2019 EAST COUNTY PREP FOOTBALL
GRANITE HILLS 43, VALHALLA 6
EastCountySports.com staff report
EL CAJON – Granite Hills dominated long-time Valhalla in a 43-6 Senior Night victory on Friday night at Valley Stadium.
On Saturday, the Eagles were seeded 11th in the San Diego CIF Division I playoffs where they will travel to face sixth-seeded La Costa Canyon.
Eagle junior quarterback Justus McComb was Mr. Efficient against the Norsemen as Granite Hills picked up its first league win of the season.
McComb was 15-of-17 passing for 213 yards and four touchdowns.
Senior receiver Jacob Setterberg caught three passes for 47 yards, including a pair of touchdowns, one of which was a 22-yard score early in the game to make it 7-0.
Matt Keeley had another long touchdown play. He caught a pass and turned it into a 73-yard score, upping the lead to 14-0.
Senior receiver James Johnson had six receptions for 34 yards. He now has 73 receptions this season.
The Eagles led 21-0 after the first quarter.
Granite Hills' Keyvon Martin had a 41-yard touchdown run early in the second quarter to make it 28-0.
The defense shut them down and our line gave me a bunch of time," McComb said. "Keyvon Martin ran really good."
Midway through the second quarter, Granite Hills scored a touchdown to take a 34-0 lead.
"The defense gave us really good field position and we were able to do what we wanted," McComb said.
Valhalla scored its touchdown early in the third quarter, but Granite Hills returned a kick for a touchdown by freshman Jaylen Hall on a 69-yard punt return.
"Defensively we focused lately on putting less emphasis on hitting and more trying to figure out how to stop the opponent," Granite Hills senior defensive lineman Jeremiah Satberry said. "Our special teams were impeccable. We've focused a lot of special teams, field position and forcing turnovers of late."
Valhalla's Laith Adnan returned a fumble 45 yards for a touchdown.
Miles Tomlinson rushed six times for 62 yards for the Norsemen.
"We put in a lot of effort to make sure we could give the ball back to our offense," Satberry said. "We treated Valhalla like a playoff game. They beat El Cap, we didn't beat El Cap, so we had to first beat them."
Valhalla will host Grossmont Conference foe West Hills in the first round of the San Diego CIF Division III playoffs next Friday.
The Norsemen already won 24-14 in Santee in a Week 2 matchup as senior running back Kegan Baker rushed for 203 yards and three touchdowns.
West Hills had a 14-7 lead at halftime, but Adnan recovered a fumble on the second-half kickoff that led to a 26-yard field goal by Anthony Hernandez, who was playing his first varsity game.
Late in the third quarter, Baker burst off a 54-yard run that led to his second TD run and Valhalla's first lead at 17-14.
After Valhalla's Bashar Nooh recovered a fumble in the fourth quarter, the Norsemen drove 65 yards in nine plays. In the second quarter, Valhalla marched 77 yards in 11 plays to tie the game on a nifty 16-yard run by Baker.
---
Did you enjoy this story by Ramon Scott? Consider donating to Ramon directly…