Foothillers avoid final Vaquero scare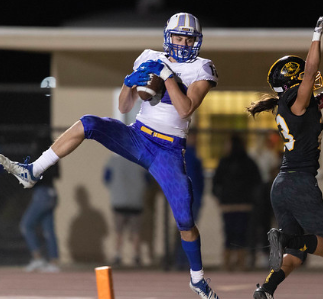 Grossmont senior Brody Schicker comes down with a touchdown catch on Friday. / photo by Rob Riingen
2019 EAST COUNTY PREP FOOTBALL
GROSSMONT 49, EL CAPITAN 28
EastCountySports.com staff report
LAKESIDE – Grossmont High senior Jaime Odom had over 400 yards of total offense and accounted for six touchdowns, leading the Foothillers to a 49-28 win over host El Capitan on Friday night.
But it wasn't without a scare on the night after Halloween.
The game was tied at 28-all after three quarters.
Odom completed 21 of 28 passes for 292 yards, including four touchdown passes. He also had 112 yards rushing and two scores on the ground.
Senior receiver Brody Schicker caught eight passes for 123 yards and two of the scores from Odom.
The first score came with four minutes to play in the first quarter on a 23-yard connection.
The second came after El Capitan answered the Foothillers' score on a 37-yard touchdown run by Kalen Lavallais with one minute to play in the first period.
Odom had a big run to the El Cap 27, then he passed to Schicker for a 21-yard touchdown to make it 13-6.
Grossmont senior Chris Alba had 14 tackles and also rushed 12 times for 74 yards and had a pair of receptions for 29 yards.
Alba had a fumble recovery early in the second quarter at the El Cap 35 which set up a 14-yard touchdown run by Odom to make it 21-6.
Junior Jhamae Vann caught a 28-yard touchdown pass with eight minutes to go before halftime, giving the visitors a 28-6 lead.
Foothiller senior Denzel Sosing had three receptions for 48 yards.
Junior Blake Keeling had seven solo tackles for the Foothillers, including a sack.
Senior Caden Mata had seven tackles, an interception, and a forced fumble for Grossmont.
With under a minute to play before halftime, the Vaqueros scored on a 21-yard pass from senior Wick Hauser to junior Taylor Grasmick to make it 28-12 heading into the locker room.
El Cap converted on a turnover in the third quarter as Hauser had a 13-yard rushing touchdown to make it 28-20.
El Capitan (1-9, 1-4 Grossmont Hills League) then scored on a 25-yard fumble return by Hauser, as the ensuing two-point conversion run tied the game at 28-all with three minutes left in the third quarter.
Odom added a 4-yard rushing touchdown with nine minutes to play in the game for a seven-point lead, then he connected with Kadon Tedokon for a 16-yard touchdown about four minutes later for a two-score advantage.
Cameron Sanderlin had a 52-yard fumble return for a touchdown with three minutes to go in the game.
Sanderlin added six solo tackles for Grossmont, while junior teammate Wes Fulton had two sacks.
Senior Axel Gonzalez had another perfect night on seven point-after tries.
Hauser had 146 yards in a final career game for El Capitan. Hauser and Lavallais also ran in two-point conversions
Grossmont (7-3, 3-2 Grossmont Hills League) earned the No. 5 seed in the upcoming San Diego CIF Division I playoffs and will host 12th-seeded San Marcos next Friday at Lt. Adams Field at Mashin Stadium at 7.
---
Did you enjoy this story by Ramon Scott? Consider donating to Ramon directly…