Sultans will have home field in semifinals
Updated: November 22, 2019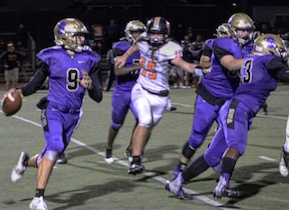 Santana senior quarterback Nathan Temple rolls out last Friday against Escondido.
2019 EAST COUNTY FEARLESS FORECASTER
SAN DIEGO CIF DIVISION IV SEMIFINAL
ORANGE GLEN at SANTANA
EastCountySports.com staff report
SANTEE – The 10-1 Santana Sultans will indeed play their San Diego CIF Division IV semifinal game against the Orange Glen Patriots on their home field on Friday night.
The Sultans' running track at Santee Community Stadium was expected to undergo renovations starting this week, forcing the football team to find a place to host its big playoff game.
But after the rain over the last three days, workers were forced to delay the improvements until next week, allowing Santana's football team to use the stadium for its biggest home game of the season against red-hot visitor Orange Glen (at 7.
Sultan senior quarterback Nathan Temple passed for 185 yards and two touchdowns and senior running back Brooks Moutaw rushed for 108 yards and two scores in a 40-28 quarterfinal win over visiting Escondido last Friday night.
Moutaw had a 24-yard touchdown run and Temple had an 11-yard touchdown pass to sophomore Ethan Wright but the game was tied at 14-all after one.
After senior end Jayce Lynch had a sack and recovered a forced fumble for the Sultans, Moutaw added a 26-yard touchdown in the second to give Santana a 21-7 halftime lead.
Temple connected with senior Randall Smith on a 7-yard touchdown pass in the third quarter. Smith has a Santana-record 33 career touchdowns.
Senior Nathan Hughes had a 48-yard interception return for a touchdown in the third quarter to give Santana a 33-14 lead.
Senior Dawud Saddler rushed for 36 yards, including a 3-yard touchdown in the fourth quarter, and blocked an extra-point attempt after the Cougars' first score of the game. He also had nine tackles for Santana.
Junior Jared Forster had seven receptions for 117 yards for Santana.
Sultan senior Michael Richter continued his torrid pace for sacks, wrapping up two more in the victory, giving him a 14 1/2 on the season. He also had 10 tackles in the win.
Orange Glen is led by senior Cael Patterson, who is currently fifth on the all-time section career rushing list with 5,508 yards in just 29 games. He is also is ninth all-time in the section with 63 career rushing touchdowns. He has 73 overall career touchdowns. He also ranks near the top five in the section in all-time points scored in a career.
Orange Glen quarterback Ethan Villalobos has passed for 1,785-yards and 24 touchdowns. But Temple has thrown for 1,936 yards this season with 28 touchdowns.
However, the Patriots are an experienced team, having won the San Diego CIF Division V championship last season before winning a state playoff bowl game and subsequently losing the CIF 6A championship game to undefeated Lincoln High, of San Francisco.
Orange Glen head coach Jason Patterson, the dad of the star back, was a 1989 graduate of the school. Despite four losses this season, the Pats had four losses last year, too, before their playoff run.
Santana senior Cameron Lariccia has a team-high 65 tackles this season and will have to latch on to Patterson.
Santana may have to move the parts on the offensive line after suffering a significant injury of the season upfront last week.
The Sultans and Patriots will meet for the third time, with the previous two meetings coming in 1967-68, including a 7-6 Santana win.
Santana is playing in its sixth section division semifinal and is aiming for its third title-game appearance and a first-ever section division championship.
The Sultans fell in the semifinals last November, losing at San Diego High, 41-20. The Cavers eventually won the state Division 5A championship.
The winner of Friday night's game will advance to meet the winner of another semifinal between second-seeded Serra (9-2) and sixth-seeded La Jolla Country Day (9-3) in the Division IV championship game at DeVore Stadium on Friday, Nov. 29 at 1 p.m.
The Sultans already own a 31-14 win over the Conquistadors at Serra back in Week 2. Santana also won a memorable postseason game against the Torreys, 76-55, in a first-round matchup last season. This year's LJCD squad is averaging nearly 47 points-per-game.
The home-field advantage is important in this one against Orange Glen… SANTANA, 35-34.