Matadors, Vaqueros get consolation wins
Updated: December 31, 2019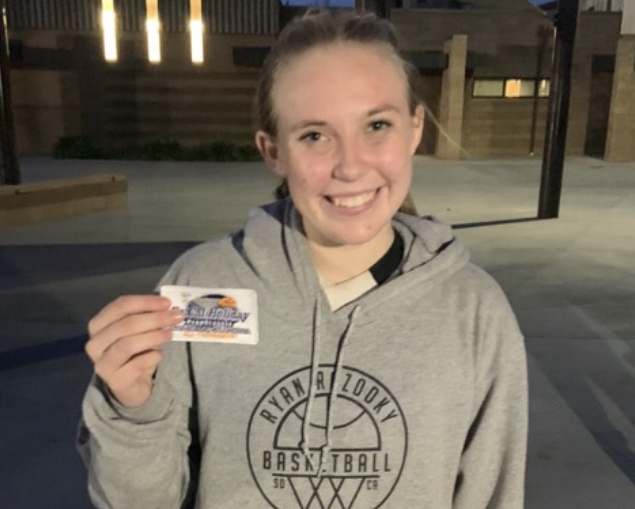 El Capitan sophomore Tiffany Bickford was named to the all-tournament team on Tuesday.
2019 EAST COUNTY PREP GIRLS BASKETBALL
EastCountySports.com staff report
SPRING VALLEY – The Mount Miguel Matadors won a consolation game at the SoCal Prep Holiday Classic NCAA West Division, defeating Birmingham Charter, of Los Angeles, 50-48, in overtime on Tuesday morning.
Freshman Jennifer Moreno had 25 points for Mount Miguel, while fellow frosh Ixchel Rojo added 17 points. The duo both had a three-pointer in the first quarter, as the Matadors led just 8-4 after the first quarter of the 9:30 a.m. start.
Senior Jacquee Brown had four of her eight points in the second quarter but Birmingham led 23-21 at halftime. She had a big three-pointer in the fourth quarter, as did Rojo.
Moreno had a three-pointer in the third quarter as she and Rojo combined for 15 points in the period.
EL CAPITAN 57, TESORO 47 – El Capitan sophomore Tiffany Bickford scored 17 of her 24 points in the second half and was named to the NCAA East Division all-tournament team as the Lady Vaqueros won a third-place game at the SoCal Holiday Prep Classic.
Mackenzie Curtis added 20 points for El Capitan.
"I'm super proud of the team for bouncing back after a loss like Saturday," Curtis said. "Coach (Darrin Curtis) asked who we thought should be on the all-tournament team and it was unanimous."
Bickford also had eight rebounds and two assists in the victory.
"It was definitely a fantastic way to end 2019 but honestly this is what I've been supposed to be doing all year," Bickford said. "I think I finally had my breaking point tonight of where all of my hard work is starting to pay off. In tonight's game, we shared the ball well, we looked to get each other open, and honestly, we didn't care who got the points as long as we won. We are looking forward to tomorrow's game (against Monte Vista at noon in the Sweetwater New Year's Classic).and our plan is to win this tournament to set ourselves up for league."
Emma Driskill finished with eight points for El Cap, while Peres came home with five points, including a three-pointer in the second quarter.
"Shiana Peres, Stephanie Yeakle, and Mackenzie Curtis all stepped it up to get the win," Bickford said. "All of them truly fulfilled their roles to the best of their ability tonight and it showed."
WEST HILLS 49, PATRICK HENRY 20 – The Wolf Pack won a Prep Division game at the SoCal Holiday Prep Classic on Tuesday.
SOLDOTNA 57, WEST HILLS 32 – In an earlier game, the Wolf Pack dropped a contest to the visitors from Alaska.
GLENMARY 45, SANTANA 44 – The Sultans were edged by the visitors from Alberta in a SoCal Holiday Prep Classic Prep Division game at Santana High on Monday afternoon.
Lakaila Aguiningnoc-David led Santana with 15 points, including a three-pointer.
Bella Terry and Joey Barkheimer both added nine points for Santana. Terry grabbed eight rebounds for the game.
Brianna Jerig added a three-pointer and dished out three assists for the Sultans.
Taylinn Warren had four points and five rebounds for Santana.
Jordyn Beatty handed out a team-high for assists for SHS, which trailed 33-28 after three quarters.
Glenmary led 28-19 at halftime.
PERRY 67, CHRISTIAN 60 – At the Las Vegas Holiday Classic, the Pumas upset the Patriots, who fell to 7-4 on the season.
Perry, of Gilbert, Ariz., went 3-1 in the tournament.
SAN YSIDRO 47, STEELE CANYON 37 – The Cougars dropped to 0-11 following a loss at the Bonita Vista Gold Crown Holiday Tip-Off.
FALLBROOK 42, VALHALLA 18 – Valhalla (0-11) was held scoreless over the first eight minutes but were only outscored by 12 points the rest of the way.
CLAIREMONT 41, LIBERTY CHARTER 38 – The Lions nearly rallied against the Chieftains despite trailing much of the game.
Liberty Charter, which fell to 7-5 overall, trailed 15-11 after the first quarter and 25-22 at halftime.
The Lady Lions outscored Clairemont (5-8), 7-4, in the fourth quarter.