JoJo's no-nos earn SDSU scholarship
Updated: November 27, 2020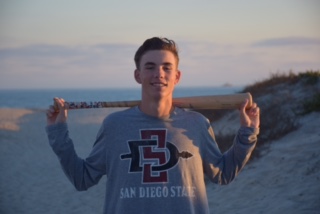 Joseph "JOJO" Ingrassia
2020 EAST COUNTY PREP BASEBALL
By Nick Pellegrino
SAN DIEGO —- Valhalla High product Joseph "JoJo" Ingrassia, one of the few pitchers in CIF San Diego Section history to fire more than one no-hitter in his prep career, is now attending San Diego State University on a baseball scholarship.
An All-East County first-team selection, Ingrassia accomplished his no-hitter feat on what turned out to be the final day of the 2020 season before the campaign suddenly ended because of the COVID-19 pandemic. He struck out 14 batters in a 2-0 shutout of Mount Miguel.  LINK: Ingrassia Throws No-Hitter to beat Mt Miguel
By stopping the Matadors, it was the first time a Grossmont Conference pitcher has recorded a second no-hitter in 35 years. LINK: Ingrassia first local with second no-hitter in 35 years – East County Sports. For his effort, he was named CalHiSports' Southern California athlete of the week. LINK: Ingrassia gets Cal-Hi honor – East County Sports
A season earlier as a junior in 2019, he also didn't allow a base hit against West Hills. The effort was the first no-hitter by Valhalla since then-future Major League Baseball pitcher Sean O'Sullivan registered a perfect game. LINK: JoJo delivers a Norsemen no-no – East County Sports. O'Sullivan was later named CalHiSports.com state medium schools' Player of the Year.
Technically, Ingrassia was involved in what could be considered as a record-tiring third no-hitter, but it was part of a combined effort. He joined fellow senior Luke Clark on a no-hitter over 7th-ranked Cathedral Catholic, 5-3, in a GMC Tournament contest. LINK: Norsemen combine on no-no versus Dons – East County Sports
Ingrassia becomes the 17th listed pitcher with two or more career no-hitters. The southpaw is also the second Norsemen pitcher with two no-nos, joining Greg Johnson, who fired his in 1977 and 1978.
Valhalla also becomes the second school in the CIFSDS with two pitchers to each toss no-hitters. The other is Ramona, behind Larry Walker (both in 1970) and Jarrod Castrejon (both in 2008).
Four other East County-based pitchers have also registered two career no-hitters. Jeff Byrd, El Capitan (1972-74); Dave Ciampoli, Helix (1977-78); Scott Adams, Granite Hills (1980-81); and Jeff Barry, Santana (1984-85).
Byrd was a 2nd round draft pick of the Texas Rangers in 1977, eventually reaching the Big Leagues for one season with the Toronto Blue Jays. LINK: Jeff Byrd Stats | Baseball-Reference.com
The section record is three, but from small-division schools:  Holtville's Jared Garewal, in 1994 (twice against Imperial); and San Diego Jewish Academy's Michael Fagan in 2008-10.
Out of high school, Fagan was drafted by the San Diego Padres in the 45th round of the 2010 MLB June Amateur Draft, but decided to attend Princeton. He then was drafted by Oakland Athletics in the 9th round of the 2014 MLB June Amateur Draft, but never moved above Class A ball.
Ingrassia will be joined on the Aztec roster in 2021 by former Norseman redshirt junior Casey O'Sullivan, and former Granite Hills Eagle and Grossmont Griffin Trevor Hazelhurst, in his first year with the club.