For now, refurbished Caledonian Gym sits
Compiled by Nick Pellegrino
LA MESA – "The best gym in San Diego" recently got a whole lot better.
After the COVID-19 pandemic subsides, Helix Charter High School is planning a re-dedication ceremony to christen the reopening of Caledonian Gymnasium.
Originally completed in early 1963 — the school commenced operations for the 1951-52 school year — the sports facility is best-known as the first place of greatness for a tall, skinny student named Bill Walton, who would eventually be enshrined into the Naismith Memorial Basketball Hall of Fame.
Walton welcomes any opportunity to pay homage to his time wearing the Green & White of the Highlanders and his days rubbing elbows with players from the San Diego Rockets, an NBA expansion team from 1967, yet with no dedicated facility to hold practices.
He recently shouted out on a nationally televised college basketball broadcast his former Highlander teammate John Singer, who retired after spending nearly his whole life on the Helix campus, first as a student, then as a coach, concluding a 30-year career.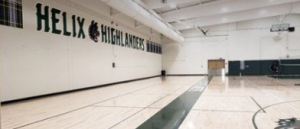 Just be aware: Walton may be an expert when it comes to embellishment and hyperbole, yet he always speaks from the heart.
"We had the best gym in San Diego and all the Rockets players wanted to go there," Walton has said. "
They had some great teams with Elvin Hayes and Calvin Murphy and future head coaches and broadcasters such as Pat Riley, Rick Adelman, Rudy Tomjanovich, Jim Barnett and Stu Lantz."
"All these guys treated me — little Billy — like I was part of the team. They couldn't have been nicer, and I became their friends."
In those days, the Rockets would often gather for pickup games at Helix. To get into the gym, however,  they would contact Walton, who had his own key.Walton recalled a time Hayes phoned his house, and his mother answered.
"Here's this grown man calling she's never talked to, and she said, 'Who's this?'" Walton said. "And Elvin says, 'Is Billy there?' And my mom says, 'I'm Billy's mother. Who is this?' And Elvin says,
'Tell Billy, Big E is calling and we need him to open the gym tonight.'"
"I'm on the floor, and my mom puts her hand over the phone and says, 'Billy, who is this guy Biggie? He sounds old. Is everything OK?' I said, 'Mom, that's Big E! Give me the phone!'
"I was never so embarrassed in my life. Elvin and I are still close friends. All of those guys all still my friends to this very day."
Walton may no longer recognize the 2020 version of "his gym," although the process to modernize his childhood home-away-from-home took a while.
A bond measure was passed in 2004 to upgrade the facility, but there were delays. The work didn't start until two years ago, but only because the charter school's board was forced to act.
"The gym wasn't supposed to be done for a couple more years," according to Facilities Manager Ken Britschgi. "However, due to roof leaks and the condition of the roof, it was unsafe for workers to perform repairs."
"It inevitably came down to, 'do we let it leak and ruin the floor and the bleachers.'"
The bleachers would be replaced anyway, the first Helix boys basketball game was played last February without stands to sit upon, so folding chairs were brought in or spectators would simply stood or leaned against the wall.
Under the new roof and lighting system, there's more than just a fresh splash of paint. Fans will find a modern concession stand and ticket booth, completely re-built restrooms, and new entrances. But best of all, the facility will have air conditioning.
The old entrance on the east side is being replaced with a new entrance near the new Helix administration building, with a foyer (hallway) leading to the visitor's side.
During the building's time of unavailability, all Scotties basketball teams were practicing at the Boys & Girls Club in La Mesa and other nearby facilities. Games were conducted at nearby Grossmont High School, just like in the days when Valhalla High did not have a gymnasium — at the time, the Norsemen administration elected to build the aquatics facility first.
Otherwise, Helix needed to play their "home games" on the road, just like in the old days when the school initially opened.
In the school's third year, Bob Devine became the basketball coach. He clamored for years to get an on-campus gymnasium built.It took more than a decade until finally, the days of practicing outdoors and playing most home games at Grossmont were over.
According to SAN DIEGO PREP SPORTS HISTORY — the best historical website around, founded by former San Diego Evening Tribune sports writer Rick Smith — Devine was there for opening night — a 49-38 victory over Monte Vista. But by then, Devine had become vice principal for the visiting Monarchs. Thus, he had mixed feelings about the game's outcome since he was so entrenched with both schools in his career.
In Devine's six seasons on the Scotties bench, the team captured the school's first pair of Metro League titles (1955-56 and 1956-57) as the school's original road warriors; the Grossmont Conference was not created until 1961.
Over the past two years, gymnasium availability was a problem since there are more teams — e.g., girls' sports didn't officially start until 1974.
"The scheduling challenges and inability to have home games has been an unfortunate situation for our school, community, and students," Damon Chase, the school's director of athletics and a vice principal, told the La Mesa Courier.
Now that the renovation/modernization project at  Caledonian Gymnasium is all-but-complete, some are calling for a facility to be re-named in honor of the long-time boys basketball coach John Singer, who retired late last year. Singer said he had grabbed a large panel of the old gym floor, similar to the one displayed in the new gym's walkway, and was going to display it somewhere at his home.