Hawks fall in Saturday GSAC games
Updated: February 15, 2021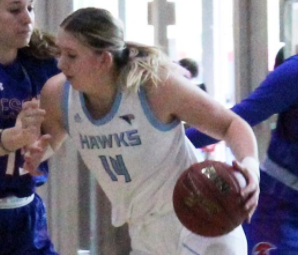 SAN DIEGO CHRISTIAN HAWKS WOMEN'S BASKETBALL
ECS staff report
SAN DIEGO – The defunct Continental Basketball Association, North America's professional minor league before the NBA created the "D-League," once utilized a unique standings system.
Instead of the traditional win-loss standard, CBA games utilized the "7-Point System" with three points awarded for a win, plus one bonus point for each quarter won.
Fortunately for the San Diego Christian College women's basketball team, such a system is not offered by the Golden State Athletic Conference.
On Saturday (Feb. 13), the Hawks stayed with GSAC East Division leader William Jessup for all four periods, but the Warriors took each of the 10-minute segments by two points or less to escape the Kroc Center with a 61-54 triumph.
San Diego Christian "lost" the first three periods by margins of 2, 2, and 1 point to trail by five, but Courtney Cranston nailed a 3-point goal nine seconds into the final stanza to make it a 44-42 ballgame,  However, the Hawks twice went cold with scoreless streaks of 2:38 and 1:55, never able to never pull even with the visitors from Northern California.
Keren Hogue again led the Hawks in scoring (12) and rebounding (8), while Maddison Zugna added 10 points. However, the Hawks defense struggle all contest, gorging just three steals as four starters — all in foul trouble all afternoon — finished with four fouls each.
For William Jessup (10-8 overall, 6-2 GSAC East), Katie Campana paced all scorers with 14 points. including six of her club's first eight points to overcome an early 10-6 SDCC lead.
San Diego Christian (6-5, 3-3) will cap the homestand and the regular season by hosting The Master's University. The afternoon games will next Friday(4:30 p.m.)  and Saturday (3 p.m.).
---
SAN DIEGO CHRISTIAN HAWKS MEN'S BASKETBALL

William Jessup 90, San Diego Christian 78
San Diego Christian College stormed back from a 22-point deficit, giving East Division-leading William Jessup a major scare before taking Saturday's (Feb. 13) Golden State Athletic Conference men's basketball affair at Kroc Center in San Diego.
Down 66-42 with 12:34 remaining, the Hawks' Riley Blea and Kyle Ruiz each scored five points on deep jumpers over the following two minutes. then Teyden Gause nailed consecutive shots on a triple and a layin as SDCC hit 6-of-7 shots from the floor.
Hause later sank another 3-ball to make it 76-71 with 4:11 remaining, but the Warriors hit a pair of jumpers and went 6-for-8 at the foul line to close out the triumph.
Gause tallied 16 of his game-high 27 points in the second half. Ruiz finished with 17 points.
Williams Jessup (9-2 overall, 6-0 GSAC East) was led by Malik Corey (19 points, 12 assists) and Matthew Schmidt (18 points, 8 rebounds).
The weekend series began a busy schedule for San Diego Christian (1-11, 1-5 GSAC East) to close the regular season, playing six times over eight days. The Hawks travel to Arizona for make-up games with Ottawa University on Monday and Tuesday, then return home to host The Master's next weekend.