Cougars clinch share of XC titles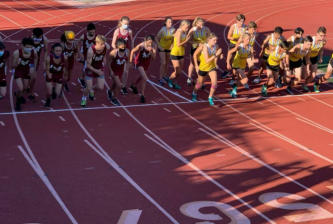 Monte Vista and El Capitan runners at the start on Friday. / MonarchSports1
2021 EAST COUNTY PREP CROSS COUNTRY
SANTEE – Steele Canyon High clinched at least a share of both the girls and boys league titles in the Grossmont Hills League following victories over host West Hills on Friday (Mar. 5).
Dual meet details on the reported dual meets follow:
BOYS
Granite Hills 27, Grossmont 30
In the first significant upset of the '20-in-'21 season, the Eagles knocked the Foothillers out of title consideration in the Grossmont Hills League by utilizing superior team depth in Friday's (Mar. 5) triumph.
Grossmont took three of the top five placing by going 1-3-5, including the second medal of the season by Ian Rosen. The rising sophomore completed the 3.7 kilometres in 12:19, some 17 seconds better than Eagles freshman Collin Guffey.
However, the rest of the pack were from Granite Hills to overcome the 3-point deficit (9-12) after the first six runners came across the finish line.
The key was an 8th-place finish by junior Jonatan Escobedo by just six seconds with a late kick for a 2-point switch.
Then an important displacement point achieved by Arleigh Burnham and freshman Sergio Cruz pushed the Hillers another two points behind.
Steele Canyon 16, West Hills 45
Steele Canyon senior Diego Lopez remains the lone unbeaten runner in boys cross country this season, capturing his fourth consecutive dual meet medalist honor to power the Cougars past West Hills.
Lopez motored the short, 3.05-mile course at West Hills in 10:25. He was the first of three Cougars to tackle the 11-minute barrier, followed by senior Angel Arredondo (10:54) and sophomore Bradley Bell (10:55).
Arredondo's little brother, sophomore Juan Pablo Arredondo.finished fourth, then the Pack's Landon Morales came in fifth to avoid the team shutout.
Valhalla vs. Helix, no report
GVL
Santana 15, Mount Miguel no score
The Sultans prepared for its winner-take-all meet next week with Monte Vista  for the Grossmont Valley League title by resting their upperclassmen.
Knowing the Matadors did not have enough runners, sophomores Connor Cheary (11:02) and Jayson Oliver, (11:17) finished 1-2 in a meet held at West Hills.
In the City League cross country event for both boys and girls slated for Wednesday (Mar. 3), three of the four dual meets were forfeited or postponed. Thus, Christian received a forfeit win from Lincoln.'
Meanwhile, host Clairemont ran the 3.11-mile course anyway despite Morse not showing up for the event.
GIRLS
Steele Canyon 17, West Hills 46
The visiting Cougars clinched at least a share of the Grossmont Hills League championship with a week to spare after whipping West Hills on the home course of the Wolf Pack.
Cougars senior Jennifer McCubbin posted her best race of the season, earning her first medal of the shortened season. She raced over the 2.05-mile course just one tick short of 13 minutes.
McCubbin had been averaging times around a rate of 6:34 per mile, but she shaved nearly a quarter-minute off that time to post a 6:20/mile rate to win by 59 seconds.
Steele Canyon dominated the placing, taking seven of the top eight placing. Among the top Cougars were Eryka Garcia (13:58) and Ariel Curiel (14:04).
The top West Hills runner saw Angelica Emlund (14:26) take fourth place.
Next week, Steele Canyon (4-0) needs to capture the final dual meet of the season against Granite Hills, or else they might share the crown.
However, that team would be Grossmont after the Foothillers nipped the Eagles tomove into second place.
Grossmont 23, Granite Hills 32
In a battle between schools in a 3-way tie for second place in the GHL standings (Valhalla is the other), the Foothillers kept their title hopes alive by eliminating the Eagles in a dual meet held at Granite Hills.
Senior Madeline Minutelli was the medalist for Grossmont, running her winning streak to four consecutive races.
Minutelli's time of 13:49 was more than 100 seconds better than her nearest competitor. Her clocking was also 11 seconds better than her best at this distance when she ran the 2.3-mile layout in the Artichoke Invitational at Half Moon Bay as a junior in 2019-20. Minutelli reached the podium by finishing in second place.
Steele Canyon was the girls' team champions, while the Hillers finished fourth overall.
Helix vs. Valhalla, no report
Grossmont Valley League
El Capitan 15, Monte Vista no score
In a shocker, Monte Vista, which shared first place in the GVL with El Capitan entering the day, was disqualified when its fifth runner couldn't finish the race. That left the
Monarchs with just four finishing competitors — one short of posting an official team score.
Thus, the Vaqueros will take the GVL title since they have already defeated Santana in the opening round of the season.
This might have been the Monarchs' last best chance to defeat El Cap in the next few years as the top finishers were all underclassmen.
Medalist honors went to sophomore Amber Chase of the Vaq Pack in 15:22 at 2.5 miles, followed by frosh Jullian Rudolph (16:09).
Santana 15, Mount Miguel 50
It was Sophomore Day for the Sultans, as their top three finished hailed from the Class of 2022.
The medalist was Mikayla Horning (13:08), who dominated to post a victory margin of 51 seconds.
Horning was followed by teammates Brianna Edwards ad Trinity Johnson.
==========
Steele Canyon 16, West Hills 45
At West Hills (2.05m/3.30km)
 2 — Angel Arredondo, 10:54
 4 — Juan Pablo Arredondo. 11:02
—  5 Landon Morales, 11:05
SC — Sergio Gaytan, 11:40
—  8 Sean Willweber, 11:45
SC — Aidan Covarrubias, 11:59
— 11 David Singley, 12:01
Granite Hills 27, Grossmont 30
At Granite Hills (2.3m/3.7km)
—  3 Joshua Edwards, 13:02
 4 — Mel De Alba-Ruiz, 13:06
 7 — Alexander Cantrell, 13:57
 8 — Jonatan Escobedo, 14:01
—  9 Arleigh Burnham, 14:07
GH — James Coleman, 14:19
— 12 Colby Flanagan, 17:14
Valhalla 20, Helix 38
Medalist: Manuek Campos (V), 11:02
El Capitan 15, Monte Vista 46
 3 — Dominic Villarruel, 14:11
—  8 Steven Valadez, 15:55
—  9 Thomas Wilcox, 16:03
— 11 Matthew Gonzalez, 17:47
Santana 15, Mount Miguel no score
At West Hills (2.05m/3.3km)
 3 — James Stuermer, 11:28
 5 — Cameron Thomas, 11:33
Steele Canyon 17, West Hills 46
At West Hills (2.05m/3.30km)
 1 — Jennifer McCubbin, 12:59
—  4 Angelica Emlund, 14:26
 5 — Katarina Stock Montano, 14:33
SC — Yareli Alvarez, 14:40
SC — Savannah Cotter, 14:41
—  9 Taya O'Harran, 14:41
— 10 Lillian Bozeman, 15:04
— 12 Azriah Dantzler, 18:35
Grossmont 23, Granite Hills 32
At Granite Hills (2.3m/3.7km)
 1 — Madeline Minutelli, 13:49
—  3 Karli Harward, 15:38
 4 — Ziara Hernandez, 15:44
 6 — Isabel Cervantes, 16:16
—  7 Alexa Hernandez, 16:31
10 — Sara Standlee, 17:07
Santana 15, Mount Miguel 50
 1 — Mikayla Horning, 13:08
 2 — Brianna Edwards, 13:59
 3 — Trinity Johnson, 14:20
 5 — Abigail Melius, 14:35
SS — Kristen Bressler, 15:40
El Capitan 15, Monte Vista no score
 2 — Jillian Rudolph, 16:09
 4 — Samantha Mauzy, 16:42
— MV Taylor Robinson, 19:47
— MV Leslie Barajas, 20:43
— MV Hailey Donaghue, 20:52
— MV Rashel Aguilar, 21:57
Steele Canyon 4-0, Granite Hills 2-2,  Grossmont 2-2, West
Hills 2-2, Valhalla 2-2, Helix 0-4.
Santana 3-0, El Capitan 2-1, Monte Vista 2-1, ECVHS 0-3, 
Mount Miguel 0-4.
2 – Campos (Val), Cheary (San), Dixon (EC), Monganga (ECV), Rosen (Gro).
1 – Blakely (Gro), Guffey (GH), Landon (WH),

McClure (MV), McMacklin (San), Morales (WH)

.
Steele Canyon Charter 4-0, Grossmont 3-1,  Valhalla 3-1
, Granite Hills 2-2, West Hills 0-3, Helix Charter 0-4.
El Capitan 3-0, Monte Vista 2-1, Santana 2-1, WCVHS 0-3 
Mount Miguel 0-4.
4 – Branski (Val), Minutelli (Gro).
2 – Harward (GH), Reyna (MM), A.Zamorano (Chr).
1 – Browning (San), Horning (San), McCubbin (SC), Mineo 
(SC), Robinson (MV).