Christian opens with win; Matadors roll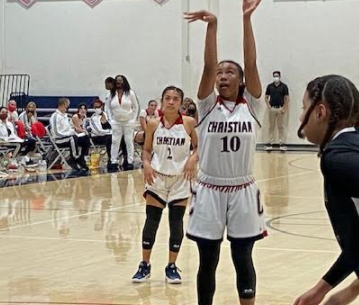 Christian High at the free throw line on Tuesday. / photo by Dave Dickens
2021 EAST COUNTY PREP GIRLS BASKETBALL
EastCountySports.com staff report
EL CAJON – The Christian Patriots might be getting a late start to the season but don't consider them late to the party.
The Patriots are a likely top ten team in the county this season and made Thursday's opener an exhibition as to why.
Christian High's Patriots defeated Patrick Henry's Patriots, 66-21, in the girls' debut at the Ryan Center.
Christian High led 42-10 at halftime after leading 16-4 at the end of one quarter.
"The defense tonight was incredible especially in the frontcourt," Christian High's Kristin Williams said. "We haven't even run that press before so that was really impressive to see us execute it. We haven't found our flow quite yet but that will come in time. I'm happy going into the season because these girls want to learn and get better and that's the important thing."
Senior center Serene Weckback acknowledged the play of freshman teammate Amyaha Walker.
"Amyaha did amazing tonight," Weckback said. "I was so proud of her. I love being able to lead these newcomers and still be able to score.
"We need to do more on defense, especially on screens, but as the season progresses, we will get a lot better and definitely be able to make another CIF run."
MOUNT MIGUEL 75, EASTLAKE 28 – Mount Miguel defeated Eastlake but only thanks to a 20-3 edge in the second quarter after the first quarter was tied at 16-all.
Nataly Bravo had 19 points, including five threes for the Matadors.
Ixchel Rojo had 17 points, six rebounds, and six steals for Mount Miguel.
Jennifer Moreno added 11 points, 10 assists, five rebounds, and four steals for Las Matadoras.
Danay Williams-Pope finished with 10 points, eight rebounds, and four steals for Mt. Miguel.
Jacquee Brown, of the Matadors, added nine points, two rebounds and two steals.
Zanna Hurst finished with seven points, two steals, two rebounds, and three assists for MMHS.
Arantxa Fonseca contributed two points, three rebounds, and a pair of steals for The Mount.
GROSSMONT 61, SWEETWATER 31 – Grossmont won its season-opener against the Red Devils, who fell to 0-2.
GRANITE HILLS 49, ESCONDIDO CHARTER 41- The Eagles won for the first time in four starts, sending the White Tigers to their second loss of the season.
47,148 total views, 3 views today