Eagles proudly claim special season title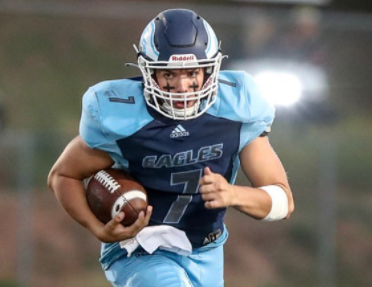 Granite Hillssenior Justus McComb runs to daylight on Friday. / Dan Barnes Photography
2021 EAST COUNTY PREP FOOTBALL
GRANITE HILLS 35, HELIX 21
By Ramon Scott
EastCountySports.com
EL CAJON – The moment was never going to be too big for Granite Hills senior quarterback Justus McComb.
Quite frankly, the moment was made for him and the rest of the experienced Eagles.
And McComb and Co. were McCool as ever on Friday night, leading the sixth-ranked Eagles to a second-half surge against ninth-ranked Helix and hoisting Granite Hills to the top of the East County football hierarchy in what is sure to be one of the most talked-about prep football "seasons" for decades to come.
McComb passed for three touchdowns and rushed for two more in the win over the the Scotties.
The Eagles broke away from a 14-all deadlock at halftime and defeated the visiting Highlanders, 35-21, to move to 5-0 and win the "mythical" Grossmont Hills League championship, sweeping the other three local foes in consecutive weeks, a schedule which is usually the norm if it wasn't the second week of April.
Granite Hills scored a pair of touchdowns in the third quarter to assume control, setting its sights on a first win over the Scotties after suffering 10 consecutive defeats to the "green team" dating back to 2005.
And this group of Eagles will go down as one of the school's finest teams ever, which is notable for a program that has finished at the top of their division standing in five of the last six seasons but also can compare its current run under head coach Kellan Cobbs to the great Granite clubs from the mid-1970s, guided by Dwight Morris.
Eagles end Helix era

GRANITE HILLS
EAGLES

HELIX
HIGHLANDERS

| | | |
| --- | --- | --- |
| Year | GH | Helix |
| 20/21 | | |
| | | |
| | | |
| | | |
| | | |
| | | |
| | | |
| | | |

| | | |
| --- | --- | --- |
| Year | GH | Helix |
| | | |
| | | |
| | | |
| 2005 | | |
| | | |
| | | |
| | | |
| | | |
The teams traded touchdown drives to open the game with Helix junior Christian Washington garnering a 23-yard score on a lateral from receiver James Johnson following a short catch just five minutes into the game as the Highlanders caught the rarely-surprised Eagle defense flat-footed with what ended up as an easy-looking score.
Granite Hills answered with a long play when senior Angel Almazon, the top big-play receiving threat in the conference, turned a reception into a 40-yard score to tie the game just two minutes later.
The Eagle defense made quick work of the Helix second drive and the Eagles briskly moved down the field.
However, Highlander senior Joshua Carroll made a spectacular interception in the end zone.
Later in the second quarter, the Eagles were able to capitalize on a solid drive on its third possession, culminating in a 25-yard touchdown on a pass to a wide-open Zach Burton, who had clear sailing other than one hard last-ditch bump from a defender as Granite regained the lead, 14-7.
Helix was able to counter with another wrinkle that resulted in a big play when Washington took a counter pitch and appear to be setting up for a pass, but either out of design or regret, the back immediately went into "Big Moves" mode, slashing and dashing for 40 yards deep in into Eagle territory.
Alejandro Van Holten rushed in from seven yards out with just over a half-minute left until halftime basically sending the teams into the end zones to regroup for the second half.
The Eagles scored on their opening drive of the second half with modest yardage until a good-sized gain to Almazon with a reception down to the Helix 27.
From there, McComb had Joaquin Thomas Jr., who started his prep football career last season spectacularly as a member of Helix's freshman team, easily behind the Scottie defense for a touchdown strike, putting Granite back on top.
The Highlanders appeared on their way to possibly counter the Eagles once again when senior Matt Keeley made the play of the game.
Keeley's converging leaping interception as part of double coverage down the left sideline on a potential scoring route appeared to change the momentum for good, despite just the one-score advantage.
"That wasn't me," deadpanned the senior. "That was all of our defensive coaches. We went through that play all week. We knew in that formation what they were going to run.
"Right when I saw it, I knew what is was going to be. I had nothing to do with it. I just caught it."
The offense rode the momentum back down the field the other way, and Keeley caught a 51-yard pass from McComb down to the Highlander 10.
McComb, who utilized his 'keeper frequently throughout the evening, powered in from 8 yards behind seniors Dimitri Fuentes, Anthony Figueroa, and Stan Earley, putting the Eagles ahead by two touchdowns with just under a minute-and-a-half to go in the third quarter.
The Eagles recovered a fumble on Helix's ensuing drive and McComb took off running again in a 49-yard drive, capped by a 4-yard score and a 35-14 lead.
"We played our hearts out," said McComb, who completed 11-of-16 yards for 227 yards and also rushed 19 times for 96 yards. "Last year, we were down seven in the fourth quarter and had a chance and lost it. But this year, we heard people doubted us, but we know how hard we worked and we know what we deserved.
"This is what I have wanted to do since my freshman year. Everyone knows who the big dogs are. They are a great team, but we wanted to take it down."
First off I wanted to say thank you to my Lord and Savior Jesus Christ for everything he has done for me and my team this year, all glory to Him. And props to Helix High School they are always a good football team and it was so fun to play them. Secondly I am so proud of my

— Justus McComb (@justus_mccomb) April 10, 2021
Washington added a touchdown run from 2 yards out with a minute-and-a-half to play in the game.
The Eagles to a certain extent end up in a bowl game, of sorts, to possibly lay claim to the title as the second-best team in the county during this special season. The team can also try to become the first varsity team at Granite to finish a season undefeated.
Granite Hills and Grossmont were able to scrap next week's originally scheduled second meeting of the season, made just out of necessity, with the Eagles now picking up second-ranked Carlsbad, which will make the trip southeast to Valley Stadium next Friday night in one of the county's games of the year on the final week of what we hope will be the last varsity football season ever played in the Spring.