Wolf Pack pounce early for victory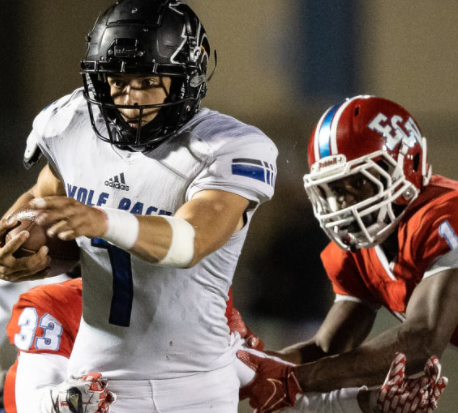 West Hills quarterback Braden Oberg takes off running against ECVHS. / P.J. Panebianco
EAST COUNTY PREP FOOTBALL
WEST HILLS 28, EL CAJON VALLEY 12
EastCountySports.com staff report
EL CAJON – Needing a victory, the West Hills Wolf Pack wasted no time posting a lead against the El Cajon Valley Braves in a 28-12 Grossmont Conference victory on Friday night at Priest Field.
Quarterback Braden Oberg rushed for two touchdowns and had 196 yards of total offense to lead West Hills (1-3).
"Oberg played his best game tonight," West Hills head coach Casey Ash said.
West Hills jumped out to a 14-0 lead with 5:37 left in the first quarter.
The Braves scored with one minute left in the first half to make it 21-6 at halftime. West Hills led 28-6 in the fourth quarter.
"We made plays that we needed to make and show that we are capable," Ash said.
Max Conaway had three receptions for 40 yards for West Hills. He also had an interception on defense, which he returned 23 yards.
"Max played great on both sides of the ball," Ash said.
Dylan Snyder had 66 yards of total offense for the Wolf Pack, including three receptions from Oberg, who was 10-for-18 passing.
Brendan Greene, currently succeeding in three sports this spring (including basketball and the high jump) rushed for a touchdown on a toss play and had a 31-yard reception from Oberg.
Junior Dylan Fruend also rushed for a score for Wolf Pack on a 5-yard run.
West Hills junior Dani Hermiz was 4-for-4 on his point-after attempts.
"The losses we've had this season really made our guys come out focused and they were able to hone in on what they needed to do to win," Ash said. "Our team is very young and we have the whole group coming back in August."
El Cajon Valley's Clarence Johnson rushed for 100 yards and a touchdown in his final home game on Senior Night.
Sophomore Joshua McComb caught a touchdown pass from senior quarterback Joe Malone for ECVHS (0-4)
Malone and Johnson combined for 19 tackles.
Johnson also had a pick, the sixth in his great career on both sides of the ball.
West Hills' Michael Forzano earned a sack, as did Malone and teammate Wendell Wolcott Jr.
458 total views, 1 views today