VALLEY: Sultans clinch title; Monarchs win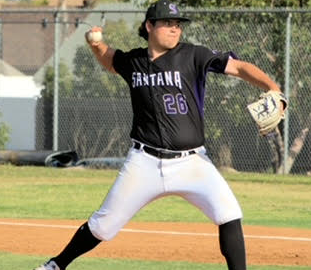 Santana senior Koda Alto is 9-0 this season. / Ken Todd
2021 EAST COUNTY PREP BASEBALL
ECS staff report
SPRING VALLEY —- The Santana Sultans officially clinched their third Grossmont Conference league title this century, claiming the Grossmont Valley League crown after stopping host Mount Miguel, 13-1, on Tuesday (June 1)
The Sultans' other outright crowns came in 2014 and 2016. However, the school can produce its first-ever undefeated league championship on Thursday when Santana hosts Monte Vista on Senior Day to cap the regular season.
Caleb Harris (four RBI) and Jason Gonzales (three RBI) drove in most of the runs from the bottom third of the batting order, as Santana streaked to a 10-0 lead.
However, the Sultans' streak of shutouts ended in the fifth inning, as Mount Miguel's Thomas Ringer ripped a leadoff double, scoring on a two-out line single by Miles Emerick. Both liners went to left field.
Santana opened the scoring on a two-run homer by Ethan Wright, as the Sultans scored six times.
"I just tried to stay focused on hitting line drives and keeping the ball out of the air because everything was getting caught," Wright said. "Then I just got a hold of one.
"This game started completely different than our other games where we usually put up runs in the first inning but we just kept popping it straight up. Going into the playoffs, we are going to stay consistent and we aren't going to go down easily. We are going to work to get better every day. There is still a lot to come from this team."
Scoring on Wright's homer was Cole Contreras (one-out single), who batted 3-for-5 and scored twice.
"We played well today," Contreras said. "I'm looking forward to the playoffs. Our goal is to win a title and that's what we train for every day."
In the rally, Caleb Harris added a two-run single, while No. 9 hitter Jason Gonzales collected the first of his three RBI with a single.
Santana (19-4 overall, 8-0 GVL) received two hits each from Gonzales and Harris. Starting pitcher Koda Alto struck out five Matadors batters over five innings, running his record to a stellar 9-0.
From the bullpen, Ethan Moutaw capped Santana's 13th straight victory with a pair of no-hit innings.
For Mount Miguel (8-18, 3-8 GVL), the only other hit was a single by Darian Garcia in the combined 3-hitter.
The Matadors started Eric Sandoval, a late-season call up from the junior varsity. He went 2 1/3 innings.
"It was great," Sandoval said of his first varsity appearance. "I learned to be more calm and let things flow. Knowing that Santana is full of talent, I knew that changing up my speed of pitches and delivery was important. Once they started to time me up, I had to just let them put the ball in play. I was happy with my performance against a team like Santana."
Monte Vista 10, El Capitan 6
SPRING VALLEY —-  The Monte Vista Monarchs clinched second place in the Grossmont Valley League after topping visiting El Capitan, 10-6, on Tuesday (June 1). The triumph clinches the Monarchs' best finish in the league since finishing as the league runner-up to El Capitan in 2012.
tied at 2-all, the decisive third inning gave Monte Vista the lead for keeps.
After the Vaqueros scored twice to take a 4-2 lead, the Monarchs answered with a six-run rally to secure an 8-4 advantage.
The big inning featured an RBI double by Ernie Arambula, who then score the game-tying run on by Andy Canedo. Later, after loading the bases, Monte Vista took the lead when Canedo walked home after Albert "A-Rod" Rodriguez was plunked by a pitch.
"It was the Andy and Ernie Show," Monte Vista head coach Craig Neu said. "They were determined not to lose on Senior Day."
Tyler Leman, in just his third appearance of the season, collected his first pair of varsity RBI with a single, then a passed ball gave the hosts a 4-run lead.
Canedo was the batting standout. After the pitcher allowed two early runs, he returned the favor with a first-inning homer to come out of the first inning level at 2-all. Canedo would come within one out of a complete game until the pitch-count meter ended his outing with six strikeouts.
"Our team is very strong and as a unit, we can beat any that that challenges us," Canedo said. "They were poking balls were our guys weren't but we didn't let that affect us and we did our jobs on offense. Our Senior Night had everyone contributing and help us come out on top."
For Monte Vista (13-10 overall, 7-3 GVL), Arambula, the shortstop, batted 4-for-4 and scored three times, as the Monarchs clinched at least a .500 overall record with the triumph.
"It's a blessing to win on Senior Night getting to leave a memorable mark on our last home game," Arambula said. "Being able to compete in support of our ace, Andy Canedo, and putting all together to end with a bang."
El Capitan (8-17, 3-7 GVL) saw Connor Crist and Cole Winsor each collected three hits, while cleanup hitter Miguel Rosario driving them in for three RBI. For Winsor, two of the hits went for doubles, while Bradley Larsen registered a pair of RBI.