Dobyns, Wolf Pack capture D-4 title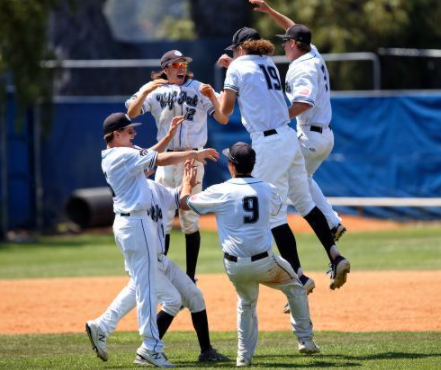 West Hills celebrates following the final out on Saturday. / Vic Marano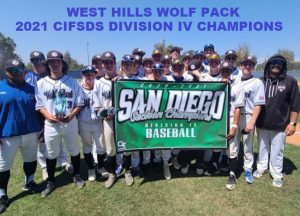 SAN DIEGO CIF DIVISION IV CHAMPIONSHIP
WEST HILLS

4, MISSION VISTA 0
By Nick Pellegrino
ECS staff writer
CHULA VISTA —- One could easily argue that West Hills senior Kyle Dobyns possesses more quality losses than any pitcher in the San Diego Section.
Dobyns owns six losses to CIF finalists, no matter the division — Steele Canyon twice — plus a pre-league setback to Madison.
So facing Mission Vista of Oceanside in Saturday's (June 19) CIF Division IV championship contest should be easy pickings — and it was.
Dobyns, a senior right-hander, struck out 11 Timberwolves batters, firing a 3-hit shutout in the Pack's 4-0 triumph, held at Eastlake High.
Dobyns yielded just three singles and a walk, with only one runner reaching second base.
After striking out the side in the first, West Hills quickly responded.
Following a leadoff single by Ryan Parker, Connor Evans drilled a 2-1 pitch over the fence in center field for a two-run home run. Basically, that was the ballgame after just five batters.
The lone Mission Vista threat came in the sixth, when they registered a pair of basehits, but Dobyns ended the mild threat with an inning-ending strikeout.
The offense again responded with two insurance runs in the sixth, on a series of three consecutive doubles by the 3-4-5 batters — Ryan Rodgers, Ezekiel Sadler, and Braden Wilson.
Dobyns then closed out the school's first championship when he again struck out the T-wolves in order to ignite the traditional dog-pile in front of the pitcher's mound. He needed just 81 pitches to complete his masterpiece.
MORE TO COME
12,759 total views, 1 views today