Griffins sweep Jags, prep for Olympians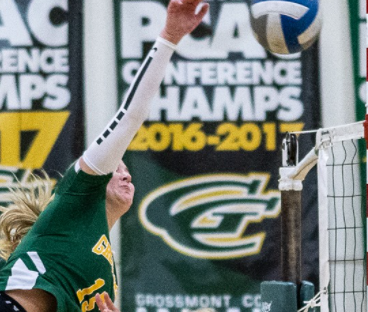 Grossmont's Madison Bogle with an attempt on Wednesday. / P.J. Panebianco
2021 GROSSMONT COLLEGE WOMEN'S VOLLEYBALL
GROSSMONT 3, SOUTHWESTERN 0
ECS staff report
EL CAJON —- The Grossmont College women's volleyball team prepared for its showdown match for the Pacific Coast Athletic Conference lead after trouncing visiting Southwestern College on Wednesday (Sept. 29). The Griffins humiliated the Jaguars in the first set en route to a 25-9, 25-17, 25-17 decision.
Grossmont (8-2 overall, 3-0 PCAC) now holds a half-game advantage in conference action heading into Friday's 5 p.m. match at San Diego Mesa. The second-place Olympians, which has already had a bye, set at 2-0.
The Griffins nearly pulled off a perfect first set to dominate Southwestern. The team posted nine kills without a kitting error in equaling their second-best set of the season. The other came against Chaffey after the G-House blew game one, then rolled to plaster the Panthers, 25-27, 25-9, 25-8, 25-7, earlier in the month.
Against Southwestern, everyone held a piece of the action in the calk-walk.
Alexcis Morris and Madison Bogle led the office with nine kills each, while Brooklyn Anderson added six put-aways.
In the back row, Bogle paced the G-House with seven digs, followed by Brooke Miller (6) and Isabella Lombardo (5).
For Southwestern (3-7, 0-3 PCAC), the leading spiker was Sierra Van Deusen * with six kills, but she owned a below-par attack percentage due to nine errors, unable to get around the Grossmont front wall, led by Morris' five rejections.
Next week, Grossmont starts a homestand with matches against San Diego City (Wed., Oct. 6) and Imperial Valley (Fri., Oct. 8).  Both are slated for 6 p.m.
Many members of the Griffins played on Groissmont's 2019 state champion beach volleyball team, too.
257 total views, 1 views today